AIIMS 2018 Topper Interview: Keeping all your preparation for the last few months is not a good idea, says Abdur Rehman, AIR 6
AIIMS 2018 Topper Interview - It is often said that self-belief and hard work will always earn you success. Abdur Rehman Asrarul Haque from Uttar Pradesh has lived up to the maxim with his stellar performance in AIIMS MBBS 2018, emerging as one of the top 10 rankers in the entrance exam.
The AIR 6 in the AIIMS MBBS entrance 2018 considers himself to be a book lover and holds an avid interest in literature. But to focus more on his preparation for AIIMS MBBS, he gave up his books and moved away from his family in UP to shift to Delhi, dedicating two years towards a sincere preparation for the medical entrances.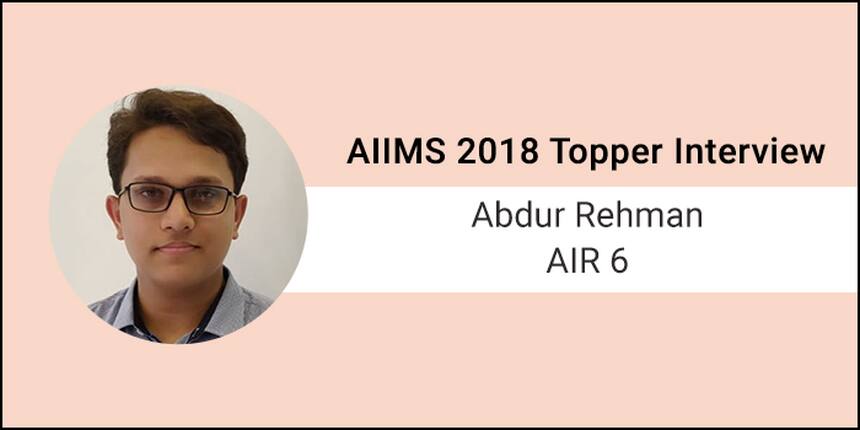 In an exclusive interview with Careers360, Abdur shares about his interest in Cardiology and Radiology, crediting his sisters who are also in the medical field as his source of inspiration. According to Abdur, it is because of them that he discovered his interest and aptitude in science and started working harder on it, leading to his commendable achievement in the AIIMS 2018 entrance. Apart from his sisters, he also attributes his success to his father who was a constant pillar of strength for him.
Abdur made complete use of NCERT and Allen's study material for two whole years, practiced innumerable MCQs and kept working hard with his study group of four friends who would meet and discuss topics of importance once a week. This interview of Abdur Rehman Asrarul Haque is a must-read for all future aspirants of AIIMS MBBS who wish to learn the finer details of cracking AIIMS MBBS with flying colours.
Excerpts from the interview:
Careers360: Congratulations on making it to the top 10 list. How are you celebrating your AIIMS results?
Abdur: Thank you so much! To be honest, I am stunned and achieving AIR 6 in AIIMS MBBS 2018 was totally unexpected. I was hoping to secure a rank amongst the top 50, but rank six definitely came as a pleasant surprise!
My parents are stunned too but they always believed that my hard work will fetch great success. I was in Delhi, but have come back home to Aligarh to celebrate my moment with my family. My eldest sister who is a doctor at a hospital quickly rushed home as soon as she got to know my AIIMS MBBS 2018 result. She handed over her duties for the day to a junior of hers and came home to celebrate my success. My parents called up our extended family and friends who were equally happy to hear about my result and sent their heartiest congratulations.
Careers360: Tell us something about yourself and your background – about your city, school board, family etc.
Abdur: I completed my Classes 11 and 12 from Sainik Public School in Delhi. I secured good marks in my Class 12th boards as well. My percentage in Class 12 was 93.6% overall. I scored 96% in Physics, 97% in Chemistry and around 95% in Biology.
My father is a professor of Business Management in Aligarh Muslim University (AMU), while my mother is a professor in the Department of History in the same University. I have two elder sisters – the eldest is an MD in Paediatrics, and the other is pursuing her MBBS in AMU.
My family is based in Aligarh but I have spent the last two years in Delhi.
Careers360: What motivated you to pursue medicine as a career?
Abdur: Since both my elder sisters are in the medical field, an atmosphere was already created for me where I started getting inclined towards medicine. My parents never forced any decision related to academics on me. Rather they asked me to take up whatever I want to study. I am very fond of literature and I did give it a thought at first. Later, I discovered I was good at Science and had immense interest in Cardiology and Radiology. That is when I turned towards MBBS and commenced my journey.
Careers360: How did your family support you in this journey?
Abdur: I cannot thank my family enough and express my gratitude for their support in a few words, especially towards my father and my eldest sister. My eldest sister was my counsel and I turned to both of them for any advice or guidance. My father would wake me up at 6 each morning after which I performed Namaaz and started with my daily preparations.
Careers360: What is your percentile in AIIMS MBBS 2018? Did you appear for other medical entrances as well?
Abdur: I scored 99.9989366 percentile in AIIMS MBBS 2018, and bagged AIR 6. I appeared for NEET 2018 and JIPMER 2018. However, I did not score as impressively in both these entrances as I did in AIIMS MBBS 2018.
Careers360: Please tell us your scores in the other two medical entrances as well?
Abdur: I secured AIR 218 in NEET 2018 and my subject-wise scores are as follows:
Physics: 155
Chemistry: 152 or 153, I don't remember too clearly.
Biology: 345
I believe the reason why I scored low in NEET 2018 is because I committed a lot of silly mistakes in Chemistry. The Physics section was extremely time-consuming for me as it involved a lot of lengthy calculations. As a result, I was hardly left with 10 minutes in the end to complete 15 questions in Physics. Obviously I was running short of time and I ended up making rough estimation of the answers. Also, with strict time constraints, I got a bit nervous and ended up making those mistakes in a panicky state. However, Biology was too easy for me, and I ended up scoring well in that section.
In JIPMER 2018, I secured AIR 172.
Careers360: How do NEET, JIPMER and AIIMS differ from each other?
Abdur: Well, I did find quite a few differences in terms of the difficulty level of the questions and pattern and the way in which one must tackle each exam.
NEET – The Biology part in NEET is mainly an overview of NCERT and only a little bit comes from outside of it. If one is only aiming for selection then it will work. I attempted 75 to 80 percent of the Biology section on the basis of my NCERT preparation alone.
In Physics, it is absolutely necessary to understand the basic concepts. However, a little help from outside material will prove to be quite useful.
JIPMER – This year, JIPMER had a few questions from outside NCERT but contained standard questions on Physics. I studied from some reference materials borrowed from Allen Kota, practiced the naming and went through some extra questions and that was it. The time allotted to answer all the questions in JIPMER is two and half hours. One might assume it to be easy that way but it is not so due to the calculations involved in Physics. Lengthy calculations within the time constraint of just two and half hours was the reason why I had left 10-12 questions, including in Chemistry, and ended up making estimations in the end.
AIIMS – In the Physics section, there were a few questions that came from outside the syllabus. It is crucial to understand the derivations and simply memorise them. A proper understanding needs to be developed in terms of the relations while solving derivations because questions can be asked from anywhere in between. Rote-learning the formulas will not help a lot.
There are facts and formulae given between the lines in NCERT books (marked under the heading 'Points to Ponder') which many people tend to skip. These consist of abstract topics which are not explained in depth but are simply hints to something they say that we will learn in higher classes. It is expected of students to go through them as many questions are asked from these tiny boxes which most students ignore. I have always been intrigued by these facts, especially in topics related to geothermal energy, magnetism, thermodynamics and more.
There were a few questions asked from outside of NCERT which I was not able to answer and so I felt that I'm going to lose out on a lot of marks. Honestly, I came back home and fretted over it a lot but now I believe that I shouldn't have lost heart. It is important to trust  your preparation because I believe that if I didn't know these particular questions, then a lot of students across India also wouldn't know.
For Chemistry, it is important to know the chemical reactions and organic equations from the beginning till the end – the entire process and how the conversion took place. Simply memorising the end products won't help since questions can be asked from an intermediate stage of the reaction and students may be left clueless in that case.
Careers360: How did you prepare for AIIMS 2018 and balance the studies for Board exam and other medical entrances like NEET?
Abdur: While each of these medical entrances is in MCQ pattern, the pattern of board exams is quite subjective. I allotted only the last one to one and half months to prepare for board examinations. I did so because I had already covered most of the syllabus but it was important to pay attention to the subjective part asked in Boards. For example, in Physics, one is asked to write down derivations and there are marks for each step written. I kept repeatedly writing and practicing derivations in a step-by-step manner. Also, in Biology, we are asked about detailed scientific names, drawing diagrams and labelling the functions on the diagram, which is not the case in AIIMS or NEET. I utilised the time to practise the important diagrams.
When it comes to Chemistry, teachers often deduct marks if one doesn't follow the conversions and equations as given in the NCERT text books. It is important to go through these for the sake of scoring well in the boards.
As for the medical entrances like NEET and AIIMS, I kept on practicing MCQs for two years. I solved as many papers as possible in the NEET and AIIMS pattern. With regard to school work, I tried to finish all the homework in between periods or during breaks or if a teacher was absent. I found it too mundane but it was still important to understand little things. I would go back home after school and practice Physics and Chemistry for entrances. I would study Biology with a fresh mind in the morning after performing Namaaz.
Careers360: How beneficial did it prove to take coaching?
Abdur: Coaching material is quite helpful as one learns new and interesting things which are otherwise not taught in school textbooks. It is always good to gain extra knowledge and that's where coaching plays a major role. I feel the Physics NCERT textbooks are too easy and are not too helpful from entrance exam point of view. This is because the kind of questions asked in entrances are very calculative. Coaching material encompasses very calculative exercises, which is great for NEET and AIIMS. One must practice these because we hardly get one to one and half minute per question in NEET. I feel the NCERT text book for Biology is however good enough.
Besides coaching, my friends played an extremely crucial role in my preparation. We were a group of four people who would discuss topics of importance and fixed a particular day of the week to do so. This helped each of us a lot as we would question one another and that would bring out new points each time.
We first started doing this for the Physics syllabus but later started doing it for Chemistry as well, especially Organic Chemistry. It really helped us in brushing up on the finer details and prevented us from skipping any detail at all.
Careers360: What was your exam day strategy for all the sections, namely Physics, Chemistry, Biology, General Knowledge and Aptitude & Logical Thinking?
Abdur: I had a habit of attempting the paper from the end – Biology-Chemistry-Physics, in that order – since I got into that habit while solving Allen's question papers. However, on the exam day of NEET, the order of the sections was not in that order. I still went on to solve Biology at first. I always found it the easiest and adopted that as my strategy.
During AIIMS, my friends who sat for the first shift had already told me that Physics was tough. A lot of difficult questions were asked from outside of NCERT like in 2017. Again, I started off by attempting the Biology section first as I found the questions to be the easiest.
Careers360: Which according to you were the toughest and easiest sections?
Abdur: Physics was the toughest according to me, and Biology was the easiest section. I studied from some extra study material in my Class 12. Besides Allen's material, I took mock tests of Star Ranker's Group (SRG) which is based on AIIMS and JEE pattern. It covers the finer points of NCERT.
Careers360: What are your hobbies? Did you engage in them during the preparations?
Abdur: I am very fond of literature. I love reading books, novels, especially thrillers. In fact, we have a huge library at home. My father would come visit me often in Delhi. During those times, I would take his phone and read some news snippets on politics and what's going on around the world. Whenever I wanted to relax, I would sleep a little extra to get some rest and went out with friends on a few occasions.
Careers360: Which factors would you attribute this success to?
Abdur: I would attribute my success to my father and my eldest sister. She was the best counsel I could have. As she was already trodding the path which I will soon be taking, she always helped me out of trouble. My friends and teachers have also provided me enough support throughout my journey.
Careers360: Any college you have in mind for admission?
Abdur: Like I said earlier, I did not expect to secure AIR 6 in AIIMS so I was willing to settle for Maulana Azad Medical College, New Delhi based on my NEET rank. But now that I have scored well in AIIMS, I will definitely go for AIIMS, New Delhi!
Careers360: Where do you see yourself in the next 10 years?
Abdur: 10 years is a long time to plan, but I would like to be an MD in Radiology or Cardiology in the next 5-6 years as these two fields interest me alot.
Careers360: Any message or advice for future medical aspirants?
Abdur: Hard work is extremely important. I suggest that aspirants aiming for AIIMS and medical entrances must keep working towards success – day after day, page after page. There is a lot of data to learn from all the NCERT books and other sources which can be very daunting. I really don't think keeping all the preparation for the last two to three months is a very good idea.
Also read
Questions related to NEET
Showing 83478 out of 83479 Questions