AIIMS 2018 Topper Interview -Amitabh Pankaj Chauhan was sure he would be among the top 50 in the AIIMS MBBS entrance but never imagined that AIR 5 would come knocking his way. Although his NEET result, where he secured the 34th Rank, left him confused about which college he should study in, his stupendous AIIMS 2018 result has allowed him to finalize his choice about his dream college, AIIMS New Delhi.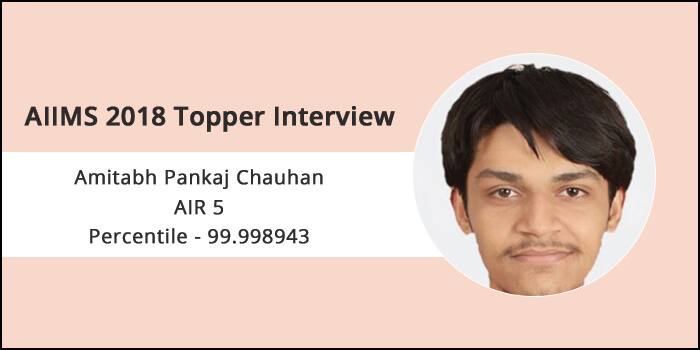 AIIMS 2018 Topper Interview: Working hard is the key to everything, says Amitabh Chauhan, AIR 5
After studying for roughly 12 hours each day, Amitabh says that the regular badminton sessions with his father acted as a much needed stress buster. The Gujarat boy, who also aced JIPMER MBBS by securing the 4th rank, shares with Careers360 his preparations strategy for the medical entrance exams and other invaluable tips in this exclusive interview.
Excerpts from the interview
Careers360: Congratulations on securing AIR 5 in AIIMS MBBS 2018. How are you feeling about your result?
Amitabh: My exam went really well. I was expecting a place in the top 50 but I was surprised to secure a rank in the top 10. I am really happy.
Careers360: Tell us something about yourself and your background.
Amitabh: I am from Ahmedabad, Gujarat. My father is a Doctor and my mother is a lecturer teaching Commerce and Business Management. It was my mother who guided and supported me all the way in my dream to become a doctor. My father also played an integral part in my success. I studied in Zydus School for Excellence until Class 10. Studying in an ICSE school helped a lot. After that I moved to a CBSE school, St. Ann's, located in Bopal, Ahmedabad, since almost all the competitive entrance exams follow the CBSE syllabus.
Careers360: What motivated you to pursue medicine as a career?
Amitabh: I was not sure of what to do until Class 10. During that time, my grandfather suffered a heart attack and that's when I felt like I should pursue medicine because through it, I could help a lot of people. To achieve this dream, I worked hard for the next two years.
Careers360: How did your family support you in this journey?
Amitabh: My family was not directly involved in my studies. The people who helped and supported me the most in that regard were my teachers. My family however were always there to provide me with the much-needed emotional and moral support. My mother was the one who set my timetable and took care of my health. My father, being a busy man, could not be around all the time, but he made it a point to play badminton with me on the weekends which was a huge stress buster after a whole day of hard work. He also introduced me to a few doctors who provided me with all the knowledge and information that I needed.
Careers360: What is your percentile in AIIMS MBBS 2018?
Amitabh: My overall percentile for AIIMS is 99.998943
Careers360: Which other medical entrances did you appear for? How was your performance in those?
Amitabh: I appeared for all the three medical entrance examinations. In NEET 2018 I secured AIR 34 and in JIPMER 2018, I was AIR 4.
Careers360: How did NEET, JIPMER and AIIMS differ from each other in your opinion?
Amitabh: While the prescribed syllabus for all the three exams is the same, the difference lies in the difficulty level of each exam. Also, while NEET is offline, AIIMS and JIPMER are held in online mode.
NEET is more oriented towards the NCERT textbooks and Biology has the most weightage, with 50% of the paper comprising Biology questions. AIIMS comes with a GK section which prompts us to revise our GK as well. JIPMER has a section on English which tests your knowledge in the language which again is important. As per my experience, I feel NEET is the easiest exam while AIIMS is toughest. JIPMER I would say is moderate.
Specifically with regard to AIIMS, I would say that Physics is the toughest section which means that we need to keep our cool as it requires a lot of calculations.
Careers360: How did you prepare for AIIMS 2018 while balancing your preparations for the other entrances?
Amitabh: The prescribed chapters for both NEET and AIIMS are the same as I had mentioned earlier. Whenever I studied, I began with the basics, moved to the questions asked at NEET level and them moved to the questions asked at AIIMS level. AIIMS and NEET preparations both went hand in hand for me. Assertion and Reason questions are an important part of AIIMS. It gives more importance to logic and how much you understood each of the concepts so preparing specifically for that is important.
Careers360: Did you take any coaching or help? How beneficial did it prove?
Amitabh: I went for coaching to Allen Career Institute. According to me, NEET is possible to crack without coaching but AIIMS and JIPMER do require coaching. NCERT texts are written in such a way that one reading gives you the feeling that you have understood everything but it is only later on that we realize that it there is more to what you read.
Careers360: How much time did you devote in self-study vs. coaching?
Amitabh: Coaching was in the morning for 5 hours, ie. from 8 AM to 1 PM. I came home and started studying at 3 PM, which went on till nearly 12 at night. I used to put in more hours on weekdays and during vacations. I had a time-table for upto 12 to 14 hours of study.
Careers360: What was your exam day strategy for all three subjects, namely Physics, Chemistry, Biology, General Knowledge and Aptitude & Logical Thinking?
Amitabh: We need to literally read between the lines for NCERT texts and my coaching institute played an important role in helping me understand that. My easiest section was Biology and I was an average student in Physics and Chemistry. I always started with Biology so I could complete it early and devote most of my time for Physics and Chemistry. I was a slow learner in Class 11 but gradually picked up by the time I reached Class 12. I studied GK and Aptitude in the last 20 days before the examination. GK mostly comes from the newspapers and my coaching institute also helped me in it with the notes they provided.
Careers360: Which according to you was the toughest and easiest section in the AIIMS entrance?
Amitabh: The easiest section in AIIMS was Biology. Physics was toughest for me.
Careers360: How did you tackle your strong and weak areas?
Amitabh: I solved the paper within two hours for NEET but this backfired. So for AIIMS, I took my time and solved the questions. I have a good memory and a strong grasp on Biology so I could remember everything. Physics was tough in the beginning because I did not understand much. I slowly developed my understanding and started solving more and more questions.
Careers360: What are your hobbies? Did you engage in them during the preparations?
Amitabh: I like sports. I occasionally took time to play badminton with my father.
Careers360: Which factors would you attribute this success to?
Amitabh: First and foremost, I would like to thank my coaching institute which helped me a lot. I never knew much but it was my coaching institute which made me realize the importance of the exams and how much I need to work towards it. Secondly, my support system were my family members, especially my mother. My family helped me keep going further. In these two years, there were times where I was depressed because of the marks scored or other things that were not going according to my plan. It is during such times that my family, mainly my parents and brother, stood by my side.
Careers360: Where do you see yourself in the next 10 years?
Amitabh: In the next ten years, I see myself as a surgeon, either in Cardiology or Neurology.
Careers360: Any message or advice for future medical aspirants?
Amitabh: Working hard is the key to everything. Make time for everything and make sure you keep yourself happy throughout your preparation phase.
Also Read