AIIMS 2018 Topper Interview: Do not run after ranks but focus on scoring well, says Ramneek Kaur Mahal, AIR 2
AIIMS 2018 Topper Interview - Ramneek Kaur Mahal, a native of Bathinda, Punjab has achieved the unique distinction of securing a top ten All India Rank (AIR) in all three entrance examinations pertaining to the domain of medicine, namely NEET UG (AIR 10), JIPMER MBBS (AIR 7) and AIIMS MBBS (AIR 2). Her remarkable hattrick, confirmed after the declaration of the AIIMS MBBS results on June 18, 2018, is testament to the immense hardwork put in by her over the last two years, where she spent around six to seven hours each day to prepare for the medical entrances.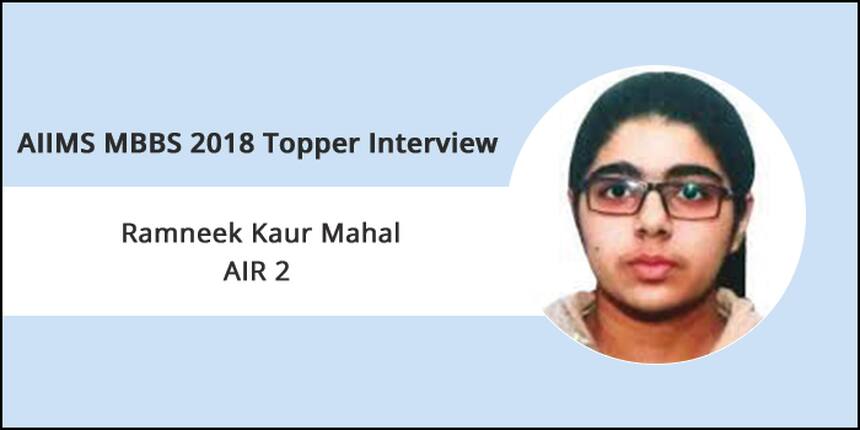 A student of St. Joseph's Convent School, Bathinda till Class 10, and Rose Mary School post that, Ramneek hails from a medical background, where not only her parents, but also her grandparents are doctors. An avid reader of novels and a passionate guitarist, she sacrificed her leisure activities to prepare for AIIMS MBBS, NEET and JIPMER MBBS. She credits her success in AIIMS MBBS 2018 to her private tutors, the mock tests prepared by renowned training institutes and the unceasing support of her parents.
Careers360 brings to you the interview of Ramneek Kaur Mahal , where she shares her exam experience and preparation strategy for the future AIIMS MBBS aspirants. Read the full AIIMS MBBS 2018 topper interview of AIR 2 Ramneek Kaur Mahal here.
Excerpts from the interview:
Careers360: Heartiest congratulations on making it to the top 10 list in AIIMS, NEET and JIPMER! How are you celebrating your achievement?
Ramneek: Thank you so much! I never expected any significant rank in any of the exams since my focus was only to put in my best as I was always committed to excellence. The phrase 'On top of the world' does not suffice as I am elated and have no words to express my happiness at the moment!
Careers360: Tell us something about yourself and your family members. What role did they play in your success?
Ramneek: My family is filled with doctors. Both my grandparents were doctors, my mother is a Gynaecologist while my father is a Goverment Medical Officer in Punjab. I have a brother who is in Class 11 and who has already started preparing for the medical entrance examinations. My parents were extremely supportive in all aspects and have encouraged me in all walks of life throughout.
Careers360: What motivated you to pursue medicine as a career?
Ramneek: Firstly, I have grown up among doctors and that inspired me to take up the noble profession. More than that, I feel organisations like WHO and UNICEF lack good medical practitioners. So, once I complete my medical studies, I would like to serve them to the best of my ability.
Careers360: What is your overall and subject wise score in AIIMS 2018?
Ramneek: My overall percentile in AIIMS 2018 was 100. The sectional percentiles are as follows -
Biology: 99.8975042
Chemistry: 99.9788668 
Physics: 100
GK: 98.4710159
Careers360: How did you prepare for the medical entrances?
Ramneek: During the two years of preparation, my focus was primarily on NEET. I read several MCQ books on all the related subjects, especially Physics, and focussed more on NCERT books. For AIIMS, I solved numerous mock papers over the last two years and was once again thorough with the NCERT books. I also spent a lot of time preparing for the General Knowledge and Current Affairs section.
Careers360: Which exam, according to you, was the toughest among all the three Medical exams?
Ramneek: I feel AIIMS was the toughest followed by NEET and JIPMER.
Careers360: What were the toughest and easiest subjects for you?
Ramneek: For me, the toughest subject has always been Chemistry. I loved Physics throughout my academic years so that was the easiest.
Careers360: Please share your exam day strategy for AIIMS 2018.
Ramneek: I followed my preparation strategy for the exam day as well. I started with Physics, then attempted Biology, Chemistry and finally concluded my paper with General Knowledge.
Careers360: Any particular college you have in mind for admissions?
Ramneek: To be specific, I am currently looking forward to joining AIIMS, New Delhi. I am also keeping my options open in Maulana Azad Medical College, New Delhi and JIPMER Puducherry. However, my priority would be to join AIIMS Delhi.
Careers360: Where do you see yourself in the next 10 years?
Ramneek: I haven't given this serious thought as yet but I hope to see myself as a Neurologist.
Careers360: Having such a rigorous schedule in school, were you able to pursue any hobby? What did you do during the leisure hours between preparation ?
Ramneek: I had given up on all my hobbies to concentrate on my studies. For the last 24 months, I have been only studying, be it at home or at the tutorial classes. I had no leisure time as such, but whenever I felt exhausted, I would have a quick chat with my Dad or watch television for a while. I loved to read novels and play the guitar. Badminton is my favourite sport. But I sacrificed all of these while preparing.
Careers360: What is your message for the future AIIMS aspirants?
Ramneek: Hardwork is the only key to success. One has to diligently study for long hours in order to cover the syllabus of the entrance examinations. Do not run after ranks but focus more on scoring well. Try solving as many test papers as possible to achieve a remarkable score/percentile! Best wishes for all the future medical aspirants!
Questions related to NEET
Showing 83479 out of 83480 Questions