AIIMS 2018 Topper Interview: My parents and coaching institute faculty were my pillars of strength, says Somal Agarwal, AIR 9
AIIMS 2018 Topper Interview - Rajasthan boy Somal Agarwal obtained a commendable 99.9978867 percentile to secure AIR 9 in AIIMS MBBS 2018. Attributing his success to his parents who supported him throughout his journey after his decision to take up medicine as a career, he adds that they made a number of sacrifices for him to help him achieve his dreams.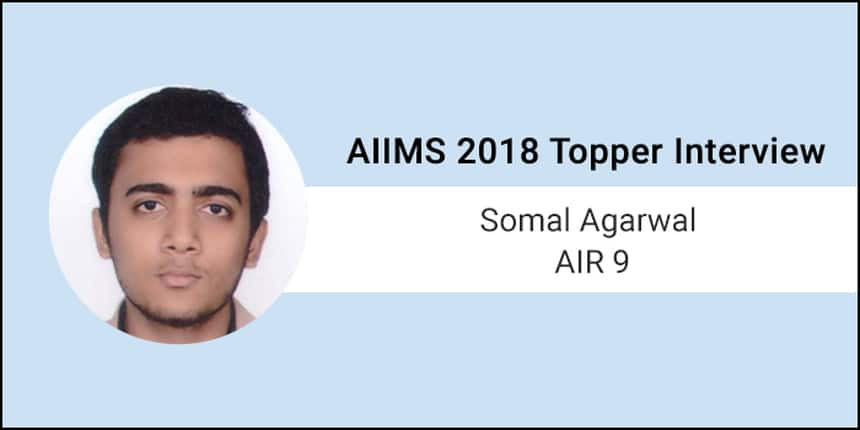 With sincere dedication and immense help from his coaching faculty at Allen Kota, Somal is convinced that he could not have made it without the guidance from his institute. He heavily relied on the coaching material apart from the NCERT textbooks and followed a strict disciplined routine during the preparation phase.
In this AIIMS topper interview 2018 with Careers360, he talks about his preparation strategy and the factors which motivated him to study and achieve success in AIIMS MBBS. Read on to know what he has to say.
Excerpts from the interview:
Careers360: Congratulations on making it to the top 10 list. How are you celebrating your AIIMS results?
Somal: Thank you so much! Given that my NEET result was not so good, it took a while for the achievement to sink in when I came to know of my AIIMS 2018 result. It is a great feeling and I am enjoying it as of now. My parents, who have been extremely supportive throughout, are celebrating the feeling with me. Our extended family and friends have also come to know and are equally elated.
Careers360: Tell us something about yourself and your background – about your city, school board, family etc.
Somal: I belong to Kota in Rajasthan. I completed my schooling till Class 12 from Maa Bharti Senior Secondary School, a CBSE school in my native town of Kota. My father is the Deputy Manager at DCM Power Plant while my mother is a Sanskrit Professor at Government College, Kota. I have a younger sister who is pursuing her schooling right now.
Careers360: What motivated you to pursue medicine as a career?
Somal: I took up the decision to pursue medicine as a career on my own. My parents were totally supportive towards my decision and had given me full freedom to choose whatever I want to study for higher education. I had full liberty to choose anything I wanted, be it Medicine or even Arts, as my parents wanted me to take up something that I was really interested in. Additionally, I am going to be the first doctor in my family – there is no one in the medical profession from my family yet.
Careers360: How did your family support you in this journey?
Somal: I can't thank my family enough for the support they offered in my journey which has helped me achieve this milestone in life. I stayed at home during my preparation and attended Allen Kota for coaching. As the coaching centre was quite close to my residence, it helped me save a lot of time on commute which would otherwise have consumed a lot of time.
I made a few sacrifices in my lifestyle and so did my family. Me and my father both love watching TV. However, to help me not waste time watching TV and focus entirely on my preparation, my father quit watching TV as well.
This is just a small example of his sacrifice, and there are many more such examples. They would wake me up early in the morning for my studies and constantly be there for me throughout the day.
Careers360: Did you appear for other medical entrances as well?
Somal: Yes, I appeared for NEET 2018 but did not score as impressively. I secured AIR 215 in NEET and my subject-wise scores are as follows:
Physics: 171
Chemistry: 147
Biology: 335
Careers360: How did you prepare for AIIMS 2018 and balance the studies for your Board exams and other medical entrances like NEET?
Somal: Well, honestly I did not work too hard for board exams. I knew that the minimum percentage required for AIIMS is 60 percent in the Boards. As securing good marks in entrance exams was my priority, I majorly aimed for 80-90 percent in my Class 12 Boards. With this in mind, I scored a good percentage of 88.5 percent in Class 12.
Balancing school and entrance preparation was a bit difficult in the very beginning but then I learnt not to waste too much time and spent about one to two hours of quality time on school work to manage the work load.
Careers360: How beneficial did it prove to take coaching?
Somal: Coaching from Allen Kota is extremely helpful, atleast that was how it proved to be for me. I relied on the coaching material entirely which is more than sufficient. It is the best material that aspirants can get their hands on. There are really good questions in Chemistry and Physics in Allen's study material, with the help of which one can even crack IIT JEE's Physics and Chemistry sections.
In my opinion, schools don't prepare students for entrances - the course and curriculum covered is just not enough. Rather, coaching gives you an extra edge with competitiveness and by thoroughly covering each and every topic that one must not miss out on.
Careers360: How much time did you devote in self-study vs coaching?
Somal: My days would be something like this - I would go to school and attend coaching at Allen from 2.30 PM to 8.30 PM. After getting home, I would start studying on my own until 11 PM and get a good night's sleep until 7 AM. I tried to adhere to this routine so that I could study sufficiently and take enough rest too.
The fact that my house was close to my coaching centre was quite advantageous as it saved me tremendous amount of time.
Careers360: What was your exam day strategy for all the sections, namely Physics, Chemistry, Biology, General Knowledge and Aptitude & Logical Thinking?
Somal: On AIIMS exam day, I was prepared for the toughest possible situations as I had already faced NEET during which I had become a little confused and messed things up.
I spent about two minutes scanning the question paper, randomly read questions and understood that Physics was going to be tough as some questions were out of syllabus. But I knew that if I didn't know the answers to them, nor would most candidates in India appearing in AIIMS that day. It gave my confidence a tiny boost and kept me going smoothly in the exam.
I found Biology to be the easiest section as everything came from NCERT books. There was not even a single question, or even a word out of NCERT. I managed to finish it quickly.
General Knowledge and AR section was mainly mental ability which I had practiced enough at my coaching institute and was well-versed with the answers.
I kept Physics section for the end as I found it the toughest. I devoted about an hour for it.
Careers360: Which according to you was the toughest and easiest section?
Somal: Physics was the toughest according to me, and Biology was the easiest section. Questions in Biology were totally based on NCERT's content while there quite a few tough questions in Physics with few of them being out of syllabus too.
Careers360: How did you tackle your strong and weak areas?
Somal: I did not worry too much about my strong areas. The areas I was strong in I would sometimes revise them and sometimes just let it be.
As for my weak areas, I made sure to work extra hard on them. To do this, I maintained a separate register for the same. I made a list of the topics which were my weak areas and made a small summary of each. I would go through each of them regularly. As time went by, they became my strong areas too.
Careers360: What are your hobbies? Did you engage in them during the preparations?
Somal: Like I mentioned, I enjoy watching TV. I am really fond of watching Discovery and Animal Planet.
Besides, I am very enthusiastic about collecting coins. Each time the Government issues a new coin on a special event, I try to add it to my collection.
I also gave up on family time to stay focussed on my preparation. I hardly attended any family functions except for one or two on rare occasions in the past two years.
Careers360: Which factors would you attribute this success to?
Somal: I would attribute my success to my parents of course, and the faculty of my coaching institute at Allen who supported and guided me throughout my journey towards success.
Careers360: Any college you have in mind for admission?
Somal: I think I will get admission in AIIMS Delhi now with my rank of 9, so AIIMS Delhi it is!
Careers360: Where do you see yourself in the next 10 years?
Somal: Well, 10 years is a long time and I haven't exactly planned for that. But surely I see myself as a successful doctor after completing my MBBS.
Careers360: Any message or advice for future medical aspirants?
Somal: Hard work is the key. However, in terms of preparation, I would recommend sticking to NCERT. Joining a good institute for coaching is a big help. The syllabus at school, I believe, is not sufficient to crack a national-level medical entrance like AIIMS and only someone extraordinarily brilliant can do so without coaching especially in the medical field. 
Questions related to NEET
Showing 83466 out of 83467 Questions