AIIMS MBBS 2015 Exam Pattern
AIIMS MBBS 2015 Exam Pattern - The exam pattern of AIIMS MBBS 2015 provide an overview to candidates about exam duration, number of question and marking scheme. Aspirants who will appear for AIIMS MBBS entrance exam can read the exam pattern so as to prepare well for the exam. AIIMS MBBS 2015 entrance exam is scheduled to be held on June 1, 2015.

Also Read-
AIIMS MBBS 2018
AIIMS MBBS Important Dates 2018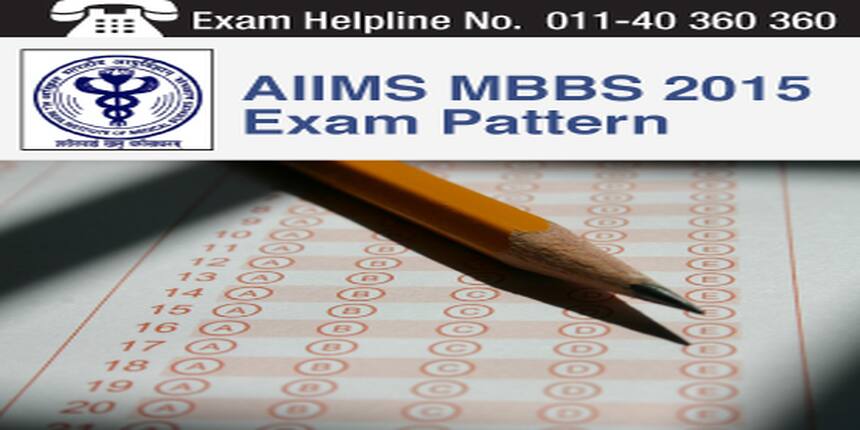 Aspirants, who will appear for the AIIMS MBBS 2015 entrance exam, must secure qualifying marks for eligible for admission. According to examination authority, AIIMS MBBS 2015 cut off marks for General category candidates will be 50% while for OBC 45% and for SC/ST 40%. OPH candidates will be required to secure a minimum of 50% marks in case of General Category candidates, 45% in case of OBC & 40% for SC/ST.


Talk to our expert counsellors for any doubts and queries related to the exam pattern, and preparation on AIIMS MBBS 2015 Exam Helpline at 011-40360360 

Click Here for All UG Medical 2015 Exam alerts like news and updates related to sample papers, application forms, admit card, exam results, counselling and much more
Important Highlights of AIIMS MBBS 2015 Exam Pattern is Given Below:
Exam Mode: AIIMS MBBS 2015 exam will be conducted online i.e. Computer Based Test (CBT) 
Duration: AIIMS MBBS 2015 Exam will be of 3.5 hours duration
Number of Questions: The exam will have 200 (multiple choice and reason-assertion type) questions from Physics, Chemistry, Biology and General Knowledge
Question Booklet: AIIMS MBBS 2015 Question Paper will be provided either in English or in Hindi according to the choice of candidates. Therefore candidate must select in the space provided in the application form regarding preference to have the question paper in English or Hindi. The choice cannot be changed later
Syllabus: The standard of AIIMS MBBS 2015 will be that of 12 class under the 10+2 Scheme/Intermediate Science. No syllabus shall be prescribed by the examination authority
Click Here to enroll for Expert guidance for UG 2015 medical Entrance Preparation, Counseling and college selection.
Subject wise division of AIIMS MBBS 2015 question paper is given below:
 Subjects

 Questions

 Duration

 Physics

 60

    3.5 Hours

 Chemistry

 60

 Biology (Zoology a& Botany)

 60

 General Knowledge

 20

Total

200

 
Mode of Examination: Computer Based Test (CBT)
Date of Examination: 01 June 2015 (Monday)
Number of Shifts: 02 (Two)
Timing of Examination: First Shift: 09.00 AM to 12.30 PM; Second Shift: 03.00 PM to 06.30 PM
Allocation of shift: Random
Location of Examination Centres: Tentatively 154 cities in India
Language of Paper: English / Hindi
Type of Examination: Objective Type
Number of Questions:  One Paper of 200 (Two hundred)
Type of Objective Questions:  Multiple Choice Questions (MCQs) Reason Assertion
Distribution of Type of Questions: There will be 140 multiple choice questions and 60 questions will be based on reason and assertion except questions from General Knowledge
AIIMS MBBS 2015 Marking Scheme:
| | |
| --- | --- |
| Correct Answer | 1 mark |
| Incorrect Answer | -1/3 (Minus one third) |
| Unanswered / Marked for Review | 0 |
 Method of Cut-Off:  AIIMS MBBS 2015 Cut off marks will be based on percentile. Percentile corresponding category wise percentages are as following. In case percentiles of both shifts are unequal the lower percentile of both shits shall be the cut off.
| | |
| --- | --- |
| Category | Percentage |
| General | 50 |
| Non-Creamy Layer | 45% |
| SC /ST | 40% |
Method of determining merit: Overall merit by merging of percentiles of total scores of both shifts of AIIMS MBBS 2015 
 Click Here to enroll for Expert guidance for UG 2015 medical Entrance Preparation, Study Material, Counseling and college selection.
Stay tuned to medicine.careers360.com for more news and feature related to AIIMS MBBS 2015
Questions related to NEET
Showing 83362 out of 83363 Questions