AIIMS MBBS 2015: An overview and Preparation tips by Toppers


AIIMS MBBS 2015 is one of the most coveted medical entrance exam. Among the 7 All India Institute of Medical Sciences, AIIMS New Delhi is the most favored medical college of India. To provide all information about AIIMS MBBS exam, Careers360 presents an overall guide on the exam including the exam pattern, seat reservations and toppers tips and preparation guidelines.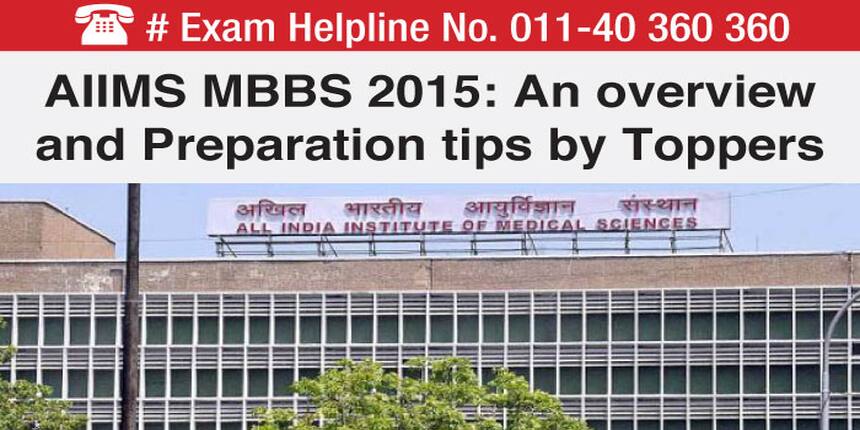 AIIMS MBBS 2015 is scheduled to be conducted on June 1, 2015 in an online mode only. Untill last year, the exam was conducted in both offline and online mode, but from 2015, it has been officially notified that the exam will be a Computer based test only for the admissions to undergraduate MBBS progarmme.

Also Read-
AIIMS MBBS 2018
AIIMS MBBS Important Dates 2018


Click Here to Enroll For AIIMS Knockout Test Series to Crack AIIMS 2015 exam or call Exam Helpline at 011- 40 360 360 to talk Expert counsellors
Highlights of AIIMS MBBS 2015
Exam mode: Online
Duration: 3.5 hours (Three and a half hours)
Number of Shifts: 2
Allocation of shifts: Random
Exam timing: First shift: 09:00 AM- 12:30 PM, Second shift: 03:00 PM – 06:30 PM
Type of Examination: Objective Type
AIIMS MBBS 2015 Exam Pattern: The exam pattern is prescruibed by the official exam conducting body. The exam will have 200 multiple choices and Reason Assertion Questions from Physics, Chemistry, Biology and General Knowledge. Let's have a look at the section wise division of the exam in the table below.
 Subjects

 Questions

 Duration

 Physics

 60

    3.5 Hours

 Chemistry

 60

 Biology (Zoology a& Botany)

 60

 General Knowledge

 20

Total

200

 
As per the AIIMS MBBS 2015 Marking Scheme, a correct answer will let the candidate score 1 mark, and an incorrect answer will have a deduction of one third marks. After the exam will be over a All India Rank will be published, declaring the names of the shortlisted students for the counselling procedures.
The AIIMS MBBS 2015 Cut off marks will be based on percentile. Percentile corresponding category wise percentages are provided in the table. In case percentiles of both shifts are unequal the lower percentile of both shifts shall be the cut off.
| | |
| --- | --- |
| Category | Percentage |
| General | 50 |
| Non-Creamy Layer | 45% |
| SC /ST | 40% |
AIIMS MBBS Seats and Reservation
AIIMS MBBS 2015 Result will be on the basis for admission to 672 MBBS seats to 7 AIIMS Institutions. Among these 672 seats, 72 seats are in AIIMS New Delhi and the remaining 600 seats are in 6 new AIIMS. Each new AIIMS have 100 MBBS seats for MBBS programme.
Out of 72 seats in AIIMS New Delhi, 37 seats are for General Category, 11 seats are reserved for Schedule Caste, 5 for Schedule Tribes and 19 seats for Other Backward classes. A 3% reservation for Orthopaedic Physically Handicaped (OPH) is provided on the horizontal basis.
Serial .No.

Location of AIIMS

Unreserved

(General)

Other Backward Class (OBC)

Scheduled Caste (SC)

Scheduled Caste (ST)

OPH (Orthopedic physically Handicapped)

1.

New Delhi

37

19

11

05

 

 

 

 

 

 

3% Horizontal

2.

Bhopal

50

27

15

8

3

Patna

50

27

15

8

4.

Jodhpur

50

27

15

8

5.

Rishikesh

50

27

15

8

6.

Raipur

50

27

15

8

7.

Bhubneshwar

50

27

15

8

 

TOTAL

337

181

101

08

 
Toppers Tips and Tricks to crack AIIMS MBBS 2015 :


PattispaduSrividya AIR 1, AIIMS 2014
PattispaduSrividya from Vishakhapatnam topped AIIMS MBBS 2014 exam. She secured All India Rank 1. In her interview with Careers360, Pattispadu said, "I started working for AIIMS MBBS entrance exam right after my class VIII". She also said, ''My preparation strategy was to work hard, adopt a systematic study approach and have clarity on whatever was being taught to me in school and coaching classes''.
Read below about her preparation tips
Enjoyed studies: Pattispadu said, ''I was not particularly preparing for AIIMS MBBS entrance exam but was studying regularly for other medical entrances such as AIPMT, JIPMER etc''. She adds, "I attribute my success to love towards my studies. I love studies. I never got bored of them rather I enjoy each and every new concept I learn''.
Stay self disciplined: Pattispadu says, ''Self discipline, hard work and faith in myself have helped me in reaching such great heights in my career.'' She adds, "This strategy will always help everyone in long run. I used to study for 12 to 14 hours a day during the preparation period". "In the last six months of AIIMS MBBS 2014, I worked the most on my weak areas and had tried to convert my weaknesses into my strengths" says, Pattispadu.
Freshen-up your mind: "It is very important to freshen up your mind during prolonged study hours", says Pattispadu. She said, "Whenever I felt stressful, I do painting and it also allows me to enhance my creativity". She adds, "I have never comprised on my eight hours sleep during AIIMS MBBS preparation time".
''In order to study with fresh mind and more concentration, it is very important to take short and recreational breaks in between,"adds, Pattiuspadu.
Advice to aspirants: "I would like to suggest them that do not take stress about AIIMS MBBS exam and the real success mantra is NCERT Books," says Pattispadu. She further said, ''NCERT Books are the best way to clear your basics and concepts in all the three subjects, Physics, Chemistry and Biology''.
"Apart from studying PCB, make it a habit to study newspaper daily as General knowledge sections also plays a big role in scoring high in AIIMS MBBS'', says Pattiuspadu.
Set your goals high and your priorities higher!
Click Here to read full interview
---
Arvind Subramanian AIR 4, AIIMS 2014
Arvind Subramanian secured All India Rank 4 in AIIMS MBBS 2014 exam. Topper who attributed his successful to the guidance he received from his teachers and to the hard work he put in to achieve this remarkable success.
Also, AIR 17 in JIPMER 2014, Arvind says, he was sure of being among the topper's but did not expected a single digit rank.  In his interview with Careers360, Arvind says,"I began preparing for medical entrance exams right after my class X boards". He says his preparation strategy was to work hard and have clarity on basic concepts of Physics, Chemistry and Biology.
Read below about Arvind's preparation strategy.
Hard work is the key to success- "I truly believe in this English proverb that hard work is the only key to success'', says Arvind. ''The basic strategy I adopted was to have clarity on all the concepts of Physics, Chemistry and Biology'' says Arvind. He also adds, '' I invested a lot of time to strength Zoology and botany subject because these two subjects have vast theory''. ''I have tried to solve at least 20 numerical on daily basis within a set deadline to boost my problem solving speed'' says, Arvind.
Revision plays an important role:  "A month before the AIIMS 2014 exam, I was busy in revising notes which I made during school and coaching classes," says Arvind. He further said that," I used to solve previous year sample papers and take 4 to 5 mock tests a week". "Revision exercise has helped me in analyzing my weak areas and brought good improvement in my studies, thus it has played a very important role during preparation," he adds.
Piece of advice from my side: "I would like to tell other aspirants that do not take stress about the exam and do not study under pressure", says Arvind. He further added, "Start preparing for competitive examinations with your intermediate exam". He added, ''Recreational activities plays a vital role in releasing stress and restlessness, so indulge in activities which helps you relax and then start studying with more concentration''.
Click Hereto read full Interview
AIIMS MBBS 2015 result will be the basis for admission to 672 MBBS seats in 7 AIIMS institutions located at New Delhi, Bhopal, Patna, Jodhpur, Rishikesh, Raipur and Bhubaneswar. Among 672 MBBS seats in AIIMS, 72 are in AIIMS Delhi and reaming 600 seats are in 6 new AIIMS. Each new AIIMS has 100 seats for MBBS programmes. 
Stay tuned in to medicine.careers360.com for more news and featured articles on AIIMS MBBS 2015
Save
Questions related to NEET
Showing 83627 out of 83628 Questions