AIIMS MBBS 2015 Topper Interview: Adhish Sethi Secured AIR 5


AIIMS MBBS 2015 Topper Adhish Kumar Sethi secured All India Rank 5 in the most coveted medical examination. In an exclusive interview with Careers360, Delhi boy Adhish shares how he tackled the reason-assertion based type questions.

Also Read-
AIIMS MBBS 2018
AIIMS MBBS Important Dates 2018
A very soft spoken and reserved person, Adhish comes from a Doctor family and aspire to continue the family profession of becoming a doctor. He shares that he always wanted to get admission in AIIMS Delhi and now is overjoyed to join his dream college. He describes about his study routine, revision technique and recreational activities that he used to indulge in while preparing for this most coveted medical examination.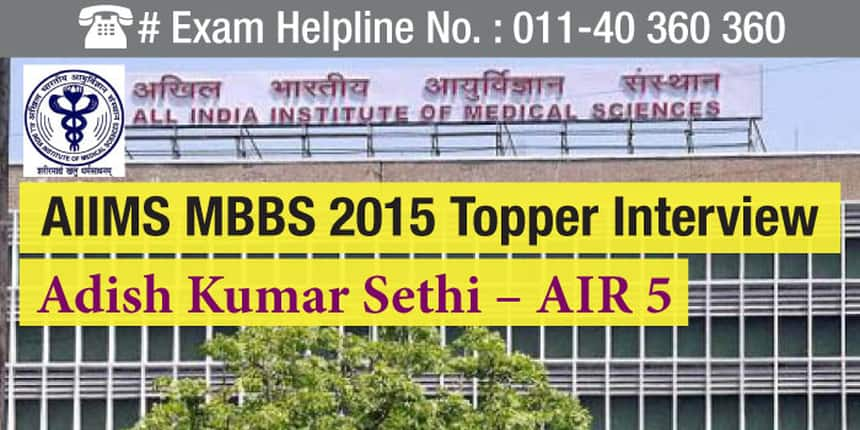 AIIMS MBBS 2015 is a national level undergraduate medical entrance exam conducted by All India Institute of Medical Sciences (New Delhi) for admission to MBBS programmes. Read Adhish's interview to know how to crack AIIMS MBBS exam to secure a top rank.
Careers360: So many Congratulations for being a topper, how are you celebrating?
Adhish: Thank you. I am surprised and glad for being a topper, everyone in the family are celebrating. I had done a lot of hardwork to crack AIIMS.
Careers360: Your hardwork has paid well. Tell us about your preparation strategy for AIIMS.
Adhish: I had a simple strategy of working hard. I used to revise whatever was taught in coaching classes for about 3-4 hours. I am not a bookworm at all. I had my time table prepared according to which I used to first revise what was taught and then try questions what were to be taught next in the classes, for an hour or so.
It is important for the students to develop a habit of having a study routine, in which you study for a minimum of 7-8 hours each day.
Careers360: Did you appear in any other medical exams, and how did you prepare for them?
Adhish: I was very keen and passionate about being a doctor since my childhood, and has to have admission in AIIMS Delhi. Besides AIIMS I appeared in AIPMT and IPUCET 2015 in which I secured rank 7. For all the exams I followed the same strategy and secured good ranks. Sadly, AIPMT got cancelled, but I will not appear again as I have fullfied my dream of taking admission in AIIMS Delhi.
Careers360: How did you find the AIIMS exam as per the level of questions and how did you manage your time during the exam?
Adhish: AIIMS MBBS exam is one of the most difficult exams in medicine. The 2015 year exam was diffucult for me, theassertion type questions were the most difficult one, as they take a lot of energy and time to solve. Biology is my favourite subject and I solved this section at ease within minutes, so I was left with a lot of time for other sections. As I solved questions in each of the section, I maintained my calmness and focus. If you lose your patience, you would lose time and would be unable to solve questions properly. So, maintain calm, peace and give distribute each section with a proper time. 


Careers360: Why did you opt for MBBS?
Adhish: I aspired to become a doctor since my childhood, as I used to see my parents treat their patients and discussing about the problems people have. Mine is a family of Doctors. My mother is a gynaecologist and my father is an opthalmist. The equipments used to fascinate me and this made me so passionate about medical profession.
Careers360: Were you active in any recreational activities now?
Adhish: Yes I was very much active in extra curricular activities as they support in having a healthy studies with relaxed mind. I used to watch a lot of Hollywood movies. Recreational activities help you in getting relaxed and study with more calm and focused mind.
Also besides studies, I used to walk in the parks for an hour or so, at times watch television.
Careers360: What guidance you would give to the future aspirants of AIIMS MBBS exam?
Adhish: The reason which made me a topper was focus, hardwork and passion towards studies. I would give the same suggestions to the future aspirants, to work hard to achieve your goals, stay focused and and do a lot self study.
Also Read:
AIIMS MBBS 2015 Rank 1 Navsheen Interview
AIIMS MBBS 2015 Rank 3 Ansh Gupta Interview
Stay tuned to www.medicine.careers360.com for more news and updates
Questions related to NEET
Showing 83628 out of 83629 Questions