AIIMS MBBS 2015 Topper Navsheen Singal - All India Rank 1


Navsheen Singal secured All India Rank 1 in AIIMS MBBS 2015 examination which was conducted on June 1 in an online mode. In an exclusive interview with Careers360, this medical aspirant Navsheen from Hissar shares his AIIMS strategy and success mantra that lead him top this most coveted medical examination. An avid fan of Table Tennis, he aspires to pursue research work in the field of medicine.

Also Read-
AIIMS MBBS 2018
AIIMS MBBS Important Dates 2018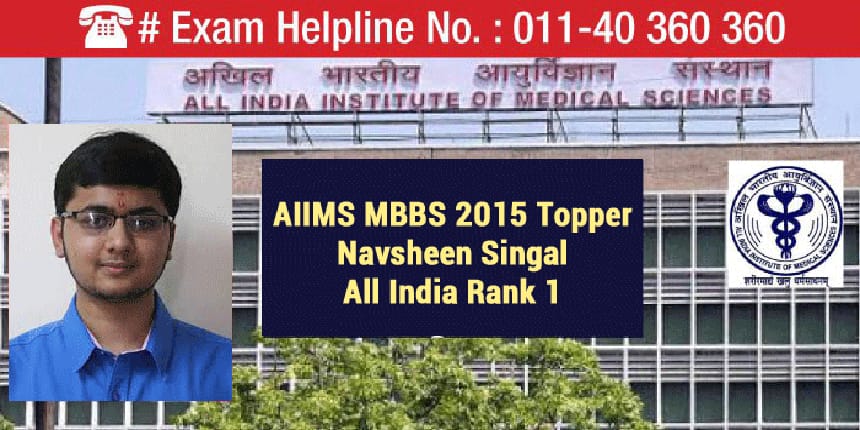 Navsheen also appeared in other medical exams like AIPMT and IPU CET MBBS in which he secured rank 5. He shares his preparation strategy of following NCERT syllabus and revising each topic every day to crack AIIMS MBBS exam.
AIIMS MBBS 2015 is a national level undergraduate medical entrance exam conducted by All India Institute of Medical Sciences (New Delhi) for admission to MBBS programmes. The online question booklet of AIIMS MBBS 2015 exam had 200 objective type (multiple choice and reason-assertion type) questions from Physics, Chemistry, Biology and General Knowledge.
Read Navsheen  interview on How to crack AIIMS MBBS exam


AIPMT 2015 Cancelled ! Click here to Enroll for AIPMT Knock out Test Series to Crack AIPMT 2015 Re- Test or Call Exam Helpline at 011-40360360.
Read below interview of Navsheen Singal AIIMS MBBS AIR 1:


Careers360: Congratulations for being an AIIMS topper. How are the celebrations going?
Navsheen: Thank you. It's an immense pleasurable moment for me and the entire family. People haven't stopped calling and are giving their best wishes to us. We all are overwhelmed right now and it is surely a moment where dream comes true.


Careers360: You have done great. So tell us about how you achieved AIR 1 in AIIMS MBBS entrance exam.
Navsheen: In IPU CET I secured rank 5, and also appeared in AIPMT. It was surely not easy to top AIIMS, I had really worked hard for it. The best and simplest way to prepare is from NCERT books. Yo must focus on getting your basics on your tips and for that NCERT is the key.


Careers360: Tell us what made you select Medicine as your profession?
Navsheen: I was very keen and passionate about being a doctor since my childhood. I wanted to learn and do research in the field of medicine. It's a profession which is highly respectable and noble. In this field you also get chance to serve people who are actually in need and requires medicinal support.


Careers360: Please elaborate on your preparation strategy for AIIMS MBBS 2015. How your family supported in your preparations?
Navsheen: NCERT syllabus can help you crack 50% of the questions asked in the entrance exam. It also helped in getting command over the basics of each topics of Physics, Chemistry and Biology. I focused on self-study and on routine basis I studied for 5-8 hours which enhances my understating level and problem solving aptitude.  Moreover, the important part of my preparation was to make self-notes, and repeatedly revising the same. Besides that I also received a lot of guidance from my elder sister, family and coaching studies.


Careers360: How was the AIIMS exam for you, the level of questions and what was your time management strategy during the exam?
Navsheen: AIIMS MBBS exam is one of the toughest exams in medicine field because of reason and assertion based questions. I really felt exhausted during the exam because it took a lot of energy and time to solve the questions.


While taking the exam, I got stuck in Physics section, I found it difficult, but rather than wasting time on it I quickly switched to Biology and later to the Chemistry section. The questions from these two sections were easy for me to tackle, and then I solved questions from English comprehension and General Knowledge section. A few questions in these sections were difficult for me, but I handled them with calmness.
After solving the above section, I switched to Physics, I was left with a lot of time in my hand and devoted every second to solve maximum questions of this section. It is important to tackle time along with calmness. If you lose your patience, you will lose time and will be unable to solve questions properly. So maintain calm, peace and follow time management strategy to score good rank.


Careers360: Did you appeared in AIPMT? Since the paper has been cancelled what is your reaction over this. Will appear for AIPMT 2015 re exam?
Navsheen: It is sad and unfair to the candidates who actually worked hard and appeared in AIPMT 2015. Many did their test with a passion and focus, and it might be possible for many aspirants to be unable to follow the same enthusiasm again.
I will not appear in AIPMT 2015 re exam as I have achieved my dream of getting AIIMS Delhi.
Careers360: You prepared so hard and your preparations have paid well. Were you active in any recreational activities and what are the future plans now?
Navsheen: Yes I was very much active in extracurricular activities as they helped me in rotuine studies with relaxed mind. Though I used to play table tennis a lot and watch movies but never lost my focus from studies.
I haven't planned for choosing any specialization right now, my focus is to study for MBBS and learn all the aspects of medical science. I am very excited and looking forward for the classes to get started.
Careers360: What guidance would you give to the future aspirants of AIIMS MBBS exam?
Navsheen: The strategy that should be followed for AIIMS aspirants is to focus on NCERT books along with other study materials. It is important for every medical aspirant to be thorough about the syllabus of NCERT books as it helps in long run.
Candidates must devote most of their time towards their studies and focus on every single aspect of the syllabus because no one knows what type of questions can come. Another thing that I followed and think that made me a topper is hard work, routine study and passion towards your dream.


Stay tuned to www.medicine.careers360.com for more news and updates on AIIMS MBBS 2015
Save
Questions related to NEET
Showing 84296 out of 84296 Questions