AIIMS MBBS 2015 Topper Oshin Bhatia - All India Rank 4


Oshin Bhatia secured All India Rank (AIR) 4 in AIIMS MBBS 2015 exam, the most coveted medical entrance exam in India. The meritorious boy from Patiala in Punjab had already secured AIR 2 in GGSIPU and AIR 18 in Punjab PMET towards his MBBS dreams, but an AIR 4 in AIIMS exam almost takes him to his dream institute- AIIMS Delhi. Sharing his life goals, in this Interview with Careers360, the son of doctor parents, says that he wish to practice this profession by heart, as his parents did.

Also Read-
AIIMS MBBS 2018
AIIMS MBBS Important Dates 2018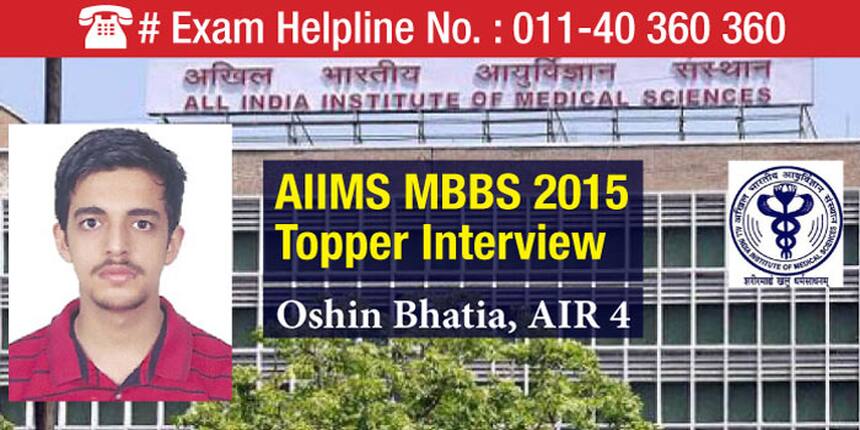 In this interview, the AIIMS topper, who believes in thorough study, also shares his success mantra and explains why the self-study and revision should be essential parts of entrance exam preparation strategy. He also talks why he deactivated his Facebook account and kept himself away from mobiles to concentrate on his studies. He, however, says that watching TV and taking a power nap helped him release study pressure, anxiety and nervousness during his prep journey.
AIPMT 2015 Cancelled ! Click here to Enroll for AIPMT Knock out Test Series to Crack AIPMT 2015 Re- Test or Call Exam Helpline at 011-40360360
Oshin, who deactivated his Facebook account and kept his mobile phone aside to secure MBBS seats in AIIMS and other medical entrance exam, shares his future plans in this interview with Careers360.
Excerpts from the interview:
Careers360: Congratulations, it's a proud moment. How are you celebrating this achievement?
Oshin Bhatia: Thank you so much. It feels great to be among the top five rankers and there are celebrations in the family and people are sending their best wishes. Though I was confident about cracking AIIMS but this AIR 4 came as a surprise and I am very overwhelmed with this great success.
Careers360: Tell us what made you select MBBS as a Career?
Oshin Bhatia: I was keen to join this profession since my childhood. Actually becoming a doctor is like a family profession. Besides my parents, most of my cousins are either doctors or are studying medicine. So, I grew up in this environment and this is what I have always liked. There is nothing else I wanted to be in this world.   
Careers360: What was your preparation strategy?
Oshin Bhatia: I have a well planned strategy for preparation which includes routine studies, regular mock test and revision. Firstly, I covered all the topics from NCERT books and then for detail studies I referred different reference study materials for developing clear concepts. I found with clear concepts on subjects helps me to solve assertion based questions which were asked in AIIMS entrance exam.
There's not only one key factor that helps in scoring high. Self study, hard work and your passion towards studies will help you to sail with flying colours.
Careers360: You prepared so hard and your hard work has paid so well. Were you active in any recreational activity?
Oshin Bhatia: Well my focus was on studies so I did not spend much time on other activities. Whenever I used to get bored of studies, I used to either watch TV or take a power nap. These two activities have helped me in releasing study pressure, anxiety and nervousness. I devoted time for recreational activities and it has helped me succeeding.
Careers360: How did you prepare for AIIMS 2015? How much time did you devote for studies? What are the other medical exams you have appeared in?
Oshin Bhatia: After my coaching classes I used to revise concept and topic taught during coaching.I used to devote 6 to 7 hours daily for self study. As Biology was my strength and was little weak in Physics so I devoted maximum time to Physics specially in solving numericals and  worked hard to convert my weaknesses into my strengths. I give credit of my success to disciplined study.I had appeared in GGSIPU and Punjab PMET and secured AIR 2 and AIR 18 respectively.
Careers360: So now that you are among the top rankers in many medical entrances, which college you are planning to join?
Oshin Bhatia: Since my childhood I always wanted to join AIIMS New Delhi. And, now I have secured such good rank I will definitely join AIIMS only. It will be like a dream come true situation for me.
Careers360: You also appeared in AIPMT 2015, since the paper is a part of controversy and the test would be re-conducted again. What is your reaction on this?
Oshin Bhatia: It is not good that AIPMT 2015 will be re-conducted. I feel bad for those who have given the exam with full preparation and zeal. I am fortunate that I don't have to appear for re-exam but feeling sad for those who have to appear. Every one of us has a temperament towards exam and same cannot be repeated.
Careers360: Any suggestions for AIIMS aspirants?
Oshin Bhatia: I would like to tell the future aspirants to study thoroughly the entire syllabus. Candidates must have a basic clarity on concepts and should have studied NCERT Books completely.  As AIIMS exams have a different section for GK and Assertion, study newspaper daily and solve aptitude questions on weekly basis.
Don't be nervous at any stage. If you are willing to achieve, you will achieve it. Follow a simple strategy of revising and do not get relaxed after writing your exam. Take maximum one day gap and start preparing for the next level.
Careers360: We wish you good luck for all your future endeavors and Thank you for this great interview.
Oshin Bhatia: Thank you so much!
Also Read
AIIMS MBBS 2015 Topper Navsheen Singal - All India Rank 1
AIIMS MBBS 2015 Topper Ansh Gupta - All India Rank 3
AIIMS MBBS 2015 Seat and Reservation

Stay tuned to medicine.careers360.com for more information on AIIMS MBBS 2015 Toppers.
Stay tuned to medicine.careers360.com for more information on AIIMS MBBS 2015 Toppers.
Questions related to NEET
Showing 83614 out of 83615 Questions