AIIMS MBBS 2016 Topper Interview: NCERT text books laid strong foundation to my concept building, says AIR 1 Sathvik Reddy


Sathvik Reddy Erla bagged AIR 1 in AIIMS MBBS 2016 entrance examination in his very first attempt, besides securing AIR 20 in JIPMER MBBS 2016 exam. The Hyderabad champ, in this interview with Careers360 shares that conceptual clarity of subjects, besides a routine study of 10 hours, helped him in cracking the most competitive entrance exams.

Also Read-
AIIMS MBBS 2018
AIIMS MBBS Important Dates 2018

Latest - Know all about AIIMS MBBS 2017 from here !!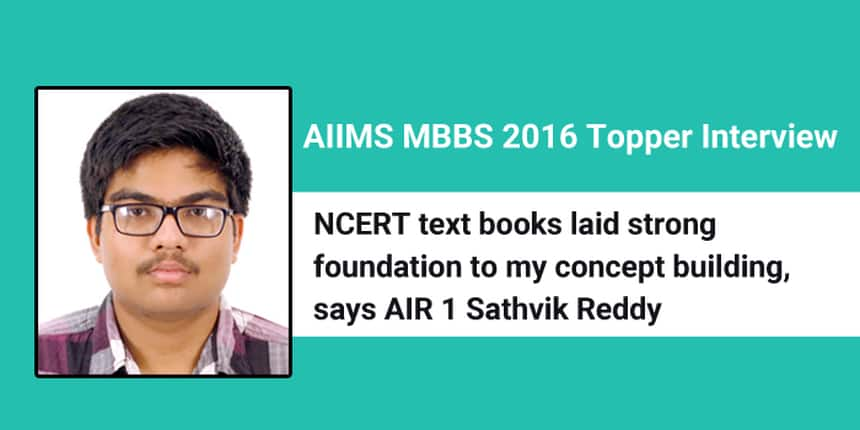 He also talks on how his clear basic concepts laid a strong foundation for his 'next-level' preparation. In this interview, the avid fan of Mahesh Babu (South Indian actor) also talks about his hobbies, favourite author and much more…


Read full interview of AIIMS 2016 AIR 1.
Careers360: Congratulations on grabbing AIR 1 in AIIMS MBBS 2016 examination. How was your first reaction to the result?
Sathvik Reddy: I am overjoyed and don't have words to express my feelings upon securing AIR 1 in the medical exam. All I can say that I feel extraordinarily blessed. I am celebrating my success with my family now and also plan to go out with my friends.
Careers360: Were you expecting such a result in AIIMS MBBS 2016 exam?
Sathvik Reddy: Not at all! When I saw the results of AIIMS MBBS 2016, I could not believe on my eyes. I was expecting good marks but never expected an All India Rank 1.
Careers360: Tell us about your family? How did your family support during the preparation days?
Sathvik Reddy: My mother is a software engineer and father, an advocate practicing at Hyderabad High Court. My family supported me all through my preparation stages and kept me motivated.
Careers360: None of your parents are doctors. What motivated you to choose a career in medicine?
Sathvik Reddy: My parents did never force their opinion on me regarding my career options. In fact, they encouraged me to go by my own interest. Once I identified my interest for MBBS courses, they trusted me and supported me with all possible means. Further, their moral support boosted my preparations.
Careers360: What's your success mantra behind cracking AIIMS MBBS 2016 exam?
Sathvik Reddy: My success mantra behind cracking AIIMS MBBS 2016 examination was to clarify the basic concepts in each subject and then move onto repeatedly solving as many questions as possible from the previous years' papers. I would also solve a number of mock tests in the last months of the medical exam preparation.
Careers360: How was your study schedule during preparation?
Sathvik Reddy: I would study regularly for around 5-6 hours a day after attending my regular school classes. However after my classes ended, I started utilising that time also in self-study. If there were no classes during the day, I would spend around 9-10 hours on my studies at home.
Careers360: How was your AIIMS MBBS 2016 exam experience?
Sathvik Reddy: Firstly, I was quite confident of my preparations. Secondly, the paper was an easy one in comparison to the other medical entrance examinations. The questions were mainly from NCERT text books in each subject-Physics, Chemistry and Biology. Thus, I didn't find any trouble while solving the paper. Overall, I was satisfied with my performance.
Careers360: Among the three subjects, which was the easiest vis-Ã -vis toughest subject for you?
Sathvik Reddy: I had a good command in Physics but Biology was my weak area. I would find biological terms and diagrams a bit difficult to memorise. However, I put in consistent effort to overcome this. I actually did repeated revision in biology.  I also used to highlight difficult terms and important points in my text books which would help me to find emphasis areas during revision work.


Careers360: Please share your academic background. What was your score in AIIMS MBBS 2016 examination?
Sathvik Reddy: I scored 10 CGPA in Class 10 (DPS Hyderabad) and 98.8 per cent in Class 12th (Andhra Pradesh Board). In the AIIMS MBBS 2016 exam, I had attempted a total of 191 questions of which 166 were correct and 25 incorrect. I scored a total of 157.66 marks in AIIMS MBBS 2016 exam.


Careers360: How did you balance between preparation for your state board exam and medical entrance exams?
Sathvik Reddy: It was not much of a trouble for me. I was mainly focussing on medical entrance examinations and accordingly devoted much of my study hours towards the same. Since, the syllabus of the two is the same, I actually didn't make any special efforts for class XII board examination. I believe that it requires applying the same knowledge in both but the only difference is that the two exams needed a slightly different approach.


I used to study through NCERT text books which covered syllabi of both the exams - medical entrances as well as class 12th state board.
Careers360: Your schedule would have been quite hectic during preparations. What did you do to keep yourself refreshed? What are you hobbies?
Sathvik Reddy: When tired, I would watch regional movies. I also used to play Table Tennis and also read fictional books authored by Christopher Collins. My hobbies include playing video games, watching television soaps and solving rubik's-cube puzzle.
Careers360: So, who is your favourite actor?
Sathvik Reddy: I am a fan of Mahesh Babu.
Careers360: Do you think coaching is necessary for cracking medical entrances like AIIMS?
Sathvik Reddy: No. I don't think that coaching is necessary to crack medical entrances. However, I would say that coaching guides you in knowing important topics for the exam. The coaching also helps you in clarifying your doubts and improving on weaker areas during the exam preparations.
Careers360: Where do you see yourself in next 10 years down the line in your medical career?
Sathvik Reddy: As of now, I have thought of becoming a neurosurgeon. However, I may change my mind, once I complete my five-year MBBS programme.
Careers360: What suggestions would you like to share with the MBBS aspirants?
Sathvik Reddy: I would like to suggest them a few pointers–
Believe in your hard work

First, master basic concepts through NCERT text-books and then go for serious preparations

Solve question papers of previous years entrance tests and take as many mock tests as possible

Keep calm and don't take stress. Consistent efforts will take you closer to your dream institution
AIIMS MBBS 2016 AIR 2 Interview
AIIMS MBBS 2016 AIR 3 Interview
AIIMS MBBS 2016 AIR 9 Interview
JIPMER MBBS 2016 AIR 1 Interview

Stay tuned to medicine.careers360.com for more news and feature articles on AIIMS 2016 Topper Interviews
Save
Questions related to NEET
Showing 84421 out of 84421 Questions