AIIMS MBBS 2016 Topper Interview: Systematic preparation strategy and focus are key factors for my success, says Nikhil Bajiya, AIR 2


Nikhil Bajiya, AIR 2 at AIIMS MBBS 2016 exam dreamt of being a doctor from his very childhood and with determination and perseverance, he achieved the top rank in the highly competitive medical entrance exam. With dedicated preparation for 2 years, he hardly let anything distract him from his aim.

Also Read-
AIIMS MBBS 2018
AIIMS MBBS Important Dates 2018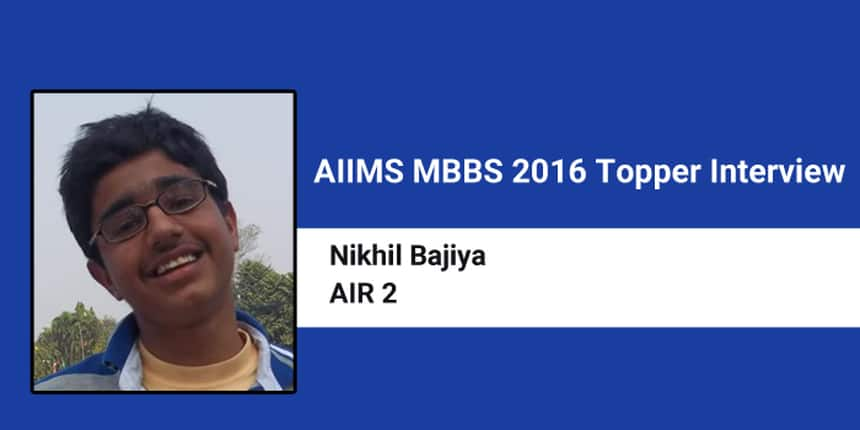 The aspiring neurosurgeon is aiming to take admission in AIIMS Delhi. Hailing from Jhunjhunu, Rajasthan, Nikhil went to G.B Modi Vidya Mandir and moved to Kota, the hub of coaching institutes for competitive entrance exams. He believes that self-study is equally important along with the guidance of coaching mentors and followed a systematic preparation plan. Nikhil would be the second doctor in his family after his sister who is presently pursuing medicine. He loves to unwind by playing badminton, table tennis or computer games.
[Click Here to know which AIIMS campus and branch you will get based on your AIIMS Rank or Call on 011-40360360]
 Read the exclusive interview of Nikhil Bajiya by Careers360.
Careers360: Many congratulations for your achievement in cracking the AIIMS entrance exam! Were you expecting to be among the top rankers?
Nikhil Bajiya: Many thanks for your wishes! I was confident about my performance and had expected to be among the top rankers but never expected to be the AIR 2. Also, to be frank, I never speculated about the rank. I had only focused on my performance and after the exam, I did not think about the results.


Careers360: Why did you decide to pursue medicine?
Nikhil Bajiya: I was inspired to be a doctor from my paternal uncle since childhood. I was motivated by his practice as a pediatrician and the respect he earned. I made sure that I work hard to reach my goal.
Careers360: Which other medicine entrance exam did you appear for?
Nikhil Bajiya: Apart from AIIMS MBBS 2016, I had appeared for the NEET 1 exam.
Careers360: This year, there has been lot of confusion regarding AIPMT and NEET. Did the ongoing NEET row affect your preparation?
Nikhil Bajiya: No I was not much bothered about the AIPMT and NEET exam row. I had aimed for AIPMT/NEET and AIIMS and I was very confident about cracking the exams and get admission to a good college since my preparation was moving in right direction. At the end of the day, all that matters is how you perform, results reflect automatically. I ensured that I do not take any undue stress during the preparation phase.
Careers360: Tell us something about your family members and their contributions in your success.
Nikhil Bajiya: My family consists of my parents and elder sister. Their contributions behind my success are enormous and I can't express them in words. Since I had joined coaching in Kota, my father, who is the Deputy Registrar with the Cooperative Societies Department took transfer in the city just to be with me. My mother is a government school teacher and my elder sister is studying medicine in Bikaner. All of them have been immensely supportive throughout.
Careers360: What was your preparation strategy for the exam?
Nikhil Bajiya: I had started full-fledged preparation from Class XI. I had joined a Kota based coaching institute for medical entrance exam preparation. I had strictly followed the guidelines given by my faculty members. Initially I concentrated on gaining stronghold over the concepts followed by taking regular practice tests and solving previous years question papers and taking lessons of improvement from the mistakes. Apart from coaching, I used to put around   6 to 7 hours of self-study.
Careers360: What were your strong and weak areas among Physics, Chemistry and Biology?
Nikhil Bajiya: Physics have always been my strong point and it is my favourite subject. However, that does not mean I am weak in any of the two other subjects. I am equally good in Chemistry and Biology too and there is no such weak subject or areas for me.
Careers360: Which is your dream medical college where you aspire to take admission? Is there any specialization you would like to follow?
Nikhil Bajiya: I plan to take admission in AIIMS Delhi. I want to be a neurosurgeon.
Careers360: You had followed a strict study schedule. How did you unwind yourself? Could you find time to pursue your hobbies?
Nikhil Bajiya:  Since I stayed in Kota, away from family, I did not find my scope to pursue my hobby, which is a sport. I love playing badminton, table tennis and computer games. Occasionally I played these games whenever I found some time. Otherwise I used to take short naps within the day to catch up on my sleep.
Careers360: What is your message for the medicine aspirants who would be appearing for the exam next year?
Nikhil Bajiya: I would suggest them to never over burden themselves. Follow a systematic preparation schedule with ample practice.
Also read:
JIPMER-AIIMS MBBS 2016 topper interview: How Kushagra Pandey chased his dream with focus and passion
AIIMS MBBS 2016 topper interview: Systematic study and clarity of concepts are imperative, says Ekansh Goyal, AIR 9
Stay tuned to medicine.careers360.com for more news and feature related to AIIMS MBBS 2016
Save
Questions related to NEET
Showing 101991 out of 101991 Questions