AIIMS MBBS 2016 Topper Interview: Systematic study and clarity of concepts are imperative, says Ekansh Goyal, AIR 9
Systemic study and clarity of concepts in each subject can bring unparalleled result, believes Ekansh Goyal, who has secured AIR 9 in AIIMS MBBS 2016 and AIR 8 in JIPMER MBBS 2016. His success mantra is 12 hours of daily study, but Ekansh discourages long hours of sitting in one go.
Also Read-
AIIMS MBBS 2018
AIIMS MBBS Important Dates 2018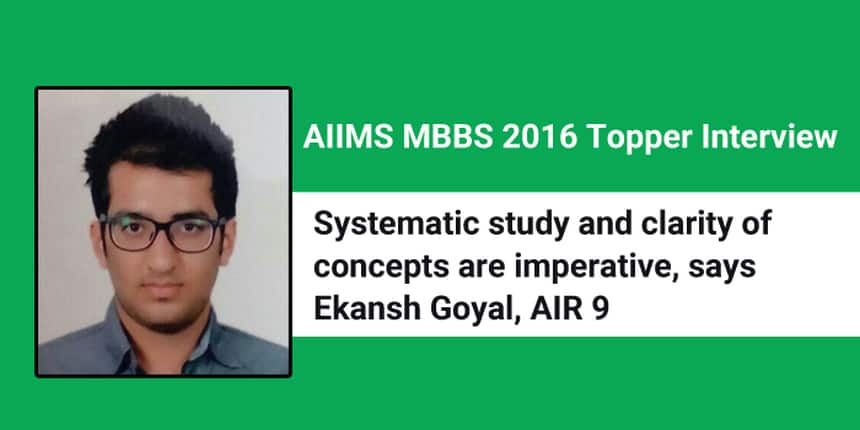 The boy from Odisha did his high school from Rourkela, while for 12th,he shifted his base to Delhi. In this exclusive interview with Careers360, the Medical exam topper shares his preparation strategy and tips with future aspirants to crack such coveted entrance tests.
[Click Here to know which AIIMS campus and branch you will get based on your AIIMS Rank or Call on 011-40360360]
Read through the interview below.
Careers360: Congratulations on being one of the toppers in AIIMS and JIPMER. How are you celebrating your success?
Ekansh Goyal: Thank you so much! All my family members are very happy with this feat. However, we have not celebrated it yet. Probably, I will celebrate the success with my family and friends in the evening.
Careers360: How did you prepare for AIIMS MBBS 2016? What were the books that you studied from? Tell us about your preparation for General Knowledge.
Ekansh Goyal: My main agenda was to cover every topic of the syllabus and have proper grip on the concepts in each subject – Physics, Chemistry and Biology.
In the exam, I tried to attempt maximum questions. However, I ensured not to attempt those questions where I was not sure about the answer as negative marking could affect my score drastically.
For Physics, I studied HC Verma's book, while for Chemistry, I prepared from Balaji Publications book. For Biology preparation, I studied only from NCERT books. As there is no limit of topics in General Knowledge, I could not prepare well in this subject, which affected my rank in AIIMS MBBS 2016 upto an extent.
Careers360: How much time did you invest in studies during your preparations?
Ekansh Goyal: I would study for 12 hours a day. I believe that you need not to be lost in studies for 24 hours. What is important while you are preparing for such exams is regular study of all the subjects on daily basis. I devised a plan where I would devote equal time to all the three subjects, as all the subjects carried equal importance for me.
Careers360: Tell us what made you opt for medicine as a profession?
Ekansh Goyal: My interest in Biology was the driving force behind this. I was fascinated by the subject combination of Physics, Chemistry and Biology. Thus, the fascination for the subject combination and my passion for Biology made me think seriously to choose medicine as my career.  
Careers360: Since preparing for AIIMS MBBS needs a lot of hardwork, tell us, if your daily schedule had some space for recreational activity? Did you use Whatsapp or Facebook during your preparation?
Ekansh Goyal: Yes, I was able to take out some time for recreational activities. During my exam preparation phase, I would occasionally play football as it's my favorite sport. However, most of the time, I was involved in my preparations only. And if you enjoy studies, you don't think much about other activities. But as they say, "A healthy mind resides in a healthy body", recreational activities occasionally help you rejuvenate your spirits.  
I used Whatsapp to be in touch with my teachers every time I needed their help on any subject related confusion, but not Facebook as I find it boring.
Careers360: It was much confusing for medical aspirants regarding Supreme Court's decision on state level medical exams over NEET/AIPMT row. How did it impact your preparation? Will you be appearing in NEET 2?
Ekansh Goyal: The NEET/AIPMT row didn't have any impact on my preparation, as I knew that we cannot do anything about it. What was in my control was to focus on studies and I did that. However, it was a worrisome issue for many of my friends, who took it very seriously.
No, I will not be appearing for NEET 2.
Careers360: Tell us something about your family. What role did they play in terms of supporting you in achieving your goal?
Ekansh Goyal: My father is a businessman and mother is a homemaker. My brother is an engineer. The support I received from my family is beyond explanation. Without my family support, I wouldn't have cracked AIIMS MBBS 2016. I would like especially mention that my mother stayed with me for 4 months in Kota, where I was preparing for the medical exams.
Careers360: Would you like to share something for the future medical aspirants?
Ekansh Goyal: To the future aspirants, I would say, just give your best. Hardwork always pays. Time management and accuracy are crucial factors if you want to crack such medical exams. Sample papers and previous year question papers are available in abundance. Solve them regularly as many as you can during your preparation. Attempt maximum questions, but try to avoid attempting those questions where you are not sure.
Also read:
JIPMER-AIIMS MBBS 2016 topper interview: How Kushagra Pandey chased his dream with focus and passion
AIIMS MBBS 2016 AIR 3 Topper Interview: Be consistent in your studies and never take test pressure, says Lajjaben Patel

Stay tuned to medicine.careers360.com for more news and updates on AIIMS MBBS 2016
Save
Questions related to NEET
Showing 83597 out of 83598 Questions