AIIMS MBBS 2016 AIR 3 Topper Interview: Be consistent in your studies and never take test pressure, says Lajjaben Patel


Hailing from a family of Doctors, Lajjaben Patel's environment at home influenced her to become a doctor as well. She prepared with dedication and secured an impressive All India Rank 3 in AIIMS MBBS 2016. A resident of Surat, Lajjaben attributes her success to her passion and parents' support.

Also Read-
AIIMS MBBS 2018
AIIMS MBBS Important Dates 2018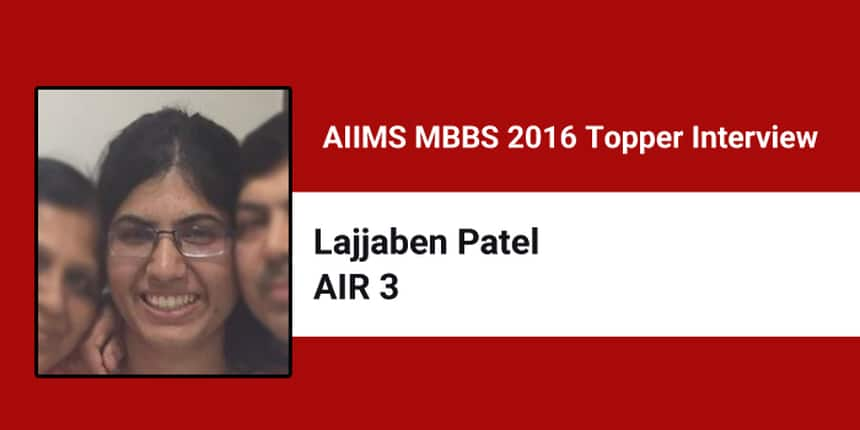 In this interview with Careers360, Allen Kota student, Lajjaben shares her preparation strategy. She says sectional preparation and timely studies can be a great advantage while preparing for AIIMS entrance test. She further says that one must not lose confidence at any stage and work hard to achieve their goals.
On discussing her future plans, Lajjaben shares that owing to her interest in Biology she is inclined towards pursuing research work in the field of medicine. She wants to do research and teach future doctors to support them in bringing new innovations and revolutions in this profession.
An adventurous and fun loving girl, Lajjaben suggests aspirants to focus on every section of the test equally, and not to take pressure at all. Read full interview of AIR 3 Lajjaben below:
Careers360: Congratulations for your AIR 3 in AIIMS MBBS entrance exam! Were you expecting to be among the top rankers?
Lajjaben Patel: Thank you so much. I was expecting a good rank, but top three is just out of the blue. Everyone is so happy and proud of me, and I am enjoying the limelight. I have actually worked really hard and my family has worked hard for me, it has all finally paid. It is a great feeling.
Careers360: Why do you want to become a Doctor?
Lajjaben Patel: I come from a family of Doctors. Everyone, even in my extended family is a doctor. The home environment somehow influenced me to pursue the same profession. I have seen and heard family members discussing different medical cases and somehow all those discussions inclined my mind towards medical field. I wanted to know and learn more from the field of medicine, so I decided that I too wanted to be a doctor.
Me and my mother went to Kota for my coaching and it all started from there. The preparations and long study hours have finally paid.
Careers360: How has your family contributed to your success?
Lajjaben Patel: They, directly or indirectly, have contributed a lot.  Their support has been enormous and I can't thank them enough. It was them who made me think that whether or not I should do MBBS. They made me decide my profession at the right stage. Since I had joined coaching in Kota, my mother stayed with me. She pushed me to my limits, supported me in my difficult times and was always open to discussions.  Even my younger brother supported me, by involving me into recreational activities to save me from feeling dull.
Careers360: What was your preparation strategy for AIIMS MBBS?
Lajjaben Patel: My coaching helped me a lot. Whatever I use to study in my classes, I used to repeat the same at home. At every level, I prepared for a different section of the test. For instance in my Xth standard, my focus of study was Biology, in XI it was Physics and like that. In my XII, I started preparing for each of the section together. I used to cover one topic at a time along with its revision. My focus was to keep myself updated about the curriculum, news, and solving previous year's test papers. Apart from coaching, I used to put around 6 to 7 hours of self-study. One must be consistent in his/her studies.
Careers360: So what are your future plans now? What specializations are you interested in?
Lajjaben Patel: I plan to take admission in AIIMS Delhi. I don't want to pursue any specialization and practice, rather I wish to pursue research and teach future doctors. My interest in Biology influenced me to pursue research in the field of medicine. I think that by teaching MBBS students, and persuading them to involve in research, India can bring innovative techniques in this profession. We need not follow foreign research works and industry standards; it is time to show the world that besides good doctors, we are great researchers as well.
Careers360: There is a lot going about NEET these days. What is your take on it?
Lajjaben Patel: NEET has both advantage and disadvantage as well. Conducting only one exam might put students under a lot of pressure, as there would not be much test options for the students if they can't clear NEET. However, NEET might lead to termination of paid seats to non-deserving students.
Careers360: You had followed a strict study schedule. Could you find time to pursue your hobbies?
Lajjaben Patel: I love reading books, especially science books, which I used to do while taking my break from studies. I used to fight with my little brother, which is a fun activity in itself. Listening to music or just going out; I used to do it all. You don't have to keep staring at your books 24x7, doing what you like also supports you in your preparations. Work hard, but also enjoy your life.
Careers360: What is your advice to future AIIMS MBBS aspirants?
Lajjaben Patel: The most important suggestion is to be confident about yourself. It doesn't matter if you score less, you can always do great at any level.Stay cool during preparation time and work hard if you really wish to achieve something. In case you face difficulty at any point,talk to your parents and try to find a solution.Prepare well, stay happy and enjoy your preparations.


Also read:
AIIMS MBBS 2016 topper interview: Systematic preparation stratergy and focus are key factors for my success, says, Nikhil Bajiya, AIR 2
JIPMER-AIIMS MBBS 2016 topper interview: How Kushagra Pandey chased his dream with focus and passion
Stay tuned to www.medicine.careers360.com for more news and updates
Save
Questions related to NEET
Showing 84259 out of 84259 Questions