AIIMS MBBS 2017 Topper Interview: Speed and technique keys to success, says AIR 3 Tamoghna Ghosh
They say it's never too late to start afresh. The story of Tamoghna Ghosh, the candidate who secured AIR 3 in the All India Institute of Medical Sciences MBBS Entrance Exam (AIIMS MBBS) 2017 is quite along these lines. An alumnus of South Point High School, Kolkata, Tamoghna had initially taken both the Joint Entrance Exam and important medical entrances, eventually getting selected in IIT Delhi's much coveted Computer Science Engineering branch. It was after joining there that he realised engineering was not his cup of tea and his true calling was to be a doctor all along.

Also Read-
AIIMS MBBS 2018
AIIMS MBBS Important Dates 2018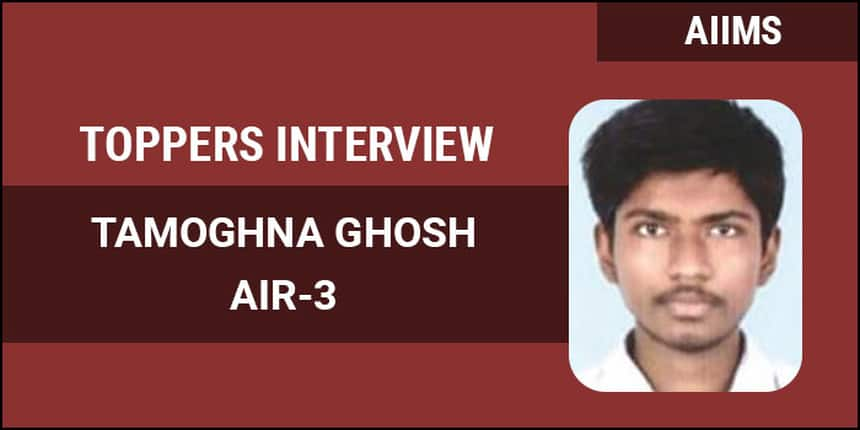 Tamoghna, who secured 99.999306 percentile in AIIMS MBBS 2017, aims to research in Oncology after completing his MBBS from AIIMS Delhi. He attributes his success to solving past years' question papers, mock tests and NCERT books. He believes that he could not have achieved this success without the support of his parents and the guidance of his mentors. In this exclusive interview with Careers360, the self proclaimed foodie and sports enthusiast shares his success strategy, future plans and advice for future aspirants.
Read the full interview below.
Careers360: Congratulations on grabbing AIR 3 in AIIMS MBBS 2017 exam. Were you expecting this result?
Tamoghna: While taking the exam, I was confident of being in the top 50. The paper went quite well and as per my expectations. I was pleasantly surprised to know that I got such a good score. Needless to say, having made it to the top three, I am feeling ecstatic.
Careers360: What motivated you to pursue medicine as profession?
Tamoghna: Well that's a long story. I was not sure about my career. Since I am good in Maths and Biology, I had appeared for both engineering as well as medical entrance exams in 2016. My performance in medical entrances was not up to the mark, and on the other hand, I had an admission offer from IIT Delhi in Computer Science Engineering. At that point, joining IIT seemed to be the best decision. But, some months down the line, I realised that I am not cut out for engineering. I was not happy and could not focus on what I was studying. After much contemplation and introspection, I realised that I am in the wrong field and medicine is my true calling. Hence I quit IIT Delhi after the first semester and came back to my home town Kolkata to concentrate on medical entrance exam preparation. Now I realise that it was indeed the right decision.
Careers360: Tell us about your family members. How did they support you during your preparation days?
Tamoghna: My parents are teachers. My mother teaches mathematics and my father is a Physics teacher in a government school. They have been extremely supportive. They have accepted and supported every decision that I took and helped me in each and every way to fulfill my dreams.
Careers360:  Did you appear for NEET and JIPMER?
Tamoghna: Yes I appeared for both NEET and JIPMER. However, I focussed on AIIMS MBBS entrance test as AIIMS Delhi is my dream institute. I have secured AIR 214 in JIPMER and am now waiting for the NEET result.
Careers360: What preparation strategy did you follow for AIIMS MBBS?
Tamoghna: I had enrolled at two coaching institutes - Aakash, for classroom coaching and Allen Kota, for distance learning. Since my base was already strong in Physics, I concentrated on Biology. I referred to NCERT books as majority of the questions come from NCERT along with the reference materials by coaching institutes. Apart from that, I solved past 30 years' question papers to understand the pattern and question types. I used to take a lot of mock tests and got them thoroughly analysed by mentors. They used to suggest me ways of improvement and I eventually decided my exam taking and time management strategy based on the mock test analysis.
Careers360: Did you follow any specific study schedule?
Tamoghna: For me, quality matters over quantity. Rather than putting long hours, I used to make the most of shorter durations and took breaks in between to keep my mind refreshed. I used to make weekly plans for chapters to cover. Fifty per cent of the duration was focussed on Biology. As I was already well versed in the concepts of Physics and Chemistry, it was mostly revision for these two subjects.
Careers360: Among the three subjects, which was the easiest and vis a vis toughest subject for you?
Tamoghna:  Biology was my strongest section. Physics and Chemistry were moderately strong.
Careers360: How was your exam taking experience?
Tamoghna: I started the exam with the Biology section and this was the easiest section in the entire paper. After finishing this section, I moved towards the other two. In terms of difficulty level, Chemistry was of moderate difficulty level followed by Physics, which was the toughest. The questions were calculation intensive and time consuming. Managing time was the biggest challenge. However, owing to my practice, I completed the paper much before time and managed to revise my answers as well. Moreover, most of the questions were from NCERT which acted in my favour.
Careers360: Do you think coaching is necessary for cracking medical entrances like AIIMS?
Tamoghna: Coaching is indeed important as the mentors give you the right guidance. Not only do you get access to proper study materials but also to past years' question papers and mock tests. Most importantly, the teachers analyse your performance and share ways to improve your weaknesses and exam taking techniques which enhances your overall performance. It is important to join an institute of repute where teaching quality is good. Otherwise it would not be of much help.
Careers360: Apart from regular studies, what did you do to keep yourself refreshed? What are your hobbies?
Tamoghna: I am a sports fanatic. I play and watch a lot of sports including lawn tennis, cricket, badminton and Formula One. Even before the test, there was not a single day when I did not play lawn tennis or cricket. I also watched cartoon shows and listened to music to refresh my mind. Apart from sports, my hobbies include painting but I could not devote much time for that before the exam.
Careers360: Do you enjoy watching movies? Name some of your favourite actors.
Tamoghna: Yes I do enjoy watching movies. I am a fan of acting and not stars per se. My favourite actors include Nawazuddin Siddiqui, Irrfan Khan, Deepika Padukone, Alia Bhatt and Shahid Kapoor. I really admired the acting skills of latter two in Udta Punjab.
Careers360: Where do you see yourself in next 10 years down the line in your medical career?
Tamoghna: I plan to research on Oncology. However, I am yet to explore and acquire knowledge on the wide array of knowledge on different areas and specializations. I may decide to pursue research on other area.
Careers360: What suggestions would you like to share with future AIIMS MBBS aspirants?
Tamoghna: Do not follow too many books. Refer NCERT books more as AIIMS MBBS questions are mostly asked from NCERT texts. Take as many mock tests as possible and analyse the mistakes. Speed is the most important factor to crack AIIMS MBBS entrance test. Target to complete the full length paper within 2.5 hours and utilise rest of the time for revision.
Also Read
AIIMS MBBS 2017: Know the Toppers
AIIMS MBBS 2017: Result declared on June 15 after one day delay
Stay tuned to medicine.careers360.com for the latest articles and updates on AIIMS MBBS!

Get real-time alerts on exam & colleges at your fingertips with Careers360 App!
Click Here to Install or Give a missed call on 08080944727 to get app link.
Questions related to NEET
Showing 83497 out of 83498 Questions