AIIMS MBBS 2017 Topper Interview: Consistent efforts play a major role, says AIR 5 Harsh Agarwal
AIIMS MBBS 2017 topper Harsh Agarwal, who secured AIR 5, kept himself motivated by regularly reminding himself a popular quote of Joel Brown- "The only thing that stands between you and your dream is the will to try and the belief that it is actually possible." He has shown that if you are passionate to achieve something big in your life, then no matter how challenging the path is, it is possible to achieve victory at the end.

Also Read-
AIIMS MBBS 2018
AIIMS MBBS Important Dates 2018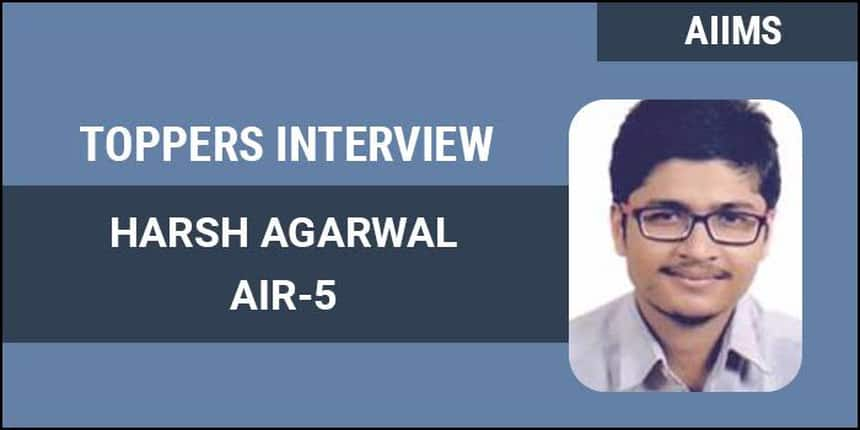 In an exclusive interview with Careers360, Harsh reveals his preparation strategy that led him to crack this coveted medical entrance exam with 99.9986132 percentile. The topper from West Bengal came to Kota with the dream of securing a coveted seat in his dream college- AIIMS Delhi. Read here success mantras that he unveils for the benefit of aspirants, who will be appearing for the exam next year.
Read the full interview below:
Careers360: Congratulations on grabbing AIR 5 in AIIMS MBBS 2017examination. What was your first reaction to the result?
Harsh: I was pleasantly surprised when I checked the result. I expected a good rank but securing AIR 5 made me extremely thrilled and content.  
Careers360: Were you expecting such a result in AIIMS MBBS 2017 exam?
Harsh: I had an idea that I would be securing a good rank, but being among top five candidates in AIIMS MBBS 2017 came as a total surprise to me.
Careers360: Tell us about your family. How did your family support you during the preparation days?
Harsh: My father and mother are alumni of NIT Durgapur and IIT Kharagpur, respectively. He is working as a Senior Manager at Indian Oil Corporation, while she is a happy homemaker.
Careers360: None of your parents are doctors. What motivated you to choose a career in medicine?
Harsh: Medicine is truly a noble profession. I have always wanted to be part of this field so that I can help the needy. Hence, when it came to choosing my career, I focused towards medicine.
Careers360: What's your success mantra behind cracking AIIMS MBBS 2017 exam?
Harsh: I would say that 'Consistency' is what kept me going. The stability in my hard work as well as in my thoughts made it possible for me to crack the exam with flying colours. 
Careers360: How was your study schedule during preparation?
Harsh: I used to study for 10-11 hours daily during the preparation phase. Also, I didn't sacrifice social media. I used to clear my doubts with seniors on WhatsApp. 
Careers360: How was your AIIMS MBBS 2017 exam experience?
Harsh: Not good actually. I left a total of 11 questions from Physics section. 
Careers360: Among the three subjects, which was the easiest vis-Ã -vis toughest subject for you?
Harsh: I found Biology the easiest subject, while Physics was the most difficult for me.
Careers360: Please share your academic background.
Harsh: In class 10, I got 10 CGPA and in 12th, I secured 95 per cent.
Careers360: How did you balance between preparation for your state board exam and medical entrance exams?
Harsh: I used to devote my time equally for board exam as well as medicine entrance exams. I was in habit of giving five hours to each exam preparation. 
Careers360: Your schedule would have been quite hectic during preparations. What did you do to keep yourself refreshed?
Harsh: To keep myself energetic and rejuvenated, I used to watch movies, play football, jog and swim. All these activities helped me in getting rid of my stress.
Careers360: Do you watch movies? Do you have any favorite actor?
Harsh: I love watching movies. Recently, I watched Baahubali 2: The Conclusion, and I really liked it.
My favorite actor is John Abraham.
Careers360: Do you think coaching is necessary for cracking medical entrances like AIIMS MBBS?
Harsh: Yes, absolutely. I think that coaching classes are very helpful for the students. The study material provided to us during preparation period proves to be highly beneficial. Practicing from the question bank given by professors helps a lot in having a fair idea about the actual exam. I myself took classes from ALLEN Career Institute.
Careers360: Where do you see yourself 10 years down the line in your medical career?
Harsh: I will be pursuing MS in Cardiology after the completion of MBBS.
Careers360: How was your result in JIPMER MBBS? What are your expectations from NEET result?
Harsh: I was not happy with my JIPMER MBBS result. I secured AIR 119 in the entrance exam. As far as NEET is concerned, I expect to secure a rank in the top 15.   
Careers360: What suggestions would you like to share with the MBBS aspirants?
Harsh: Rigorous and sincere efforts are what you should focus on. Consistent attempts in the right direction will keep your spirits high. Try not to take much pressure of studies on yourself. It will do no good to you. Keep calm and focus on giving your best shot. All the best.   
Also Read:
AIIMS MBBS 2017: Know the Toppers
AIIMS MBBS 2017 Topper Interview: Speed and technique keys to success, says AIR 3 Tamoghna Ghosh
AIIMS MBBS 2017 Topper Interview: Didn't need to sacrifice social media or friends during preparation, says AIR 7 Harshit Anand
Stay tuned to medicine.careers360.com for more news and feature articles on AIIMS 2017 Topper Interviews.
Get real-time alerts on exam & colleges at your fingertips with Careers360 App!
Click Here to Install or Give a missed call on 08080944727 to get app link.
Questions related to NEET
Showing 83597 out of 83598 Questions