AIIMS MBBS 2017 Topper Interview: Didn't need to sacrifice social media or friends during preparation, says AIR 7 Harshit Anand
A popular quote, "Knowledge is of no value unless you put it into practice", attributed to the famous short fiction writer Anton Chekhov, holds completely true for Harshit Anand. Hailing from West Bengal, the AIIMS MBBS 2017 AIR Rank 7 has proven that nothing can beat the combination of strong will and adherence.

Also Read-
AIIMS MBBS 2018
AIIMS MBBS Important Dates 2018

In an exclusive interview with Careers360, Harshit reveals about his desire to excel in the medical field and set an example for the world. The movie buff and sports enthusiast, who has always considered AIIMS Delhi as his dream college, also shares about how he used WhatsApp for his benefit in doubt clearance and other success mantras that defined his achievement.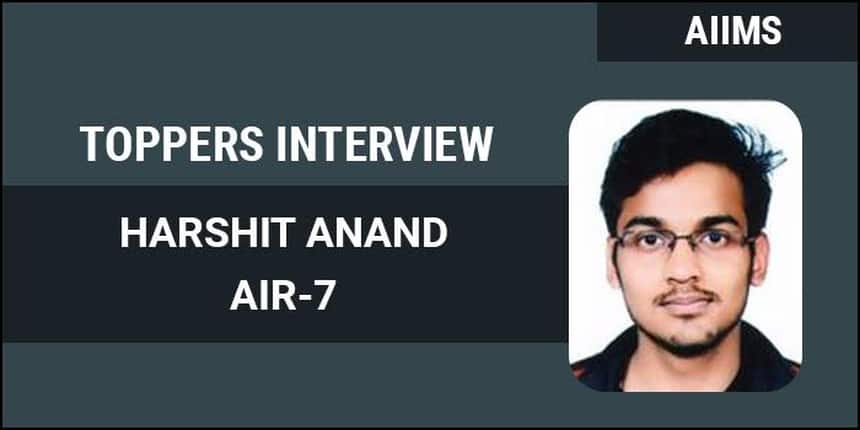 Read the full interview below:
Careers360: Congratulations on grabbing AIR 7 in AIIMS MBBS 2017 examination. What was your first reaction to the result?
Harshit Anand: My seniors informed me about my result, but I couldn't believe them as I was nervous and confused. I became satisfied only after checking it myself. After knowing my rank, I was very surprised and obviously happy. I immediately met my friends and went out to celebrate.
Careers360: Were you expecting such a result in AIIMS MBBS 2017 exam?
Harshit Anand: I had an idea that I would be securing a good rank, but securing AIR 7 came as a total surprise to me. 
Careers360: Tell us about your family? How did your family support you during the preparation days?
Harshit Anand: My father and mother hold the positions of Gastroenterologist and Gynaecologist respectively, in our own hospital - Sai Hospital, Siliguri. My brother is currently pursuing his MBBS from Dr. DY Patil Medical College, Pune. So basically everyone is from the medical background and thus they understood clearly whenever I was low on morale and needed support from them.
During the preparation days, my father was the biggest source of motivation for me. He used to cheer me up by telling me that everything that I am doing is going according to plan. He believed in me completely and this was enough for me to get going during my sad moments.     
Careers360: What's your success mantra behind cracking AIIMS MBBS 2017 exam?
Harshit Anand: The only key to success, according to me, is sincerity and dedication towards studies. It's not like I stopped having fun during the preparation phase by sacrificing social media or friends, but I made sure I stuck to my study plan. I attended coaching classes and did rigorous self-study as well. Moreover, I never hesitated to ask my seniors whenever I had any doubt. Sheer perseverance made it possible for me to achieve this victory.   
Careers360: How was your study schedule during preparation?
Harshit Anand: I didn't have any fixed schedule, but on an average I used to study for 4-6 hours daily. Moreover, I never studied for more than 8 hours a day during the preparation phase.
Careers360: Among the three subjects, which was the easiest vis-Ã -vis toughest subject for you?
Harshit Anand: I found Physics the easiest subject, while Biology was the toughest for me.
Careers360: Please share your academic background.
Harshit Anand: In Class 10, I got 10 CGPA and in 12th, I secured 91.3 percentile in best of five subjects.
Careers360: How did you balance between preparation for your state board exam and medical entrance exams?
Harshit Anand: There was not much difference between the preparation strategy for Board exam and Entrance exams. For Class 12 exam, I had to focus on NCERT books more, which was also required for AIIMS, JIPMER and NEET preparation also. So, I was able to study for both side by side.  
Careers360: Your schedule would have been quite hectic during preparations. What did you do to keep yourself refreshed?
Harshit Anand: In order to get rid of stress, I regularly indulged in various sports including Cricket, Football, Table Tennis and Badminton. I also used to hang out with my friends and was quite active on social media as well.
Careers360: Do you watch movies? If yes, which are your favourites?
Harshit Anand: I am quite fond of movies. I like 3 Idiots and Forrest Gump a lot.
Careers360: Do you think coaching is necessary for cracking medical entrances like AIIMS?
Harshit Anand: I think that coaching proves to be very beneficial for students in the preparation. The teachers guide you and provide highly relevant study material. They tell you what to do and what not do do during the exam. Practicing from the question bank provided by the coaching professors benefits a lot. I myself took classes from ALLEN Career Institute.
But that doesn't mean students depending solely on self-studies don't perform well. I know students who performed well in the entrance exam without attending any coaching.        
Careers360: Where do you see yourself 10 years down the line in your medical career?
Harshit Anand: In the next 10 years, I see myself being an expert in the areas of my interest - Cardiology, Neurology and Radiology. 
Careers360: How was your result in JIPMER MBBS? What are your expectations from NEET result?
Harshit Anand: I secured AIR 128 in JIPMER MBBS. Speaking of NEET, I expect to secure a rank in the top 20.   
Careers360: What suggestions would you like to share with the MBBS aspirants?
Harshit Anand: The most important piece of advise is to not take tension at any point of time. Give your best and do not fear anything. Practice is the key, always remember that.
Also Read:
AIIMS MBBS 2017: Know the Toppers
AIIMS MBBS 2017 Topper Interview: Speed and technique keys to success, says AIR 3 Tamoghna Ghosh
JIPMER MBBS 2017 Topper Interview: Regular revision key to success, says AIR 1 Nipun Chandra
Stay tuned to medicine.careers360.com for more news and feature articles on AIIMS 2017 Topper Interviews.
Get real-time alerts on exam & colleges at your fingertips with Careers360 App!
Click Here to Install or Give a missed call on 08080944727 to get app link.
Questions related to NEET
Showing 84296 out of 84296 Questions