AIIMS MBBS 2019 Topper Interview - Arunangshu Bhattacharyya (AIR 6)
AIIMS MBBS 2019 Topper Interview: When the result of AIIMS MBBS 2019 was declared on June 12, it helped Arunangshu Bhattacharyya realize his long cherished dream of studying medicine in AIIMS New Delhi, the premier medical college in the country. The Surat native secured the AIR 6 rank in AIIMS MBBS 2019 exam, which more or less sealed his seat. Interestingly, Arunangshu has topped JIPMER 2019 (AIR 1) and came AIR 19 in NEET 2019 as well. So, he was secure in the knowledge that come what happens in AIIMS MBBS, he is assured of a seat in a top medical college, if not AIIMS.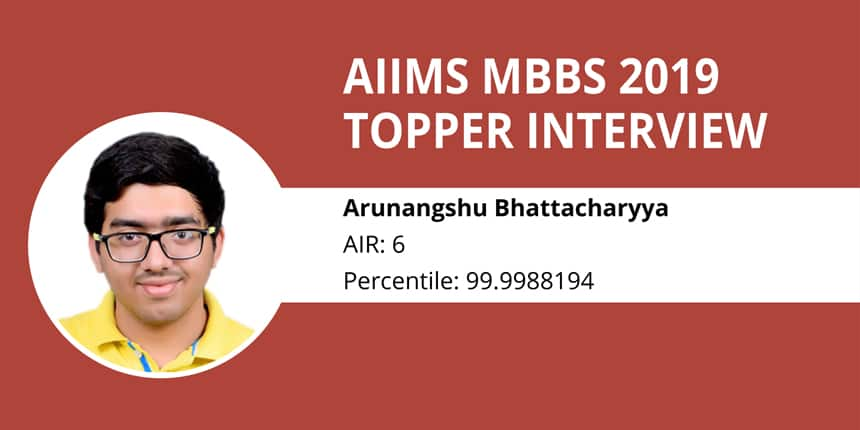 Careers360 got in touch with the young achiever and conducted a AIIMS MBBS 2019 topper interview to understand what goes behind achieving such stupendous success.
Careers360: The year only gets better and better for you. First AIR 19 in NEET 2019, next AIR 1 in JIPMER 2019, and now the icing on the cake in the form of AIR 6 in AIIMS MBBS 2019. Please share your and your parents' reaction.
Arunangshu Bhattacharyya: I felt really happy after I got my results and heaved a huge sigh of relief as this result marked the end of quite a strenuous but worthwhile preparatory period of two years. My parents were also really delighted and in spite of all my efforts to see my result on my own (which I was not able to do in the case of JIPMER) I still got to know my result from my teacher.
Careers360: Were you expecting to be ranked inside the top 10?
Arunangshu Bhattacharyya: Though I had a belief that I would get into AIIMS Delhi, I was not very confident after the examination about scoring great marks as I found many questions in the exam which were quite unlike what I had seen before. I am glad that I did not panic in the exam hall and managed to secure a top 10 rank.
Careers360: What is your subject-wise and overall percentile in AIIMS MBBS 2019?
Arunangshu Bhattacharyya: Biology-99.9563195, chemistry-99.9811111, physics- 99.9940972, gk- 99.9940972, overall- 99.9988194
Careers360: In our last interview, you rated your success in NEET 2019 higher than being ranked AIR 1 in JIPMER 2019. Has that equation changed?
Arunangshu Bhattacharyya: Yeah, as my aim was to get into AIIMS, New Delhi and when our dreams transform into reality, the satisfaction level is at its pick as such results serve as validatory symbols of one's efforts and hard work. So yes, this is definitely higher rated.
Careers360: Tell us your immediate and future plans.
Arunangshu Bhattacharyya: I first have my International Biology Olympiad in Szeged Hungary during the third week of July after which I will be joining AIIMS, New Delhi. I am not among those who have all their future plans sorted out but yeah, my dream is to be able to do research as well as continue my practice though the practicality of the idea is debatable in the context of taxing clinical duty in India.
Careers360: Which exam did you find more difficult and why - NEET or AIIMS?
Arunangshu Bhattacharyya: AIIMS was definitely the more challenging exam from an academic point of view. But the highly reduced difficulty level of NEET when taken into consideration along with the controversial questions leave all students on a razor-thin edge. This uncertainty makes the time after NEET more difficult to deal with but as said before, from purely an academic point of view, AIIMS is at another level.
Careers360: What are the basic differences between these two exams and how can they be tackled?
Arunangshu Bhattacharyya: NEET is based on superficial concepts and the basic strategy employed by the examiners is to make students make silly mistakes. While AIIMS's evaluates much finer details about the subject. NEET can be best tackled by solving more and more papers of its pattern to improve accuracy and time management while AIIMS requires us to read NCERT more thoroughly, especially sections like points to ponder in physics. One would also need to expand one's knowledge base about the subject to have a better chance to crack the exam.
Careers360: Give us an insight into how you went about tackling the AIIMS question paper. Forexample, how did you manage time, juggle between sections, solve difficult looking questions, overcome nervousness, and kept your cool?

Arunangshu Bhattacharyya: I started with biology MCQ section followed by assertion-reason type questions of all subjects, chemistry MCQs and then at last physics MCQs. My target was to have sufficient time for the physics MCQs as they are the rank deciders because of their high difficulty. By then, I had just given NEET so I was able to deal with pressure better. Still, throughout the paper I was running against time which raised anxiety levels. I tried curbing them by remembering the fact that if a question is hard for me, it is for everyone. This thought helping me in keeping my cool.
Careers360: What according to you is the ideal time to start preparing for AIIMS?
Arunangshu Bhattacharyya: Starting preparation for medical entrances in general and AIIMS UG in particular from class 11th is more than sufficient.
Questions related to NEET
Showing 101992 out of 101992 Questions