AIIMS MBBS 2019: Last week preparation tips
AIIMS MBBS 2019 last week preparation tips - With AIIMS exam just around the corner, many candidates want to know about AIIMS MBBS last week preparation tips to ace the exam. The most pressing questions in the mind of the candidate include how to do effective revision, which topics to focus more on and how to properly manage time. In fact, the last few days are filled with a lot of anxiety as well, as many candidates who have slogged hard for months and years look to put finishing touches to their AIIMS MBBS exam preparation. Given the gravity of the issue, Careers360 brings here AIIMS MBBS 2019 last week preparation tips that covers the gamut of doubts candidates have regarding exam preparation in this last leg.
LATEST: NEET 2020 application form to be released on December 2; download till December 31!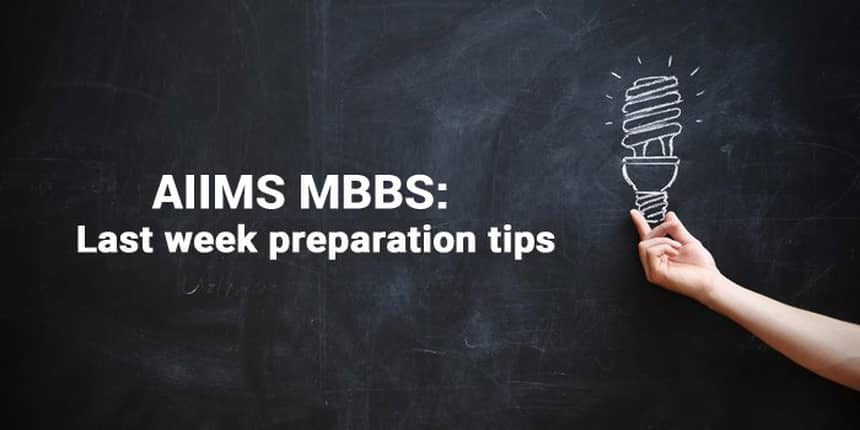 AIIMS MBBS 2019 last week preparation tips
AIIMS MBBS 2019 will be conducted in computer-based mode on May 25-26 for admission to 1207 seats offered by the 15 operational AIIMS institutes; including 7 seats for foreign nationals. The paper will be objective type, with 60 questions each asked from physics, chemistry and biology. Additionally, General Knowledge and Aptitude and Logical Thinking will contribute 10 questions each. Go through the last week preparation tips for AIIMS MBBS 2019 and get a good score in the exam.
Focus on revision: Going into the last week of AIIMS MBBS 2019 exam preparation, the major thrust should be on revision. It is generally recommended that the candidate uses notes for revision rather than referring to textbooks, because this will help the candidate cover more distance in little. Also, at this stage there is no logic or sense to go over a topic over and over again, if the candidate already has a good understanding of the subject. Textbooks must be used only when needed, like for clarification of concept.
Solve sample and previous years question papers: In an exam like AIIMS MBBS 2019, simple rote-learning won't suffice. What the candidate instead needs is problem solving ability. And the most effective way to build problem solving skills is by solving question banks related to the subject or topic. One may also try out AIIMS MBBS previous years' papers and sample question papers, as they will give one a clear understanding of variables like question type, weightage and distribution of questions.
Take mock tests: Mock tests are in essence a simulation of the real exam. For example, the candidate will get 3 hours 30 minutes to answer 200 objective questions, like in the actual exam. By taking AIIMS MBBS mock tests, the candidate will learn about time management, how to handle tricky questions and get out of trouble. In fact, if one takes mock tests at around the same time as AIIMS MBBS exam will be held, one can align one's body clock suited to exam timings.
Don't indulge in new topics: Every new topic one picks at this stage will eat into the limited time left. Also, take note that new topics will require more extensive revision, which will leave the candidate will little space to maneuver.
Make a list of important topics: If the question papers of the last few years are analysed, a trend can be observed as to which topics carries more weightage and which doesn't. Using this information, the candidate may put that extra bit of attention to these important topics, without neglecting the other topics.
Make a list of important formulas, diagrams, and graphs: They can act as a ready reference.
Mind your health: In all the hullabaloo about last week AIIMS MBBS 2019 exam preparation, it is not uncommon to find one's health taking a back seat. But it shouldn't be the case because health and mental issues can adversely affect one's performance. One way to stay healthy is by taking proper breaks between study sessions, eating vegetarian food and sleeping the full quota of hours; note that sleep related depression can also negatively impact one's performance.
Exam day tips:
Stay calm and composed: If at first glance the paper appears to be difficult, avoid going into a shell. Instead, take a few deep breaths and go through the paper with a cool head. If you do that, you will see that some questions that appeared difficult initially aren't that difficult at all, but it is only the appearance that is designed to scare away the candidate.

Read questions carefully: Many a times mistakes happen because the wrong interpretation is derived from a question, which generally happens when one is not aleart or not staying in the moment.

Start with easy and then move on to difficult sections: Make it a thumb rule to first complete the easier sections (or questions), before getting stuck with difficult ones. This way you will not miss out on easy questions and consequently sure-shot marks.

Keep an eye on time: It is important you know how much time is left, as it will enable you to make time allocation for remaining questions. Also, it will help you stay alive to the situation.
Tackling negative marking
Read the questions carefully before attempting them

Don't attempt doubtful questions

Don't rush through questions or be careless

Guard against overconfidence, as it generally leads to silly errors

Also, avoid last minute bulk answering of questions. It is more likely to backfire than pay dividends.
If the candidate follows the AIIMS MBBS 2019 last minute preparation tips listed above, he/she can greatly enhance his or her chances of getting a good score in the exam. Best of luck.
Questions related to NEET
Showing 84424 out of 84424 Questions