AIPMT 2016 - Central Board of Secondary Education (CBSE) has conducted All India Pre-Medical Test (AIPMT)/NEET 2016 Phase 1 on May 1, 2016  for providing admissions to 52,305 MBBS and BDS seats in all government, private, state, deemed universities/colleges of the country. As per the Supreme Court, candidates who have participated in NEET exam Phase 1 conducted on May 1, 2016 can participate in the stage 2 examination on July 24, but with a condition that they have to give up their NEET Phase 1 candidature.
Related Post -
NEET 2019
NEET Eligibility Criteria 2019
NEET Application Form 2019
NEET Admit Card 2019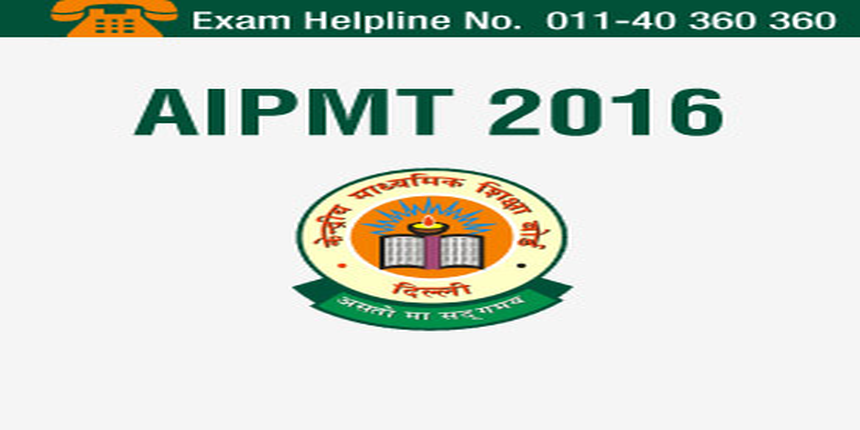 AIPMT 2016/NEET 2016 Phase 1 has been conducted in pen & paper mode at various designated exam centres across India for undergraduate medical and dental seats under 15% All India Quota. On this page candidates can get a complete set of information about AIPMT 2016 entrance exam such as its exam pattern, application form details, exam dates, eligibility criteria, seats & reservation, admit card, results, important dates and preparation tips.
| | |
| --- | --- |
| NEET 2016 Query | Official Clarification |
| NEET Phase-I  Exam Date | On May 1, 2016 |
| NEET Phase-II  Exam Date | July 24, 2016 |
| What do you mean by NEET Phase-I | As per the directions of the Hon'ble Supreme Court,  AIPMT-2016  will  be  known  as  NEET Phase I |
| Who can appear in AIPMT-2016/NEET Phase-I on May 1, 2016 | All candidates can appear in Phase 2 examination. Candidates who have already appeared in Phase 1 conducted on May 1, 2016 have to give up their Phase 1 score if they wish to appear in phase 2. |
| Can a candidate registered in AIPMT – 2016 /NEET-Phase-I will be allowed to appear in NEET Phase- II? | Yes, with a condition of giving up their candidature |
| Can   a   candidate   remain   absent   in   AIPMT- 2016/NEET-Phase-I      be   allowed  to   appear  in NEET Phase-II | Yes |
| Can  a  candidate  be  allowed  to  appear  in  both NEET Phase I and NEET Phase- II | No, already appeared candidates have to cancel their phase 1 score and candidature |

The graph given below shows the number of MBBS and BDS seats of last two years.
AIPMT 2016 Key Points:
Examination Date & time – May 1, 2016; Time: 10:00 AM to 01:00 PM

AIPMT Exam Pattern – Single paper of 3 hours durations. There will be 180 multiple choice questions. Each of the four sections namely physics, chemistry, botany and zoology have 45 questions.

Marking scheme – 4 Marks for correct answer and negative marking of 1 mark for incorrect answers.

Minimum age limit – 17 years (5 years relaxation for reserved category candidates)

AIPMT Result –  On or Before June 5, 2016
Exam Name: All India Pre Medical/Dental Entrance Test


Commonly Known as: AIPMT


Exam Category: Undergraduate
Exam Level: National
Conducting Body: Central Board of Secondary Education (CBSE)
AIPMT 2016 Eligibility: Candidates must fulfil the minimum eligibility requirements at the time of applying for AIPMT 2016. The highlights of AIPMT 2016 eligibility which includes educational qualifications and age criteria is mentioned below.
Age Requirement:
Age Limit – Applicant must be at least 17 years old as on December 31, 2016. The age limit is 25 years for general and 30 years for SC / ST / OBC category candidates

Candidate must born on or between:

(a) 01/01/87 to 01/01/2000 (SC/ST/OBC Category)

(b) 01/01/92 to 01/01/2000 (Other Category)

Nationality – Candidates must be Indian nationals. Overseas Citizen of India (OCI) are also eligible for appearing in AIPMT 2016
Educational qualification:
Candidates must have appeared or will be appearing in 2016 for class 10+2 or equivalent exam. The candidate must appear and qualify the class 12th exam with Physics, Chemistry, Biology/ Bio-technology (PCB) Mathematics or any other elective subject with English at a level not less than the core course for English as prescribed by the National Council of Educational Research and Training (NCERT)

Candidate must secured at least 50% marks in PCB or 45% (General PH) or 40% (SC / ST / OBC)

Applicants has passed the B.Sc. Examination of an Indian University with not less than two of the subjects Physics, Chemistry, Biology (Botany, Zoology)/Bio-technology and further that they has passed the earlier qualifying examination with Physics, Chemistry, Biology and English
AIPMT 2016 Exam Pattern: The entrance exam of AIPMT 2016 has been conducted in pen and paper based mode. The exam was for 3 hours conducted in morning session from 10:00 to 1:00 PM.  Exam pattern of AIPMT 2016 is mentioned below.
Exam Pattern

Detail of AIPMT 2016 exam

Exam Date & Time

Date: May 1, 2016

Time: 10:00 AM to 01:00 PM

Exam Mode

Pen & Paper Based

Language of Paper

Bilingual - English or Hindi (Language opted by candidates in application form )

Types of questions

Multiple choice questions with single answer correct

Number of Questions

180

 

 

Distribution of Questions

Physics – 45

Chemistry – 45

Zoology – 45

Botany – 45

Total – 180 Questions

 

Marking Scheme

For correct answer: +4 marks are given

For incorrect answer: -1 mark is deducted

Syllabus

Common syllabus notified by the Medical council of India. Generally, CBSE syllabus taught at 10+2 level
AIPMT 2016 Application Procedure: The online registration of AIPMT 2016 began from December 15, 2015. Candidates can fill the AIPMT 2016 application form in online mode and no any other mode of application form filling were accepted. Candidates were advised to read the prospectus carefully to ascertain their eligibility, application procedure before beginning the online registration of AIPMT 2016. Basically, the registration was a 4 stage procedure. The first stage was registration for the exam where candidates can fill in the on-line application and obtain the registration number. Upload images of photograph and signature in JPEG format as prescribed dimensions at stage 2. Next stage was making payment for the exam through Debit/Credit Card/Net Banking or Bank Challan. 
How to Submit the AIPMT 2016 Application Form
The AIPMT admission brochure and application form was available from December 15, 2016

Candidates can check 'How to Fill AIPMT 2016 Application From' procedure this page

Before applying candidates were advised to read eligibility criteria as required in AIPMT

The candidates not satisfying the instruction as given in the  AIPMT information brochure were disqualified

The candidates must keep the following documents for the further communication in case any discrepancy:

3 printouts of the confirmation page of online application

Fee paid proof for having the fee payment detail

2-3 copies of identical photos as uploaded in the application form

Copy of self-declaration in case of students belong to AP, J&K and Telangana and applied for 15% all India quota seats

Any correction in the AIPMT 2016 online application form will be done through the AIPMT official website

Only one application was to be submitted by a candidate. In case candidates fill more than one application form their candidature will be rejected

The candidates must choose the AIPMT 2016 and language of the exam paper while applying as it will not be allowed after the submission of application form 
Read Also: Step by step guide for how to fill AIPMT Application Form 2016

Important Dates for AIPMT 2016: The application procedure of AIPMT 2016 began on December 15, 2015 and entrance exam has been conducted on May 1, 2016. Candidates can check important dates from the table given below. 
AIPMT 2016  Application Form Without Late Fee

 

Schedule for on-line submission of AIPMT 2016 application forms

For fee through e-challan 

For fee through other modes

December 15, 2015   to  January 8, 2016

December 15, 2015   to January 12, 2016

Last date for successful final transaction of fee applicable for AIPMT 2016 online application

January 12, 2016

 January 12, 2016

AIPMT 2016  Application Form With Late Fee

 

Schedule for on-line submission of AIPMT 2016 application

For fee through e-challan 

For  fee    through other modes

 January 13, 2016 to  February06, 2016

 January 13, 2016  to February 10, 2016

Last date for successful transaction of fee applicable for online AIPMT 2016 application with late

fee

 February 10, 2016

February 10, 2016

Date of uploading of Admit-Card  on website

April 07, 2016

AIPMT 2016 Exam Date (Phase 1)

May 01, 2016 (Sunday)

Downloading of OMR Answer Sheet for Phase 1 and 2

August 4 to 7, 2016

Downloading of answer key of AIPMT/NET 2016 for Phase 1 and 2

August 8 to 10, 2016

Declaration of AIPMT/NEET 2016 Result

August 16, 2016
AIPMT 2016 Admit Card is available to download from April 7, 2016. To download admit card candidates have to enter their exam registration number and password. The admit card is an important documents which will have candidate's detail  like their exam roll number, category, photograph, signature, name and address of the allotted exam centre, etc. Without the admit card candidates will not allowed to take test. The AIPMT 2016 admit card must be preserved by candidates till the completion of admission process as it will required at the time of counselling and admission process for identity verification. Candidates are advised check all the entries in the admit card. In case of any discrepancy, candidate should immediately inform the exam conducting authority.
Exam Day Guideline: Candidates are advised to reach their exam centre at least 1 hour before the commencement of exam. Examination Hall will be opened 45 minutes before the commencement of the test. Candidates are advised not to carry any textual or digital materials to the examination hall otherwise they shall be deemed to have used unfair practices at examination and marked as UNFAIRMEANS (U.F.M.). Such candidates would be debarred from taking this examination permanently in future and shall also be liable for criminal action and /or any other action as deem fit by the Board. 
The salient feature on AIPMT 2016 exam day guidelines are given below. Candidates are advised to follow the instruction strictly otherwise they will not allow for taking AIPMT 2016 exam.
| | |
| --- | --- |
| Entry in the Examination Hall | 7.30 AM to 9.30 AM |
| Checking of AIPMT 2016 Admit Cards by the invigilator | 9.30 AM to 9.45 AM |
| Distribution of AIPMT 2016 Test Booklet | 9.45 AM |
| Seal of the Test Booklet to be broken/ opened to take out the Answer Sheet | 9.55 AM |
| Latest Entry in the AIPMT 2016 Examination Hall | 9.30 AM |
| AIPMT 2016 Test Begins | 10.00 AM |
| AIPMT 2016 Test End | 01.00 PM |
|  Material to be brought on the AIPMT 2016 day of examination | AIPMT 2016 Admit Card, Passport size Photograph and Post Card Size Photograph affixed on proforma. |
| Rough Work during AIPMT 2016 exam | All rough work is to be done in the AIPMT 2016 Test Booklet only. The candidate will not do any rough work or put stray mark on the machine gradable Answer Sheet |
| Use of Blue/Black Ball Point Pen only | Pen will be provided at the centre for writing of particulars on the Test Booklet and responses on the Answer Sheet |
What to carry during AIPMT 2016 Exam: Candidates have to carry their AIPMT 2016 Admit card which have pasted postcard size photograph in the given performa. The passport size photograph affixed in the admit card must be duly attested by a Gazetted Officer/Head of the Institution. Candidates will also have to bring one passport size photograph for affixing on the attendance sheet. The stationary items required during the test will be provided by the exam authorities itself.  The pen for marking in OMR sheet will be provided at the center.
AIPMT 2016 Answer Key: Candidates can download the answer key soon after the conclusion of entrance test. AIPMT 2016 answer key will be released by various medical coaching institutes like Aakash, Alllen, Carrer Point, Bansal etc. With the downloaded answer key candidates can know their marks based on the marked response. Based on the evaluated marks candidates can figure out their total score and know their probable all India rank in AIPMT 2016 with the help of rank predictor.


CBSE has released official answer key of AIPMT 2016 before on August 8, 2016. Candidates can challenge any questions or answer of AIPMT through a given prescribed format. They also have to submit the requisite fee for challenging. The fee will be refunded to candidates if examination authority finds challenge is valid and true. 
Qualifying Marks: Candidates have to score a minimum marks as prescribed by the examination authority CBSE to qualify the entrance exam. The graph below shows category wise AIPMT 2016 qualifying mark.
AIPMT 2016 Cut off Score: The cut off score depends on difficulty level of exam, availability of seats, number of applicants, etc. Based on the cut-off score examination authority prepares the merit list and candidates are called for counselling. CBSE will prepare AIPMT 2016 cut off score based on which candidates will be positioned in merit list as per their marks scored in the exam. AIPMT 2016 counselling for 15% All India Quota seats will only for those candidates who have their rank in merit list as per the cut off score.
The graph given below shows marks based AIPMT last year's cut off score which was the basis of counselling. 

AIPMT 2016 Result - The result has declared on August 16, 2016. The result of only those candidates has been declared who secure the qualifying marks in the exam. The cut off marks to qualify AIPMT 2016 is 50% for general category candidates. Based on the marks scored by candidates, CBSE will prepare merit list of the eligible and successful candidates. As per the rank in merit list counselling will be conducted for admission under 15 % AIQ seats excluding Andhra Pradesh, Telangana and Jammu & Kashmir.


AIPMT 2016 Counselling: The Medical Counselling Committee (MCC), Directorate General of Health Services (DGHS) will conduct AIPMT 2016 counselling for allotment of MBBS and BDS seats under 15% All India Quota. The online counselling of AIPMT 2016 will be conducted in three rounds beginning tentatively in the month of July or August.


AIPMT 2016 Participating States: Many State Governments/Universities/Institutions voluntarily participate in AIPMT 2016 and use its merit list for admission MBBS and BDS seats in their respective Medical Colleges. The responsibility of CBSE is limited to conduct of the entrance test, declaration of result and providing merit list to the DGHS and participating States/Universities/Institutions. A total of 8 states and 4 medical institutions participated in AIPMT 2016 for filling their MBBS and BDS seats.
Name of Participating States in AIPMT 2016  
Haryana
Himachal Pradesh
Madhya Pradesh
Manipur
Meghalaya * (subject to confirmation from the state government)
Odisha
Rajasthan
Chandigarh
Name of Participating Medical Institutes in AIPMT 2016
Armed Force Medical Services
University of Delhi
Banaras Hindu University
Jamia Hamdard
Important Highlights of last two year's AIPMT:
AIPMT Facts

2015

2014

 

Number of Candidates Registered

6,32,625

6,16,982

 

Number of Candidates Appeared for AIPMT

3, 74, 386

  5,23,701

 

Number of Male Candidates

Male 1,80,957

Female

1, 93, 429

Male 2,58,282

Female 3,21,322

 

Number of Candidates Qualified for  15% All India Quota

 

 

 

 18,115

Male  9,716

 

 

Female  8, 399

 

Total Number of MBBS and BDS Seats and Colleges under 15% All India Quota

MBBS Seats

3179

BDS Seats

250

MBBS Seats  2156 

BDS Seats249 

 

Colleges

MBBS

159

BDS

28

Colleges

MBBS 123

BDS

29
Last year, AIPMT was cancelled by the Supreme Court of India because of adverse impact on the exam and evaluation process due to 'answer key leak' during exam which was conducted on May 3. The Apex Court has annulled the All India Pre- Medical Entrance Exam after taking into account the petitions filed by parents as well as students demanding re-examination of the coveted medical entrance examination of India. The CBSE had conducted AIPMT retest on July 25 at 1065 exam centres across India.
Click here to follow NEET 2016 discussions:
https://www.medicine.careers360.com/forums/aipmt/admission-through-neet-2016
CBSE AIPMT 2016 Information Bulletin:
Contact Address:
Central Board of Secondary Education (CBSE)
Shiksha Kendra, 2 - Community Centre,
Preet Vihar,Delhi-110092


Website: https://aipmt.nic.in/aipmt/Welcome.aspx
Stay tuned to medicine.careers360.com for more news and feature related to AIPMT 2016
Questions related to NEET
Showing 82551 out of 82554 Questions