AIPMT 2016 Exam Pattern - Candidates who have appeared for the AIPMT exam are advised to read AIPMT Exam Patten 2016. The entrance exam has been conducted on May 1 by the examination authority, Central Board of Secondary Education (CBSE). The AIPMT exam has been conducted in pen and paper based mode for 3 hours duration in a single session from 10:00 AM to 01:00 PM. The detailed information is given below regarding AIPMT 2016 Exam Pattern like number of questions asked in the paper, subjects, marking scheme, exam duration etc.
Also Read -
NEET 2018
NEET Eligibility Criteria 2018
NEET Important Dates 2018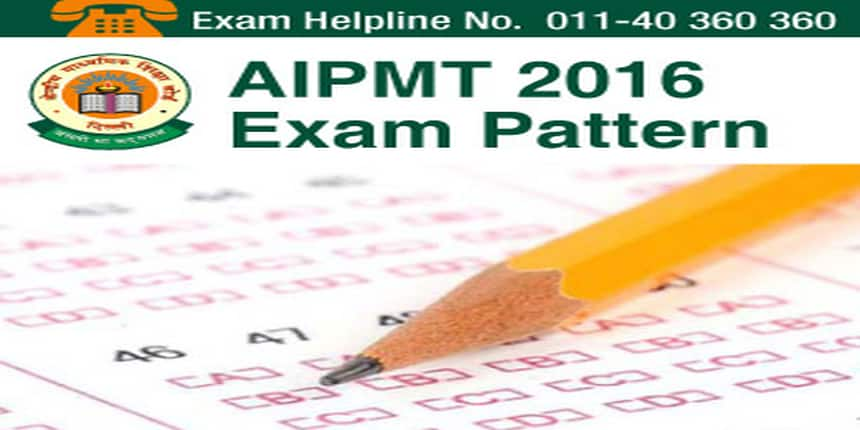 [Click Here to Enroll Complete AIPMT Preparation Package to Crack AIPMT 2016 Exam or call at 011-40360360 to talk Expert Counsellors]
Important Information related to AIPMT 2016 Exam Pattern is given below:
AIPMT 2016 Exam Day & Time – AIPMT 2016 has been conducted on May 1. The exam time of AIPMT 2016 is 10:00 AM to 01:00 PM

Exam Duration: 03 Hours

Exam Mode Offline - Pen and Paper based exam. Candidates had answer on the specially designed machine-gradable OMR sheet using Ball Point Pen. They were not allowed  to carry any stationary material like ball point pen as it will be provided at exam centres by examination authority

Language of Paper English/Hindi – AIPMT 2016 question booklet was a bilingual paper i.e. English and Hindi. As per AIPMT 2016 exam pattern, language of booklet has been given to candidates as per the language opted during filling up the application form

Question Booklet – There were four sets of question booklet  provided to candidates. Last year, question booklet, ABCD/PQRS/ WXYZ were provided to candidates

Types of question (MCQ) – The question were of multiple choices. Candidates had to choose correct response from the given four options. Question of AIPMT 2016 were from the syllabus as prescribed by examination authority

Number of questions (180) - The AIPMT 2016 questions booklet consisted of a total of 180 questions from Physics, Chemistry and Biology (Zoology & Botany) 

Distribution of questions (45 from each sections) – As per the AIPMT 2016 exam pattern the question booklet had 45 question from each sections of Physics, Chemistry, Botany and Zoology as shown below. 
Subjects wise questions in AIPMT 2016

No. of Questions  – Each Question Carry 4 Marks

Subject wise total marks in AIPMT 2016

Physics

45

180

Chemistry

45

180

Zoology

45

180

Botany

45

180

Total -

180

720

 

AIPMT 2016 Marking Scheme

4 Marks for each correct response

1 Mark to be deducted for incorrect response
Marking Scheme - Based on the AIPMT Exam Pattern 2016 each question will be of 4 marks. The total mark of AIPMT 2016 is 720. For each correct response candidates will get 4 marks and 1 marks to be deducted for each incorrect response. No marks will be allotted for unmarked response
| | |
| --- | --- |
| For correct answer: +4 marks are given | For incorrect answer: -1 mark is deducted |
AIPMT 2016 Marks Calculation: The score of AIPMT 2016 can be calculated by following procedure. 
AIPMT 2016 Score = 720 - (4 x Number of Correct Answer – 1 mark for each incorrect Answer)
AIPMT 2016 Syllabus: The booklet of AIPMT 2016 exam will have questions from subjects taught during the10+2/HSC level. To Download AIPMT 2016 Syllabus - Click Here

AIPMT 2016 Qualifying Marks - Candidates have to score a minimum marks as prescribed by the examination authority CBSE to qualify the entrance exam.  The category wise AIPMT 2016 qualifying marks in terms of marks and percenmtage is mentioned below:
Candidates' Category

                   Qualifying Marks

Percentage Wise

Marks Wise out of 720

General Category

50%

360

Reserved Category (OBC, SC & ST)

40%

288

General Category - PH

45%

324

Reserved Category -PH

40%

288
The graph below shows category wise AIPMT 2016 qualifying mark in terms of percentage. Candidates have to score the required percentage to qualify AIPMT 2016. 
The last year AIPMT cut marks for 15% All India Quota: The AIPMT 2016 cut off marks for 15% All India Quota will be declared by examination authority CBSE at the time of declaration of result. The table given below shows the AIPMT cut off score of last two years for different categories. In 2015 the cut off score is higher than 2014 for all category candidates. Candidates can check the AIPMT 2015 cut off score marks wise as well as and rank wise from the table given below:
Academic Year

Category

Marks Range

Rank Range (All India Quota Seats)

Academic Year

Marks Range

Rank Range (All India Quota Seats)

 

 

 AIPMT  2015

 

 

 

UR

 695-453

 

 00001-14052

 

 

 APMT 2014

 682 – 438

1 – 13605

OBC

 453-450

 14053-14905

 438 – 434

 13606 – 14528 

SC

 453-324

 14200-61238

 438 – 295

 13671 – 66176 

ST

 451-288

 14481-83162

 436 – 288

 14094 – 70931 

UR-PH

 449-324

 15149-61494

 435 - 288

14353 – 70930
AIPMT is a national level undergraduate medical entrance exam conducted for admission to MBBS and BDS programmes under 15% All India Quota seats in government medical and dental colleges of India except medical institutions in Andhra Pradesh, Jammu & Kashmir and Telangana.
Stay tuned to medicine.careers360.com for more news and feature related to AIPMT 2016
Questions related to NEET
Showing 83388 out of 83389 Questions