'All I need is to crack the NEET examination.' says Soham Saha, a NEET 2020 aspirants
'All I need is to crack the NEET examination.' says Soham Saha, a NEET 2020 aspirants - India is one of the countries which have never seen such a big halt. Whole country is stuck in the lockdown situation due to the Coronavirus outbreak. Everyone has to stay at their home and follow all guidelines of lockdown as there is no other solution to this epidemic. Despites of several losses, the government has taken various bold steps, which we haven't imagined earlier. Authorities have postponed their big exam events for the health safety purposes of the aspirants. The level of stress across the country is increasing day by day in the mind of people due to extension of lockdown. As, no one knows when this is going to end and every one works and lives their normal life. NEET is one the most competitive and single entrance exams for admission to medical UG courses. Postponement of NEET 2020 is one of the major exam events that might affect 16.84 lakhs of students.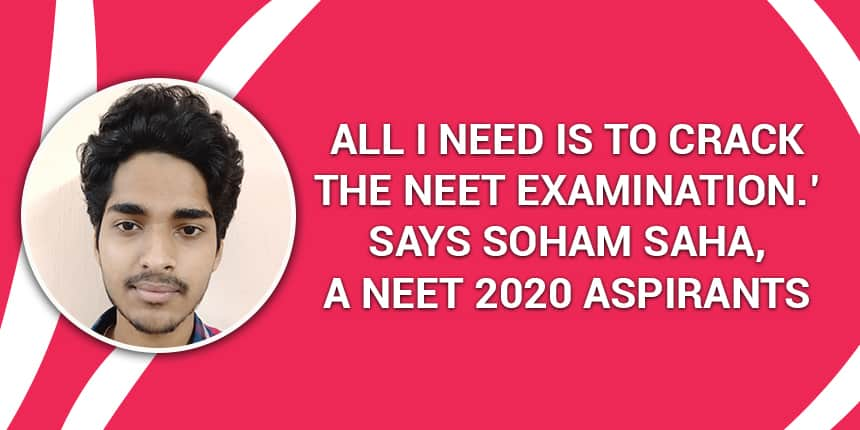 A beautiful quote by William James "The greatest weapon against stress is our ability to choose one thought over another." On that note aspirants have to work on their mindset how they are taking this situation. Worrying is not any solution for any situation and in the current scenario any mistakes can hamper the NEET 2020 preparation of the student. It might cost higher on aspirants efforts which they have made for preparing for cracking the NEET 2020. Careers360 interacted with Soham Saha, a NEET UG applicant of this year from West Bengal. Soham has discussed how he is taking benefits out of this lockdown situation despites of various problems.
Aspirants can go through the article to know how to prepare for NEET 2020 along with the various other details like daily routine, strategies, things to motivate, etc.
Careers360 - Tell us something about yourself, education, background, family and others.
Soham Saha - My name is Soham Saha. I live in Malda, a town basically in West Bengal. I am studying at Xavier's, in Class 12. I have 4 members in my family.
Careers360 - What is your preparation strategy for NEET especially for the lockdown?
Soham Saha - I thought it's an advantage that we got through this lockdown. I planned to strengthen the chapters in physics and chemistry with this lockdown which I feel it's necessary for getting a good rank in NEET. Conception is way more important in terms of physics than any other subject.
Careers360 - Can you share your daily routine of NEET preparation?
Soham Saha - If you ask me about my daily routine it was not fixed before but I joined a crash course from Careers360 which helped me a lot to make my plan throughout my day.
Careers360 - According to you, What are the advantages and disadvantages/challenges of lockdown in your NEET preparation?
Soham Saha - If you are a student of class 12 or dropout then there's definitely an advantage because JEE and NEET got postponed due to this lockdown. I think the biggest challenge in this lockdown is many people used to study in institutes or private tutors which are now completely restricted as we know.
Careers360 - Are you attending any online classes for preparations?
Soham Saha - Yes, I have taken a crash course of Careers360 and some other sites.
Careers360 - What kind of stresses you are experiencing during lockdown and how are you dealing with it?
Soham Saha - Stress is that it's difficult to stay at home all the time which personally I don't like to. I used to hit the gym thrice a week but it's now off so I relied on my home workouts. But one thing that helped me a lot was that I used to play guitar which reduces my stress. I made up different sounds in this lockdown.
Careers360 - How do you keep yourself motivated for your NEET preparation during this lockdown period?
Soham Saha - I used to motivate myself everyday after waking up from my bed, eat good and tell myself it's just a temporary situation and we will get over soon and follow up my daily routine. All I need is to crack the NEET examination.
Careers360 - What are your views on the continuous postponements of exam related events?
Soham Saha - I think ok we can't do anything about that because to get over this situation the government is doing the right thing the right thing.
Careers360 - As it can be seen in the current scenario that doctors are facing from certain sections of people and how they are brutally treated by the masses. How do you see it and how does it affect your determination?
Soham Saha - I think in this situation we should support each and every doctor in the world and be grateful to them because they are risking in their lives in saving ours yet there are some people who think they know everything and Corona virus will not affect because they eat healthy disregarding the fact that this Corona thing this is very dangerous and can affect only by a touch or cough from person to person and can lead all of us nearly to death. I heard the news of a doctor getting beaten up by her neighbour as she was treating Coronavirus patients. This is not a positive response from the people in this situation which made me feel so bad and shook my dreams of becoming a doctor.
Also Read:
Questions related to NEET
Showing 101991 out of 101991 Questions