All About Alternative Medicine
All About Alternative Medicine - Medical aspirants must be aware of the alternative medicine definition before beginning to understand what it is. Any form of treatment that we undertake in dire circumstances which is not tested and does not count as a medicine technically is known as alternative medicine. There are various methods and means which we as not being professionals take up in situations where better healthcare facilities are not available readily, they count as alternative medicine. It must be noted that alternative medicine in India is a properly taught up subject where candidates are given training for the same. Aspirants can look below for alternative medicine courses.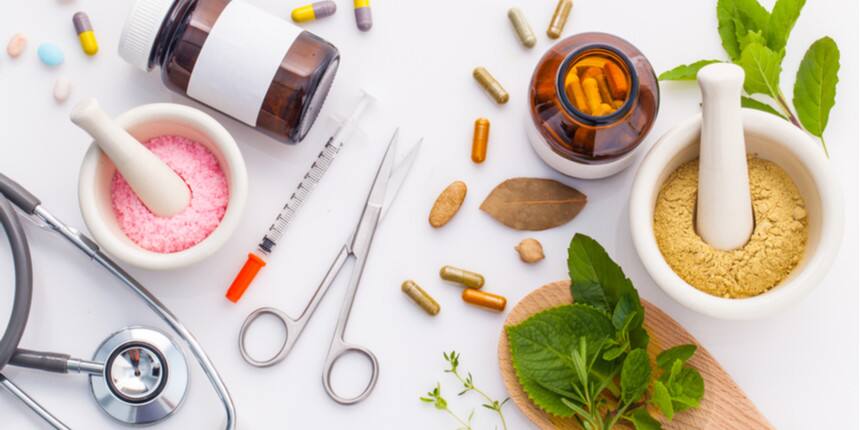 How does an alternative medicine practitioner treat his patients?
Unlike other healthcare professionals, an alternative medicine practitioner does not just study the patient's physical health but also his mental health. Practitioners use alternative medicine in place of standard medical care. Despite not being considered under standard medical care, alternative medicine has been proving its efficiency and curing abilities since ages now.
Alternative medicine in India
In our nation, India, we are knowingly or unknowingly more accustomed to reaching out for the alternative medicine for all sorts of ailments before getting proper medical care. Some examples of alternative medicine are:
Homeopathy

Chiropractic

Acupuncture

Traditional medicine
Out of the above mentioned examples of alternative medicine, homeopathy is widely practiced and accepted in the country and holds strong belief of the residents.
Alternative medicine courses
Below-mentioned are the courses of alternative medicine in India, medical aspirants can refer to the same for familiarity to the same.
1. Candidates can pursue for Doctor of Medicine (MD) in Ayurveda or Homeopathy
2. Aspirants can be in possession of diploma certificate in Alternative Medicine
3. They can be enrolled in a master's degree programme. It can be Master of Naturopathy or Masters of Yoga Science
Alternative medicine course eligibility
Aspirants desirous of knowing more about alternative medicine and taking up the same as a career need to fulfil certain eligibility conditions prior to the same. This criteria varies from institution to institution and course to course. What remains common here is that the candidate should be of Indian origin and must have passed his/her 10+2 from a recognised university/institution. For some alternative medicine courses it is essential that the candidates have Physics, Chemistry, Biology/Botany in their 10+2, however, the same is not true for all courses.
List of alternative medicine courses
Candidates can check the table that follows for the different alternative medicine courses offered at different educational levels in India
Alternative Medicine Courses - Bachelor and Diploma Degree
Bachelor's Degree

Course name

Eligibility

Duration

10+2 with PCB

Five and a half years

10+2 with PCB

Five and a half years

10+2 with PCB

Five and a half years

BNYS

10+2 with PCB

Five and a half years

Bachelor of Yoga Therapy

10+2 qualified

2 years

Bachelor of Electro Homeopathy

10+2 qualified

2 years

Bachelor of Acupressure

10+2 qualified

2 years

Bachelor of Homely Medicine

10+2 qualified

2 years

Diploma Degree

Course name

Eligibility

Duration

Diploma in Homeopathy Pharmacy

10+2 qualified

2 years

Diploma in Acupuncture

10/12 qualified

1 year

Diploma in Ayurvedic Pharmacy

10+2 qualified

2 years

Diploma in Yoga Therapy

10/12 qualified

1 year
Procedure for enrolment to alternative medicine courses in India
In order to enrol themselves for the various alternative medicine courses available at bachelor's, master's and diploma level in India there is no set guideline. Aspirants are required to look for colleges which offer the same and then fulfil the eligibility conditions as set by the chosen institutes. Also, one must remember that there are some institutes which conduct entrance examinations for admissions so candidates must be well prepared for the same.
Career options after pursuing alternative medicine in India
Medicos have a lot of career opportunities after they complete their alternative medicine course in India. They can enter varied fields some of which are mentioned below:
Private practice - Medicos can open their own clinics after getting a licence and begin to treat patients

Join hospitals or wellness centres - After completing the course and getting a degree medicos can also opt to join already functioning hospitals and wellness centres at their convenience

Government job - There are a number of government jobs in the health care sector with a lot of vacancies. The medicos are required to sort these on the basis of their preference and prepare for the same
India has an ever increasing demand for healthcare professionals for all kinds of ailments and this sector is not expected to see a downfall in coming times. What matters is the skill and efficiency of the medicos'. When they are good at their work they are paid a salary/fee that they deserve. Thus, it is essential that they excel in whichever profession they opt for.