Biomedical Engineering: A fusion of two domains
An inter-disciplinary domain, Biomedical Engineering offers diverse opportunities in the areas of research, development, implementation and operation. This article on the specialized domain provides details on the subject, the academic opportunities, eligibility criteria, job prospects, etc., to help you make up your mind before you leap into this domain. Read the complete article below.

Year 1895, Wilhelm Conrad Roentgen, a physicist at the Wuerzburg University in Germany, was busy studying in his laboratory the effects of passing electric current through gases at extremely low pressures. Little did he realize that the phenomenon he was to stumble upon over the course of his experiments would go on to revolutionize the medical industry forever.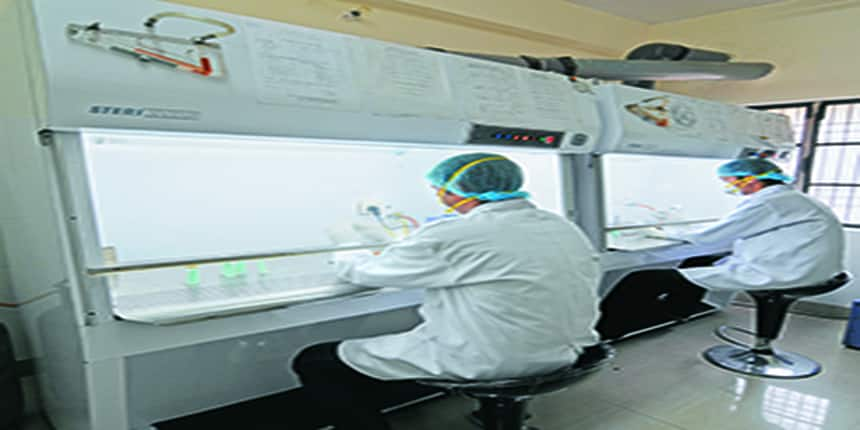 X-Rays, which have since saved countless lives while becoming an integral part of the medical industry, earned Roentgen the distinction of becoming the first physicist to receive a Nobel Prize in 1901. The discovery also made him one of the pioneering members in a field which hadn't even been formally established until then (and wouldn't be until much later) but had already seen its fair share of impactful work.
Take for instance the case of the French physician, Dr. Rene Laennec. Treating an overweight woman patient in 1816, Dr. Laennec needed an appropriate method to listen to her heartbeat. Considering it both inadequate and embarrassing to place his ear directly on her chest, he came up with the idea of rolling a sheet of paper into a tube and using it as a listening device. Dr. Laennec went on to develop this ingenious albeit interim solution into a device which would find a permanent place of residence around the necks of doctors worldwide. The stethoscope was perhaps the X-Ray of its time, an instrument which would transform the progression of medical treatment much before Roentgen came to the scene.
Both Roentgen and Laennec may have been men of science, but they hailed from different professions and different eras. What continues to unite them even today is their enduring impact on a field that has come to exist at that unique confluence of Medicine and Engineering, a field now popularly known as Biomedical Engineering.
What is Biomedical Engineering?
It would probably be safe to say that anyone who seeks to apply engineering principles to help solve health problems can be termed a Biomedical Engineer. But given the vastness of the field, that would be too simplistic a definition. While it is true that biomedical engineers develop materials, processes and devices that help prevent ailments, treat diseases or rehabilitate patients, the field of biomedical engineering covers a lot of ground.
In his seminal book, Introduction to Biomedical Engineering, Dr. Joseph Bronzino writes that the field, in its broadest sense, involves the work of three types of individuals – the clinical engineer in healthcare, the biomedical design engineer for industry and the research scientist at the labs. Not only does it include the development of devices, tools and machines used by doctors to diagnose patients and prolong lives, Biomedical Engineering also encompasses the development of new medications, building of knowledge about how the human body works and the creation of radical but effective solutions for medical problems.
To put it in another way, Biomedical Engineering strives to close the gap between two dynamic domains, engineering and medicine, and does so by taking methodologies from applied sciences such as mechanical, electrical, chemical and computer engineering, combining them with physical sciences such as physics, chemistry and maths, and applying this combination to biology and medicine.
Academic opportunities
In India, Biomedical Engineering is offered at both undergraduate and postgraduate levels, but there is more focus on the latter, given the specialized nature of the course. According to Dr. Ranjana Patnaik, Professor at the School of Biomedical Engineering, IIT-BHU, "Students can go for five-year integrated course for dual degree, four-year B.Tech and M.Tech courses. There is the option of pursuing Ph.D. from several institutes. Equivalent courses are run abroad as well."
Eligibility criteria for B.Tech
For institutes offering Biomedical Engineering courses at undergraduate level, the eligibility requirements are similar to any other engineering branch, with students expected to have completed their Higher Secondary or Class 12 schooling with Physics and Mathematics as compulsory subjects along with optional subjects like Chemistry, Biotechnology or Biology with an aggregate minimum of 50% marks.
While there are quite a few prominent institutes offering such undergraduate courses, the number of institutes offering Biomedical Engineering at postgraduate level is much higher.
Eligibility criteria and scope of postgraduate courses
Dr. Patnaik believes that given the multidisciplinary nature of the field, students with an academic background in science or from any branch of engineering can apply for PG courses in Biomedical Engineering. "All the disciplines of Engineering are focusing towards Biomedical Research i.e. Computer Engineering, Electronics and Instrumentation Engineering, Electrical and Electronics Engineering and Mechanical Engineering etc., making it easier for students from these branches to pursue Biomedical Engineering," she says.
The eligibility criteria for PG studies clearly specify the diversity of courses which candidates can hail from. Students with UG degrees in subjects like Biomedical, Chemical, Computer Science, Electrical, Electronics (See Box) with 55-60% marks and clearing any of the given exams will be eligible for admissions to Master's in Biomedical Engineering courses.
Dr. Sandeep Jha, Assistant Professor at the Centre for Biomedical Engineering, IIT Delhi recommends that students desirous of pursuing a career in Biomedical Engineering start from the postgraduate level. "As it is a highly specialized field, only those candidates who have a passion for developing products or technology related to medicine should enter the field. Most students develop this clarity only while pursuing undergraduation. So, top institutes focus more on offering Biomedical Engineering only from the postgraduation level onwards," he advises.
His colleague, Dr. Amit Mehndiratta, concurs with him. "Masters is an important link for students who are evaluating their interests and/or are looking for prospects into healthcare industry," he says. Elaborating on what students can expect from the course, Dr. Mehndiratta says, "Biomedical Engineering has four thrust areas: Biomaterial/Drugs, Biomedical Instrumentation, Biomechanics and Medical Imaging. The program is designed to train students for research and delivering solutions for problems of healthcare. Students are exposed to basic sciences such as chemistry, maths, biology and have options to choose between advanced courses and projects as per their interest."
Employment opportunities in the field of Biomedical Engineering
From not formally existing half a century ago to being consistently listed by magazines like Forbes as one of the high-paying careers in the health sector, the speed with which Biomedical Engineering has emerged and grown as a field is quite extraordinary.
Kush Tripathi, founder of the popular website biomedikal.in, believes that the prospects for Biomedical Engineers are very promising, particularly as most jobs are based in the sunrise sector of healthcare, both in India and abroad. He says, "The demand for Biomedical Engineers is directly dependent on the healthcare system in a country. The healthcare market is one of the biggest in the USA, worth more than 100 billion dollars. For a market size this huge, they need lots of skilled workers and thus there is a constant demand for Biomedical Engineers. Though the Indian healthcare market is growing rapidly as well, currently most Biomedical Engineers are employed in sales, service and applications specialist positions as compared to research and development but with the start-up ecosystem scaling up, I see a lot of demand coming from the healthcare technology start-up space as well."
As Tripathi mentions on his portal, "In today's world, if a multinational company doesn't have a Biomedical Engineering domain, then they are seriously lagging behind. Biomedical giants like GE, Wipro, Siemens, L&T, Stryker, Zimmer, Phillips, B. Brown and Toshiba are constantly in need of youngsters. Even companies like Tata Sons, Olympus, BPL and Hitachi have entered into the Biomedical business."
Scope of research in Biomedical Engineering
As Dr. Jha reveals, "At least 300-500 students are needed for research purposes every year. Compared to the amount of investment available and the level of infrastructure at top institutions, we actually see a shortage in number of students pursuing Biomedical Engineering courses". Currently, Dr. Jha and his PhD students are developing a non-invasive saliva-based glucose biosensor which will help diabetic patients detect their blood glucose concentration levels with the help of a Smartphone Android App. Developing such elegant solutions to health problems is something they strive to achieve across a variety of research domains.
Course Curriculum
The Biomedical Engineering curriculum at most institutes typically comprises subjects like Industrial Biomaterial Technology, Research Techniques in Biomedical Engineering, Tissue Engineering, Biomaterials, Biosensor Technology, Emerging Biomedical Technology and Health Care, Vascular Bioengineering and Biomechanical Design of Medical Devices. "Students are exposed to both engineering and biology subjects, including Biomechanics, Bio-instrumentation, Electrophysiology, Computer applications, Signal and Image processing, Electronics and Instrumentation, Bioinformatics, Molecular biology, Genetics, Physiology et al. This allows them to come up with innovative ideas while designing biomedical instruments, devices and diagnostic tools," says Dr. Patnaik.
What is the USP of Biomedical Engineering?
What sets Biomedical Engineering apart from traditional engineering subjects? "The USP of being a Biomedical Engineer lies in dealing with healthcare issues directly relevant to each one of us. Working with a healthcare problem on hand, delivering a solution and seeing it being used effectively by medical professionals and impacting life of millions of people by improving patient care or even saving lives; I don't think any other job could be that satisfying," says Dr. Mehndiratta. 
The world has come a long way from the days of Roentgen and Laennac and may no longer need to rely on accidental eureka moments to improve the course of human life. However, the underlying thrill of discovery, relentless application of innovation and untiring quest towards ridding humanity of health problems, all of which defined their efforts, are not only symbolic of the Biomedical Engineering sector today but will also ensure that this unique fusion of engineering and medicine continues to flourish for years to come.  
Stay tuned to medicine.careers360.com for more articles and interviews