Campus Life at Gauhati Medical College: Rishabh Arora Speaks About His Experience
Campus Life at Gauhati Medical College - College life is special to every student and for many, it is an unforgettable experience. They learn, experience and work extremely hard towards their goal. Careers360 has been consistently working to provide student interviews on college review, placements, faculty members, senior interaction, ragging, infrastructure, hostel life and much more. Continuing that, the team got in touch with Rishabh Arora, a 23-year-old student of Gauhati Medical College who is completing his one year rotatory internship. Rishabh is a hard-working medical aspirant who believes in the "go with the flow" mantra when it comes to life. Read the full campus interview below to know more about Rishabh's campus life at Gauhati Medical College, his experience, and also his advice for upcoming medical aspirants.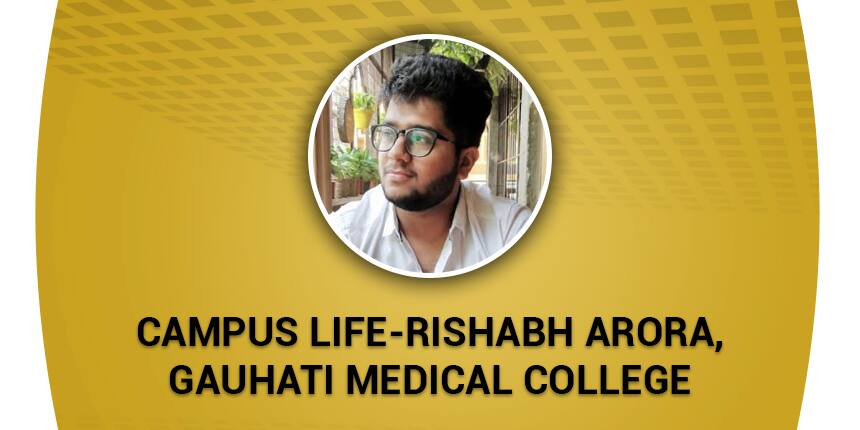 Careers360: Tell us something about you and personal life like where you belong to, schooling, parent's occupation.
Rishabh: I am 23 year old from New Delhi and did my schooling from Kendriya Vidyalaya, Rohini, Sector 8.
Careers360: Which college are you from and in which year?
Rishabh: Gauhati medical college and doing an Internship.
Careers360: How was your first day in college? Please share your experience, hiccups faced in the initial days?
Rishabh: Nothing out of the ordinary, on my first day, I tried getting to know new people.
Careers360: Is there something one needs to do on the first day of college?
Rishabh: Get the schedule and get familiar with the corridors and where your class is supposed to be.
Careers360: How good is the infrastructure of the college including premises, hostel, mess, laboratories, classrooms and all?
Rishabh: Since it's a state government-run college which is 60 years old, I would say, it was alright.
Careers360: Does the infrastructure of a college affect a student's life?
Rishabh: To some extent, yes it does matter to a student's life.
Careers360: How good life is in a government college and a private college comparing all the aspects of studies, infrastructure, faculties, and all?
Rishabh: There is one way to answer this question. A government medical college fee per year is on average INR 12,00,000 and in a private medical college it is more than INR 15,00,000. So obviously infrastructure and all the other things will be top-notch in a private setup, but recognition and quality of education and exposure will be more in government colleges (at least in medical).
Careers360: What important lessons do you learn in college?
Rishabh: Always trust people carefully and enjoy life to the fullest. These days won't come back, ever.
Careers360: How prevalent is ragging in college and how do authorities take care of it?
Rishabh: My college has a strict no ragging rule.
Careers360: Why did you opt for this college? Is this college up to your expectations?
Rishabh: It was the best college I was getting according to my All India Pre-Medical test/Pre-Dental Entrance Test (AIPMT) rank, and I can say it exceeded my expectations.
Note: It must be noted that AIPMT has been scrapped and National Eligibility cum Entrance Test is conducted for admission to medical/dental courses across India. NEET UG 2020 will be held on July 26.
Careers360: Describe facilities at the campus in brief? What do you like the most here? What is the most unique and differentiating feature here?
Rishabh: The hospital, it's well equipped and has all the super specialties, Patient inflow is very high so we get a lot of exposure.
Careers360: What are the popular hangouts of the college? What do you think are the most visited places nearby?
Rishabh: The Hospital canteen is a perfect place for a 3:00 AM chai and snacks.
Careers360: What are your future plans and any advice to other students searching for better colleges?
Rishabh: Post graduation is what I am working towards. Just know what you want, and work towards it, also take some time for yourself too and enjoy the process.
Also read:
Questions related to Gauhati Medical College, Guwahati
Showing 3 out of 3 Questions