Campus life at SIMS College of Physiotherapy, Guntur - Priyanka Sarkar Speaks About Her Experience
Campus life at SIMS College of Physiotherapy, Guntur - A beautiful quote by Ralph Waldo Emerson "Do not follow where the path may lead. Go, instead, where there is no path and leave a trail." Which means for your success the journey would never matter, what matter where you landed at the end of your journey. College is the path of the journey towards your success and it totally depends upon you which path you want to travel for your success. When it matters of selection of the college for the future study, it is a very confusing task for aspirants to make a wise decision. To help students for gathering more information, Careers360 interacted with Priyanka Sarkar, a Physiotherapy graduate of SIMS College of Physiotherapy, Guntur, AP. Physiotherapists play an important role in the health sector and therefore are required at every hospital and health clinics and it is one of the reasons that physiotherapy course is one of the best alternative medicine courses.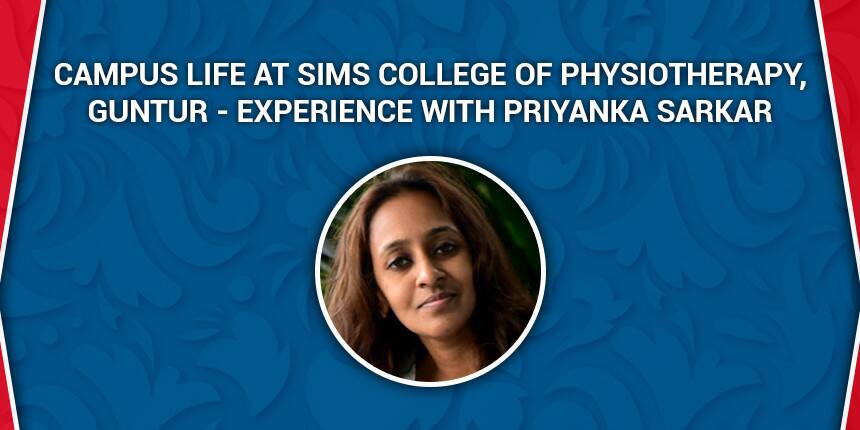 Priyanka Sarkar is currently a Certified Sports Psychologist, done her Masters in Psychology but pursued her Bachelor's of Physiotherapy from SIMS College of Physiotherapy. While discussing what made her change to switch her careers which she has started for Priyanka Sarkar stated that "Believe in yourself, everyone dreams but very few people make their dreams come true. Be one among the few." In Andhra Pradesh, SIMS college is one of the leading institutes for providing physiotherapy education. The foundation of the career is very important to have a positive result. To know the base and campus life at SIMS College of Physiotherapy, Guntur, read the article below. In which Priyanka shared every detail like placements opportunities, academic life, hostel, mess, etc.
Careers360: Tell us something about you and personal life like where you belong to, schooling, parent's occupation.
Priyanka Sarkar: I am a Certified Sports Psychologist and am from a small town in Andhra Pradesh. I completed my Bachelor's in Physiotherapy and Pursued my Masters in Psychology. Then I completed a course in Sports Psychology. My mother is an English Lecturer and my father is an Assistant Manager for Andhra Pradesh State Civil Supplies Corporation.
Careers360: Which college are you from and in which year?
Priyanka Sarkar: I pursued my Physiotherapy from SIMS College of Physiotherapy, Guntur, AP.
Careers360: How was your first day in college? Please share your experience, hiccups faced in the initial days. How you faculty members and seniors supported you.
Priyanka Sarkar: I did have my apprehensions on the first day because I was uncertain as to what I will be facing or the kind of people I would be meeting. I am from a small town and was moving away from home to study for the next 4 and 1/2 years. I was afraid if I would fit in a city with people who have had better exposure than me. And I remember the first period of the first day. The Director came along with a few seniors, introduced herself and the Seniors and told us that they would be our mentors as long as they were in the College. And luckily for me, my mentor also studied Masters in the same College and so he was there until I finished my graduation. And my Senior Mentor was the reason I took interest in Sports Psychology. The Anatomy Professor and Orthopedics professors used to help us with the text books that we had to refer from and it was a smooth transition from a nervous small town girl to one of the toppers from the class in various subjects.
Careers360: Is there something one needs to do on the first day of college?
Priyanka Sarkar: My college was one of the best Colleges in the City. It was built 5 years before I joined and it was at the starting of the city away from noise and pollution. The Director herself was a student in the College and she knew what a student would need and so we never had to ask for anything. The college had a Clinic of its own and so we had real-time experience with medical conditions starting from the 1st Semester. The hostel in the premises but further inside and girls hostel had security round the clock. We had laboratories for every department and the faculty was no less qualified. I still remember the Electrotherapy and Exercise Therapy lab rooms. The library has the best of the books with all updated editions. The library was one of my favourite places.
Careers360: Does the infrastructure of a college affect a student's life?
Priyanka Sarkar: To a larger extent. It takes a toll on a person's mental health indirectly when the facilities provided are not good enough. His/her confidence and interest diminishes and studying becomes mundane. Imagine an Anatomy class with a professor teaching the human brain by virtual images and imagine the same professor teaching the human brain by showing the organ. Makes studying a lot more interesting. You cannot study Anatomy virtually expecting to have the same effect that a real time explanation gives.
Careers360: How good is a life in government college and a private college comparing all the aspects of studies, infrastructure, faculties and all?
Priyanka Sarkar: Now Government Colleges are on par with Private Colleges. What we need to remember is the Faculty in the Government Colleges are not selected by fluke. They go through tests, interviews and then are shortlisted among thousands of potential Candidates. Teaching and Learning complement each other. We have gems in today's world who have studied in Government Colleges. So by no means should Government Colleges be on the lesser side when compared to the quality of studies and faculty. My mother teaches in a Government College and the Infrastructure in the College can beat any Private College.
Careers360: What important lessons do you learn in college?
Priyanka Sarkar: Asking when in doubt and not assuming is one thing that I have learnt in college. And no question is a stupid question. The more you ask, the more you learn. The more you listen, the more you learn.
Careers360: How prevalent is ragging in college and how do authorities take care of it?
Priyanka Sarkar: There was healthy ragging only to bridge the gap between seniors and the newcomers. The staff always made sure that we were never in a difficult place. The seniors only wanted to know about us. Once the barrier was broken, they were the go-to people in many subjects.
Careers360: Why did you opt this college? Is this college up to your expectations?
Priyanka Sarkar: I got this College in counselling and this was the best College in the city. And it was the best 4 years of my life.
Careers360: Describe facilities at the campus in brief? What do you like the most here? What is the most unique and differentiating feature here?
Priyanka Sarkar: I liked the Library the most. It had the best of the books. And Medical books written by Foreign Authors were always costly. And so one can find the library always busy with students making notes from the new Edition books. That way the College was on top of the game. Exchange of opinions and ideas was always welcome. That was the good part.
Careers360: How do you maintain balance in exams, projects, studies and other activities?
Priyanka Sarkar: They do not ask anything out of syllabus in the exams and so if you listen to the class, it gets only easier. I remember we used to have a timetable in the girls hostel. We used to study accordingly and have a brainstorming session on what we studied so far. That way we would not miss or forget anything that we read or heard.I did my project in Cervical Myelopathy, a topic untouched before in the College. So all my time went in studying about the condition and taking help from all available resources.But we did have annual day celebrations with various competitions being held. I remember I won medals for Essay writing and Debates held.
Careers360: What are the popular hangouts of the college? What do you think are the most visited places nearby?
Priyanka Sarkar: I lived in a hostel and so I did not visit any places. But Guntur is famous for its churches and temples.
Careers360: In which hospitals or feild your college students get hired into?
Priyanka Sarkar: All my batch mates went abroad to study Masters and they are currently abroad. I was placed in Apollo Hospitals, Hyderabad until I went on to pursue my Masters in Psychology. Few Seniors set up their own clinics.
Careers360: What are your future plans and any advice to other students searching for better colleges?
Priyanka Sarkar: I am a Certified Sports Psychologist and am focused on the mental well being of athletes for improving their performance on the field. My only advice is to believe in yourself. Everyone dreams but very few people make their dreams come true. Be one among the few.
Also Read:-