Centre brings ordinance to postpone NEET for states by a year


The Centre has passed an ordinance to defer NEET by a year for state governments and their affiliated institutions for this academic year. The Union Cabinet on May 20, 2016 passed a special order which now overrules the Supreme Court's judgment which, besides all private medical entrance tests, also replaced state-level medical entrance exams with NEET 2016. However, NEET 2016 would still be applicable for 15% All India quota seats and management quota seats in private and deemed institutions.

Related Post -
NEET 2019
NEET Eligibility Criteria 2019
NEET Application Form 2019
NEET Admit Card 2019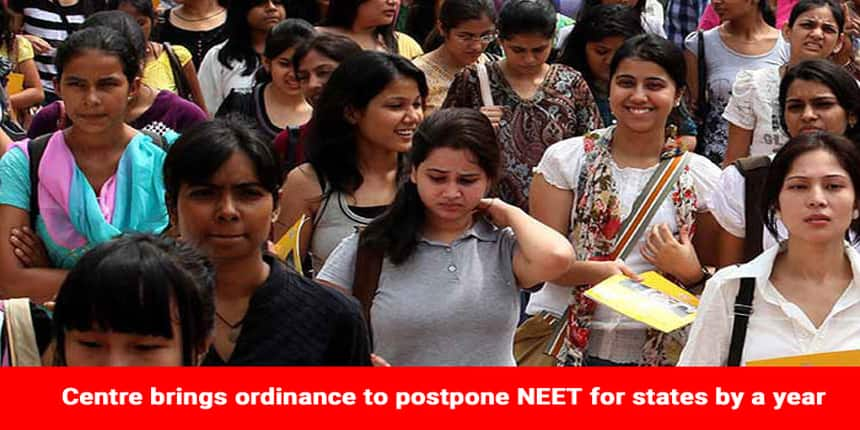 The government took the ordinance route to defer NEET after many states raised concerns over different aspects of the single medical entrance exam. This was followed by several round of meetings between Union Health Minister JP Nadda and state health ministers. MPs from many opposition parties including Congress, Trinamool Congress, DMK, AIADMK also urged the government to urgently address the issue and pass an ordinance to overrule the SC decision on NEET. Read the full story here.
[Click here to Enroll Complete NEET Preparation Package to Crack NEET Exam or call at 011-40360360 to talk expert counsellors]
Earlier in a meeting with state health ministers and state secretaries held on May 16, the Union Health Minister J P Nadda had noted opinions of different states on implementation of NEET 2016. After the meeting, Nadda had said that the centre favoured a fair examination system and NEET was good for medical aspirants. He, however, had said that language issues in the paper as well as syllabus mismatche raised by many states were a valid concern.
In the consultation meeting many lawmakers strongly urged for an ordinance to overrule the SC judgment on replacing all state-level and private medical entrance exam with NEET. Read the full story here.
After the final NEET 2016 judgement on May 9 where the SC bench refused to allow any state-level or private medical test except NEET, many opposition parties had raised concerns over its feasibility for students who were preparing for their respective state-level exam based on their state syllabus. Many Parliament members had also said that language barrier in many states may put students from these states at disadvantage in a common test which is only in two languages – Hindi and English.
Stay tuned to medicine.careers360.com for more news and feature related to NEET 2016 Exam


Also Read:
Centre to approach SC on deferring NEET as lawmakers demand ordinance
NEET 2016: Centre listens states' concerns over NEET; assures justice for students
Vested interest' behind misinformation campaign on NEET 2016, says NEET petitioner Sanklap Charitable Trust
"90% of NCERT and state boards' syllabus is same," says Brajesh Maheswari of ALLEN Career Institut
FAQ's on NEET - How it affects medical aspirants
NEET to be implemented for 2016-17; AIPMT renamed as NEET 2016 - phase 1
CBSE announces dates for NEET 2016; May 1 AIPMT is now NEET phase 1
CBSE to conduct NEET for 2016-17 admission; SC asks for exam schedule on April 28
Supreme Court clears way for common medical entrance examination across India
Questions related to NEET
Showing 84296 out of 84296 Questions