Opinion: Different facets of Dentistry by Dr. Keerthilatha M Pai, Dean, Manipal College of Dental Sciences
Different facets of dentistry - Dentistry is an important area in the medical field that has gained tremendous recognition in the recent years. The world of dentistry has undergone a huge evolution. Technological innovations and transformations in the stature of the profession have made dentistry a progressive force for improved public health. Dentists diagnose and treat problems affecting the teeth, gums and other soft tissues of the mouth, the jaws and are often the first health care professionals to recognize and identify a wide variety of diseases, ranging from hypertension to oral cancer.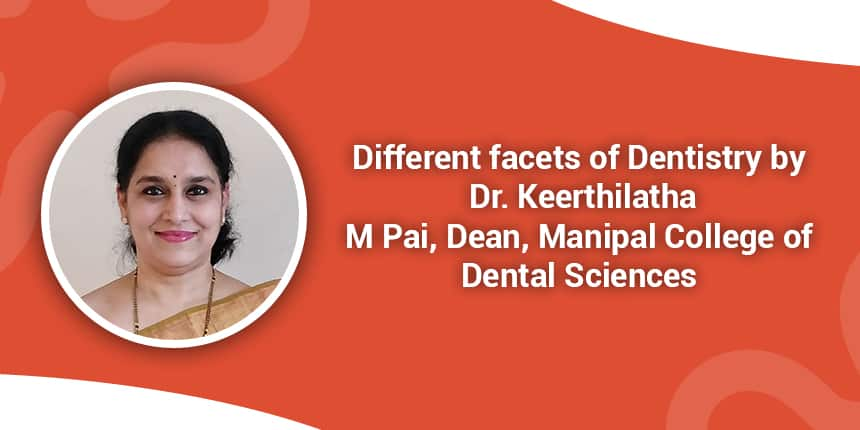 Despite the importance of associated with dentistry, the number of dentists in India is very less and needs to improve. According to a survey by the World Health Organisation (WHO), there is only one dentist for 10,000 people in India. The situation in villages is way worse, with one dentist serving almost 2,50,000 people. These statistics clearly show that there is a very high demand of dentists with insufficient supply. Therefore, for better understanding, this article mentions various facets of dentistry an opinion by Dr. Keerthilatha M Pai, Dean, Professor of Oral Medicine and Radiology, Manipal College of Dental Sciences, Manipal Academy of Higher Education, Manipal, Karnataka. In the article, Doctor Keerthilatha M Pai mentions about importance of dental education, opportunities a dentist can grab, MDS specialties, advanced technology in dentistry, role of a dentist during pandemic and others.
Importance of dental education and opportunities
With increase in dental problems among all sections of the society, the population is more aware about the importance of oral health and hygiene. Plus, geriatric dental care and the increased demand for newer services like implant cosmetic dentistry and laser dentistry have contributed to the growth of this profession. The prospects of choosing dentistry as a career are now brighter. Due to advancement of technology in the field, dental treatments have become more specialised than ever. Dentistry has become both demanding and rewarding.
Dental education opens up a world of professional opportunities for aspiring students. In addition to private practice, today's BDS graduates can choose the following facets of dentistry, which includes:
working in corporate hospitals and dental group practices,
conducting advanced laboratory research,
teaching future dentists, involving themselves in public health or
even traveling the world with international health and relief organizations.
Dental aspirants can also choose to pursue postgraduation, Masters in Dental Surgery - MDS, in any of the nine recognized dental specialties - Oral Medicine and Radiology, Conservative Dentistry & Endodontics, Periodontics, Oral and Maxillofacial Surgery, Orthodontics and Dentofacial Orthopaedics, Paediatric Dentistry, Prosthodontics Public Health Dentistry and Oral & Maxillofacial Pathology.
Technological advancements in different facets of dentistry
In this modern era of healthcare, dentists use new and advanced technologies like digital radiography, cone beam computed tomography and magnetic resonance imaging for diagnosing patients. To repair, restore and maintain the teeth, gums and oral tissues that have been lost or damaged by accidents or diseases, dentists perform trauma surgery, dental implants, tissue grafts and laser surgery using a wide scope of technologies and devices at their disposal.
Cosmetic dental procedures have also evolved a lot and involve dental trends like laser dentistry and 3D dental technologies. By improving the patient's appearance through a wide variety of cosmetic services, dentists increase the self-confidence of the patient and make them feel better about their smiles.
Computer-aided design and computer-aided manufacturing (CAD/CAM) have revolutionized the field. With the continuous development of computerized engineering technology, digitized medical treatment modalities are becoming an integral approach for many branches of dentistry.
Dr. Keerthilatha M Pai research on different slants of dentistry, dentists are artists, as a major part of their job involves envisioning the aesthetic end result of the procedures. Whether it is the task of brightening a tooth or realigning an entire jaw, a good dentist must possess the creative talent to complete the job and help their patients look and feel their best. With the evolution of different digital technological tools, dentists can perform their jobs efficiently.
The job goes beyond the dental chair
Apart from providing the services in the form of dental treatment, one of the most important tasks involved in dentistry is patient awareness and education. They must teach the patients proper oral hygiene to promote overall good oral health and prevent diseases.
Being a dentist is personally gratifying as the job involves providing an important community service to help people maintain proper health and habits. It is a profession that provides you an opportunity to learn new things every single day to serve the present and future oral needs of the people.
Dentists are skilled, conscientious, civic-minded individuals who work with community leaders, educators, other health professionals and government officials for the betterment of the healthcare services in the country. They are often involved in providing volunteer services to schools, elderly people, differently-abled or poor citizens. That is why being a dentist is a highly respected profession. Selflessness is the hallmark of this career, says Dr. Keerthilatha M Pai, in her note on different facets of dentistry. All the above things when combined with the cutting-edge modern technologies, make dentistry one of the most exciting and rewarding careers today.
Facets of dentistry - being a dentist in the times of pandemic
The COVID-19 pandemic has forced every healthcare profession to adapt to the situation. Dentistry is no different, but has various sides. Dentists must come together with other sectors like medicine, IT and pharma to provide essential services to the people. Dentists can also opt for teleconsultations to avoid unnecessary face to face interaction with patients. Government/Private Hospitals and corporate dental chains alike must provide necessary protection equipment to dentists for their safety while performing essential surgeries. Though times are tough and risky, duty comes first, and patients are always the priority.
Questions related to Manipal Academy of Higher Education (MAHE)
Showing 756 out of 756 Questions
Manipal Academy of Higher Education, Manipal (Manipal Academy of Higher Education (MAHE))