Emerging trends in dental education by Dilip G Naik, Dean, Manipal College of Dental Sciences, Mangalore
Highlights :
"Dilip G Naik, Dean, Manipal College of Dental Sciences, Mangalore Talks about emerging trends in dental education"
Dentistry offers a lucrative career to those students who opt for Physics, Chemistry and Biology (PCB) in Class 12. The Bachelor of Dental Surgery, or BDS as it is popularly known, is the science and art of addressing medical issues related to the teeth and jaws of human beings. Animal oral health is also part of the options in dentistry. One needs to qualify the National Eligibility cum Entrance Test (NEET) administered by the National Testing Agency to gain admission for BDS in any institution that runs the course.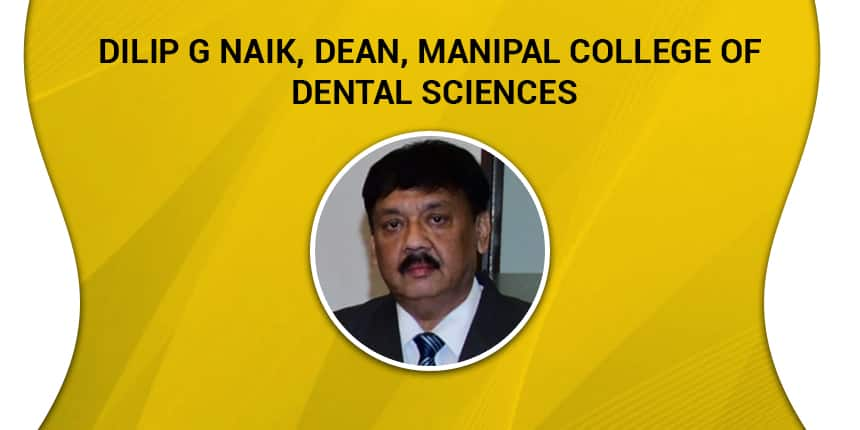 BDS students will get education and training for prevention, diagnosis and treatment of all diseases, injuries and malformations related to the mouth and its components. They will be taught to fill cavities in teeth, use a range of equipment and treat all sorts of dental problems.
BDS students will also imbibe knowledge on health and disease; consequences of oral diseases; preventive dentistry; clinical and diagnostic procedures; X-rays and genetic engineering.
After BDS one can either go for postgraduate studies, that is, Master of Dental Surgery, or MDS. They can also start practising as a dentist with due registration from the Dental Council of India (DCI) which regulates dental education and profession in the country.
According to the Dental Council of India, there are 2,77,456 dentists in the country. BDS is offered at 313 institutions for 26949 seats while MDS is taught at 268 institutions with an intake of 6228 students. The number of faculties stands at 34427.
Careers360 caught up with Dilip G Naik, Dean, Manipal College of Dental Sciences, Mangalore to know the latest trends in dental education in India.
How is dental education evolving in India?
Dental education must evolve continuously, as future dentists will face patients with different oral care contexts as compared to the present scenario. In view of this, the teaching methodology has also come a long way, with a paradigm shift in the approach of teacher-centric education to student-centric.
This approach is primarily focused on an outcome and competency-based education ecosystem that allows structure and better student assessment in the field of dentistry.
The student-centric learning has achieved an improved one-on-one learning strategy through small group discussions and peer interactions, which help them in understanding the concepts and processes involved in dentistry in a better way.
How big is India's dental market?
India has been one of the fastest growing dental markets and with digitalised and automated dentistry trends making inroads, it is imperative to grow further. Dentistry is a field, which has been always open to the novelties of the market demand of any era.
By the year 2022, the industry is expected to witness a lot more developments that will revolutionize dentistry in India.
How has the COVID-19 pandemic impacted dental education?
In this digitally enabled world, where technological advancements have taken a huge leap, especially during this unprecedented pandemic, calls for a more structured approach to dental courses, as this will reshape the industry future.
Nowadays, students are more fast-paced and open to learn beyond books and thesis. Basic educational preferences, the use of online modules have opened vast opportunities. Further, in this regard, simulation systems have also been incorporated in dental education.
Internet-based education through webinars and virtual sessions are bringing out the best from the native and international education set-ups.
Simulation laboratories are being used to demonstrate procedures and anatomy required for treatment.
Mannequins with digital gauges, virtual reality and augmented reality models, are used to train students in the field of exodontia, anaesthetic procedures etc. focusing on the improvement of fine motor skills, hand eye coordination in a preclinical setting to prepare them for real time clinical operations.
What is the role of automation in dentistry?
Automation is driving dentistry industry for the past 10-15 years, however, within the last five years we have witnessed a positive trend towards CAD (Computer-aided design) and other technical advancements like structural implantations, Dental Aligners, 3D printing and scans, have taken the industry to the next level. Technology has been incorporated into, restorative and aesthetic procedures also. The use of 3D technology in diagnosis, treatment planning and reconstruction is an emerging trend, where students are trained to evaluate 3D Cone beam computerized tomography images, also 3D scanning systems, and CAD CAM machining systems. Furthermore, knowledge of the use of 3D printers is necessary for future dentists in order to keep pace with the evolving industry.
Has this growing digital leap affected dentistry as a subject?
The number of students has drastically increased in recent years as along with the subject, career opportunities have also opened up news doors.
We have noticed a trend amongst the students, who have shown interests in specialization post BDS in channels like Endodontics, Oral and Maxillofacial Pathology, Oral Surgery, Orthodontics, Pedodontics, Periodontics and Prosthodontics.
These can contribute to glorious new age career opportunities like in areas of Aesthetic, Implant, Rotary endodontics, Lasers and 3 D printing.
What about the role of research in dentistry?
Dentistry is not only patient and community oriented but also research-driven. The graduates should have in-depth knowledge on the concepts of research design, statistics and interpretation for them to practice evidence-based dentistry. This also encourages graduates to update their knowledge by keeping abreast with the latest in dentistry through research papers.
Most of the professional courses now stress on soft skills. What about dental education?
Dental profession in the new millennium not only demands clinical competence but also aims for honesty, ethics, maintenance of confidentiality, improve quality of care, just use of resources and ability to manage conflicts of interest, making, "soft skill development" the need of the hour. Incorporation of training modules in communication skills with patients, colleagues, teamwork, inter-professional learning, finance management, gender sensitization and ethics will prepare the graduates ready for the corporate world.
The advice to BDS aspirants was given by Dr Dilip G Naik, Dean, Manipal College of Dental Sciences, Mangalore
If you have any doubt regarding any course or career, write to us at: ask@careers360.com