Expert tips on medical and allied science courses by Dr B Suresh, Pro Chancellor, JSS University, Mysuru
Lakhs of students take up science stream and study physics, chemistry and biology in Class 12 with the fond hope of becoming a healthcare professional. A vast majority of them want to become doctors. Most of them want to study MBBS.
However, there are only 80,448 MBBS seats in the country as the Union Minister of Health and Family Welfare, Dr Harsh Vardhan, informed the Lok Sabha on March 6, 2020. According to the Medical Council of India (MCI), these seats are spread across 542 medical colleges in India.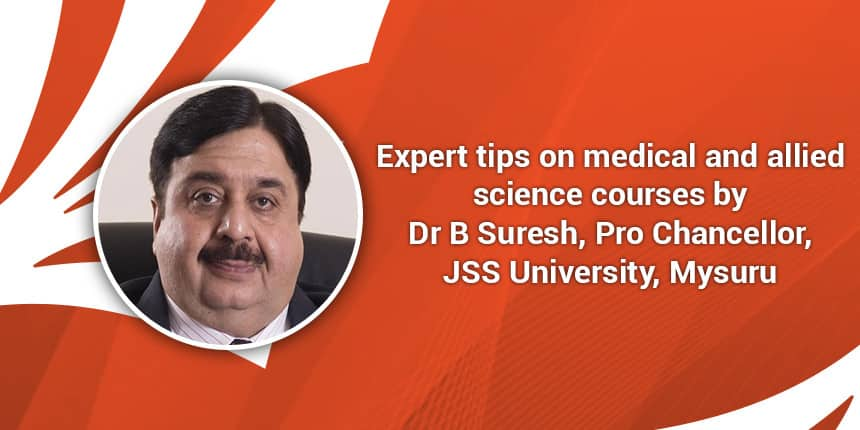 The number of seats appears too little when compared to the number of candidates for the National Eligibility cum Entrance Test 2020 (NEET), the lone test for MBBS admissions. At least 15.94 candidates have registered for NEET 2020, up by 74,083 from last year.
The completion to grab an MBBS seat is fierce. More so for a seat in a government college where the tuition fee is quite low compared to the private sector. So, what is the way out for students who want to become a healthcare professional, other than a doctor?
A large number of opportunities exist in the pharmaceutical sector to medical lab technologies and allied sectors. It becomes all the more important at a time when almost all the countries are in the grip of Covid-19 pandemic that has pushed up the demand for healthcare professionals phenomenally.
Dr B Suresh, Pro Chancellor, JSS Academy of Higher Education and Research, Mysuru shows them the way.
I want to study MBBS from abroad. How do I select a good college?
If we're looking outside India, first look at the recognition of the qualification and whether those with that qualification are allowed to practise in that country. Secondly, look at the reputation or ranking that university has within the country and globally. The third thing to look out for is what type of clinical facility and training they are going to offer. You should have a good clinical experience built into the course structure. Irrespective of the nationality of where you come from you should be eligible to access those patients who their own students would be able to. Every student should watch out for these three steps before pursuing medical degree from abroad. You should also check up on the Medical Council of India's website which gives a list of foreign colleges that are recognised in India.
I studied MBBS abroad. Now I want to come back to India and practise. What is the way forward?
You have to pass the Foreign Medical Graduates Examination, or FMGE, conducted by the National Board of Examinations. The success rate is also not very good. Those who pass FMGE are just 20-25% of the registered candidates. After you pass FMGE, you have to work as a resident doctor in a hospital for a stipulated period to become eligible to get registered with the Medical Council of India to practice further. That means after your, MBBS you are investing another three or four years to really get into practice. Even for getting admission into a postgraduate program, you have to pass this screening test to become eligible to apply for NEET-PG examination. Yes, there is a step which the government is considering called NEXT, which will be the common admission process for postgraduate studies in medicine in the future.
Can I choose a career path within the health sector other than that of an MBBS doctor?
Let's talk about careers in medical and allied sciences. If you look at the US, they are going to pass legislation allowing green cards for foreign nurses and doctors. That means the world is looking for health professionals from India. A WHO website says a million health workers are required across the countries. Health workers mean doctors, pharmacists, nurses and all allied health professionals. They are required in very large numbers across the world. The hospital industry in India is growing at the rate of 16 to 17%. The world's largest government funded healthcare scheme, 'Ayushman Bharat' has also started in India. So, this shows a lot of policy support for the healthcare system. One and the advantages of being in the health segment is that the industry is expanding at a rapid pace. And from this segment, you can enter into other segments depending on the opportunities you get.
Some of the highest paid in the healthcare sector are in non-physician positions. For example, the pharmacists are paid well nationally and internationally based on the qualification. Similarly there are a number of technology-based courses, which are in great demand in our country and elsewhere. There are also certain allied subjects like speech and hearing therapy, radiation therapy, occupational therapy, nursing etc. So, don't look only at becoming a physician, there are a lot of opportunities beyond that.
What are the formal qualifications required to enter pharmaceutical sector?
Now the whole world is looking at India as the pharma capital and India has the capacity to manufacture large volumes of medicines at minimal cost. So, there's always a great demand for pharmacists. You may enter here as a manufacturing chemist or as an analytical chemist. The scope is so big that you can even end up becoming the president of a pharma company.
You have multiple programmes in pharmacy. One is B.Pharm which you can follow up with a master's or M.Pharm. For those who want to be only in the clinical side they have a new programme called Doctor of Pharmacy (Pharm D). He will be a clinical pharmacist, working more in the hospital along with the physician and supporting the physician on medicine-related issues. This is an upcoming programme and sought by many students who want to be clinically attached to patients.
Fee for B.Pharm is Rs 75,000 to 1.5 lakh per year, depending upon the institution you choose. The duration of B.Pharm is four years. Pharm D is for six years; that means five years of college and one year of internship in a hospital.
The admission is not necessarily through any Common Entrance Test (CET). Students who have not scored well in CET can directly get direct admission also.
What are the prospects for BSc in genetics?
There are very good prospects for BSc in genetics, particularly if you follow up with MSc in medical genetics. Today, genetic disorders are one of the major challenges. Doctors call it rare diseases and it's a career path for the future. Based on the genetic structure, a drug may produce different effects in different people. For example, a cancer drug, which is very expensive, may not produce any effect on a patient if you prescribe it without having the right type of information about the genetic structure of that patient. There are reportedly more than 2000 different rare diseases and you can look up the website of Organisation for Rare Diseases India (ordindia.in) to gather more information and decide the future course of action.
What is the possibility of good careers in biomedical sciences?
Allied health sciences or biomedical sciences have good career prospects. A cardio care technologist works with the cardiologists. He will be in the operation theatre, trying to assist the cardiologist and carry on all the required procedures. If you look at the perfusion technologist, he will be there for intensive care, helping the patients with emergency medicine. He will be working with the critical care section of the hospital. So, there are plenty of opportunities here. The course fee is between Rs 65000 to 2 lakh. The study duration is about three years plus one year of internship. As soon as you finish a BSc sciences course, you can take up cardiac care technology course. You will get an employed in any good hospital with a salary of minimum of Rs 50,000 to 1 lakh lakh per month, depending on your skill and knowledge. There are very few cardiac care technologists and perfusion technologists available in industry at present.
Medical Imaging technologists will be working with the radiologists while respiratory care technologists will be working with those people facing respiratory failure. In many of the COVID-19 cases death occurs because of respiratory failure. Optometrists work with ophthalmologists while medical lab technologist can work in a lab, testing biological samples. There's a lot of scope for renal dialysis technician who helps patients to do dialysis. We need more and more dialysis technicians and dialysis centres.
Is there a good scope for cardiac care technologists and perfusion technologists abroad?
When they study for three years and get one-year internship, they become clinically trained. It is a mandatory requirement if they want to go overseas. If these students want to go to the Middle East to practice, they are asked whether they have an internship. If they have internship their careers become very successful. It is also important because when they do an internship with the physician on the subject they're going to be associated with, they get hands-on experience. So that is why internship is very important for a career in biomedical sciences.
What are the postgraduate courses in allied health sciences?
There are a lot of MSc programmes in Medical Microbiology, Medical Biochemistry, Medical Physiology, MSc in Medical Pharmacology and Medical Anatomy. These are all research-based programmes. These are basically for those who want to pursue a research that lead to a new drug discovery. But to join one of these courses you need to have an undergraduate qualification. If you have done BSc Nursing you can go for Master of Public Health, which is going to be one of the important programmes in the future
Another very well sought for programme is MSc in Clinical Embryology. It's a two-year course and successful students get immediate employment. There are also some clinical programmes in psychiatry and psychology which have great value for careers.
Is nursing a good profession to choose?
Nursing is for ever. There will never be any decrease in demand for nursing professionals. The duration of BSc Nursing is 3.5 years and two years for MSc Nursing. Admission maybe through Common Admission Test of the respective states or thorough institute-specific tests. Direct admissions are available in some of the private colleges. The undergraduate fee varies from Rs 50,000 to one lakh, depending on the institution. You can work as a nurse in private, corporate or in government sectors. Today there are a lot of vacancies, even in the government sector. Overseas opportunities are immense. So, nursing is one of evergreen career options.
What will be my career path if I take up Ayush programmes?
In the Ayush programmes, you have the Bachelor of Ayurveda, Medicine, and Surgery (BAMS), Bachelor of Homeopathic Medicine and Surgery (BHMS), Bachelor of Sidhha Medicine and Surgery (BSMS), Bachelor of Unani Medicine and Surgery (BUMS) and Bachelor of Naturopathy and Yogic Science (BNYS). The fees may vary for UG programs from Rs 3 lakh to 5 lakh per year. After successful completion of these courses you can do private practice or opt for government jobs. There is a lot of scope for research professionals in pharmaceutical companies for herbal drug research and herbal drug products. They want a lot of Ayurveda doctors to come on board and help them develop herbal drugs.
What are the prospects of BAMS?
Bachelor of Ayurvedic and Medical science has very good prospects. There is a lot of scope for Ayurvedic care. One can be a successful practitioner of every traditional medicine or Indian system of medicine. There are very good examples in Kerala like Kottakal Aryavaidya Sala and even in Coimbatore.
Can Ayush student do surgery?
Some surgeries are permitted in the Ayurveda and in the Unani medical system. But they are limited to superficial surgeries like moving an abscess. They cannot do any interventional surgery like removing the appendix of a person, or any other major surgery. But they are trained on certain principles of surgery to carry out certain superficial procedures that may be required.
Is a BBA or MBA in Health Management a good option?
Managing a health system, be it a small or big, is an entirely a different ball game now. For quite some time only an MBA in Hospital Administration was available. But in the last couple of years, we also have BBA in Hospital Administration. This is a three-year programme and after that you can get a job in any hospital as a manager in different segments, maybe in pharmacy, finance, or in marketing, depending on your passion. You can work as a healthcare consultant or a hospital administrator. Managing the hospital is a very exciting opportunity. In the COVID-19 situation, many of the hospitals are shut and getting them back on track needs management professionals.
You can work in a pharma company as a health product manager, work in marketing or be a medical practice manager. You can be become an entrepreneur if you so decide. You can start a business in health and maybe in the manufacturing of masks. With BBA in hospital management or administration, you'll get an idea of what all are required to get into the healthcare sector.
I want to do an MBA in Hospital Administration? Can I work in other domains with that qualification?
Yes, you can work in insurance companies as they want administrators to look at how the companies and the hospitals are billing them. They need expertise on the type of clearance required and whether the right decision was taken for a surgery cost, medical cost or the material cost. Those with MBA in Hospital Administration will be able to provide such analyses. You can work with IT companies trying to develop a hospital information system. You can also chip in with the management of database. So, knowledge of hospital, healthcare and management can be applied in different locations and positions. You can also become an entrepreneur. You can supply all the materials that are required for hospitals. Today, hospitals struggle not knowing where to source genuine materials. So, there are plenty of opportunities outside hospital for someone with an MBA in Hospital Administration.
Is there a focused MBA course only for pharmaceutical sector?
Yes. There is a new course called MBA Pharmacy Administration. A lot of D.Pharm students want to get management degree and similarly there are other students who want to have a pharma-specific area to grow. So, instead of giving them a generic MBA, a focused degree equips them about how the pharma industry functions. It also deals with the challenges in pharma industry, right from sourcing of material, manufacturing, human resource to finance etc. It is entirely a different ball game when you talk of pharma industry because sensitivities are different as it is associated with human lives. A couple of universities have also introduced MBA in pharma marketing.
The advice on medical and allied science courses was given by Dr B Suresh, Pro Chancellor, JSS Academy of Higher Education and Research, Mysuru in a webinar hosted by Careers360 recently.
If you have any doubt regarding any course or career, write to us at: ask@careers360.com