'Getting more time for preparation due to lockdown.' says Mausam Raj, a NEET 2020 aspirant
'Getting more time for preparation due to lockdown.' says Mausam Raj, a NEET 2020 aspirant - In the current scenario, where the world is in the state of agitation due to Coronavirus (COVID-19) lockdown for more than a month, NEET aspirant, Mausam Raj from Bettiah is utilising the lockdown in NEET preparations from home. Due to the lockdown, citizens have been asked to stay at home to stop the spread of the Coronavirus. Belonging to the doctor family, he is focused on cracking NEET 2020. While witnessing the mistreatment against doctors these days has not affected his determination for becoming a doctor. He is very motivated seeing his parents working selflessly for the nation. Just to fulfil his dream of becoming a successful doctor, he is rigorously studying hard to crack NEET UG 2020 during lockdown. When asked about his daily routine on how to prepare for NEET 2020, he shared that he is trying to complete his target of studying 10 to 12 hours a day for preparations. Careers360 had an interaction with Mausam Raj about his preparation strategy, daily routine, online coaching guidance and other details for NEET UG entrance exam.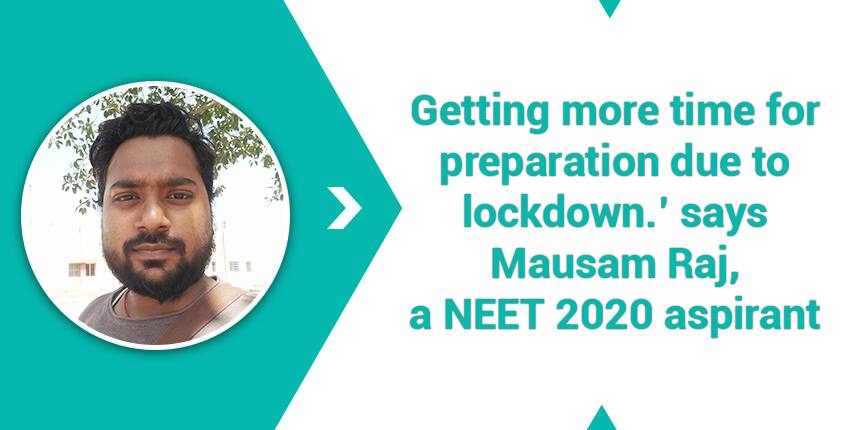 It should also be noted that National Eligibility cum Entrance Test - NEET UG exam for admission to 82,926 MBBS, 26,949 BDS, 52,720 AYUSH and 525 BVSc & AH seats will be conducted by National Testing Agency (NTA). NEET 2020 exam was expected to be conducted on May 3, which has now been postponed.
Careers360 - Tell us something about yourself, education, background, family and others.
Mausam Raj - Myself Mausam Raj, I had completed 10th from St. Michael's Academy, Bettiah (CBSE board) and 12th from Mahant Ram Roop Goswami college, Bettiah (BSEB board ). I come from a small family of four people. Father:- Dr Manoj Kumar .He is a dental surgeon, Mother:- Savita Devi is a housewife and my brother:- Rituraj is pursuing his college studies. My father is a doctor that's why I also want to become a doctor and serve the nation.
Careers360 - What is your preparation strategy for NEET especially for the lockdown?
Mausam Raj - Due to the situation of lockdown across the whole country, we aren't able to go outside the house. So we get more time to spend at home.In these days I am giving more time for studies, spending more hours in online classes and test series.
Careers360 - Can you share your daily routine of NEET preparation?
Mausam Raj - My daily routine for NEET preparation now is as follows:- I'm giving 10 to 12 hour in study. In that 5 to 6 hour for biology and four hour for Physics and Chemistry per day. I used to give 3 to 4 mock tests in a week to increase my efficiency for the exam.
Careers360 - According to you, What are the advantages and disadvantages/challenges of lockdown in your NEET preparation?
Mausam Raj - Yes there are some advantages and disadvantages on the NEET preparation due to the lockdown situation. We are getting more time for self studies and online classes and disadvantages are we are not getting physical classes and doubt sessions.
Careers360 - Are you attending any online classes for preparations?
Mausam Raj - Yes I am attending the online classes of Careers360 along with various other online classes providers and also online test series of Careers360 for preparation of NEET this year.
Careers360 - What kind of stresses you are experiencing during lockdown and how are you dealing with it?
Mausam Raj - I want to keep myself out of any kind of stress as it can affect my preparation strategies for NEET 2020. There are lots of difficulties I am facing due to lockdown, as belonging from a rural area, I am available with a limited amount of data and there are some of the lackness of facilities like network problems, etc. but instead of thinking about that I make myself focus more towards my studies and determination to crack NEET.
Careers360 - How do you keep yourself motivated for your NEET preparation during this lockdown period?
Mausam Raj - I am motivating myself for the coming NEET exam in this lockdown period by watching some success related motivational speeches and also some time playing some indoor games for enjoyment and relaxation and not getting distracted from studies.
Careers360 - What are your views on the continuous postponements of exam related events?
Mausam Raj - Today we know that our whole world is suffering from a viral disease called Corona. That's why it is very important to postpone all exams and because of that we also get more time for better preparation for our exams and this is done for our safety purposes.
Careers360 - As it can be seen in the current scenario that doctors are facing from certain sections of people and how they are brutally treated by the masses. How do you see it and how does it affect your determination?
Mausam Raj - Yes I am aware about the situation and current scenario that doctors are facing from certain sections of people and how they are brutally treated by the masses. As I mentioned coming from a doctor family I can relate it more. I know the current situation my family is facing but despite of above the determination of my father toward his work makes me more determined to pursue my career in the medical field.
Questions related to NEET
Showing 102086 out of 102086 Questions