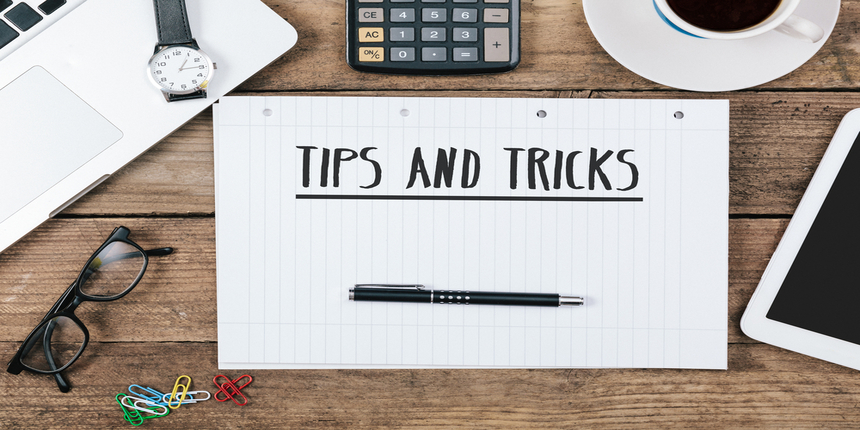 How to crack AIIMS MBBS 2019 in first attempt - "Doing the best at this moment, puts you in the best place for the next moment" All the AIIMS MBBS aspirants should prepare the best strategy to crack AIIMS MBBS 2019 in first attempt. AIIMS, New Delhi will conduct medical entrance exam on May 25 and 26, 2019, and candidates must ensure that they qualify the AIIMS MBBS exam in first attempt. According to the toppers and experts, students must clear their concepts to crack AIIMS 2019 exam in first attempt. The 200 objective type questions asked in the entrance test will be similar with the syllabus of Class 11 and 12 of Physics, Chemistry and Biology. How to crack AIIMS MBBS 2019 in first attempt will help aspirants to make a preparation strategy to qualify the exam along with their board exams. 
Latest: [Download free Question Papers and Sample Paper of AIIMS MBBS, Click here]
MBBS Companion 2019
Your one-stop NEET,AIIMS,JIPMER Counselling pack with College Predictors, helpful E-books etc.
Know More
LATEST: AIIMS MBBS 2019 Prospectus released - Click here to download
Final registration process of AIIMS MBBS application form has begun. Click here to apply. 
AIIMS MBBS 2019 will be conducted for admission to around 1200 MBBS offered by 15 AIIMS Institutes and nearly, 3 lakh aspirants appear to take the national medical entrance exam. In order to crack the AIIMS exam in first attempt needs rigorous practice, hard as well as smart work. Careers360 brings an article on preparation tips and tricks on how to crack AIIMS MBBS 2019 in first attempt.
Prepare an effective timetable to crack AIIMS 2019 in first attempt
"A goal without a plan is a wish." To qualify the competitive entrance exam like AIIMS MBBS, it is important to prepare an effective timetable. Candidates can prepare a beneficial timetable by dividing equal proportion as per the difficulty level of a subject. Students must ensure that they follow the planned timetable regularly and rigorously. The timetable must be prepared in a way that each subject can be revised multiple times. This timetable will assist aspirants to make a clear concept in the upcoming months and will be able to crack AIIMS MBBS 2019 in their first attempt.
Aspirants must divide the timetable in such a way that they can provide sufficient time to the particular topic/subject. They must prioritize the important topics and plan to revise them thoroughly once in a week. 
Best study material for cracking AIIMS MBBS in first attempt
Students must collect a number of study materials to prepare AIIMS MBBS 2019. For a most competitive entrance exam such as AIIMS, aspirants should be aware of all the relevant study materials used for better preparations. Since, the NCERT textbooks of Class 11 and 12 are considered as the best books for AIIMS MBBS 2019. However, only the NCERT books are not sufficient to crack AIIMS exam in first attempt. Listed below are the books referred for AIIMS candidates to crack the exam.
Best books for AIIMS MBBS 2019
Best books for AIIMS - Physics

AIIMS MBBS best books - Chemistry

Books for AIIMS MBBS - Biology

NCERT Physics: CBSE PMT (three volumes)

AIIMS Explorer

Fundamentals of Physics

Modern's ABC of Chemistry for Class 11 and 12

Dinesh Chemistry

Physical Chemistry

Pradeep Publications for Biology

Biology Volume 1 and 2 by Trueman

Objective Biology by Dinesh

Best books for General Knowledge, Aptitude and Logical Thinking

Aim4aiims

GK books by Ajay Mohan

General Knowledge, Aptitude and Logical Thinking for AIIMS
Study and examine the concepts to crack AIIMS MBBS 2019 in first attempt
Candidates must understand that AIIMS MBBS 2019 is a competitive entrance exam, therefore, just revising the concepts will not help them to crack AIIMS 2019 in first attempt. It is mandatory to clear the basic understanding of concepts, for which one must work smartly. Once a topic is completed, aspirants must analyse their level of AIIMS MBBS preparations 2019. 
Comprehensive study - Candidates must try to make notes of the important topics/points which they can revise after the completion of every subject. With this, they will be able to keep the important details in mind. Since, the syllabus of AIIMS MBBS 2019 covers most of topics from NCERT textbooks, therefore, students must be familiar with each topics from point to point.

Analyse the preparation - After completion of every topic, it is important to analyse the preparation level of AIIMS MBBS 2019. Take a revision test to analyse and understand the concept of exam.
Solving mock test and sample papers helps to crack AIIMS exam in first attempt
AIIMS MBBS AIR 2, Ramneek Kaur Mahal, said that "To prepare for AIIMS 2019, I solved numerous mock test papers over the last two years and revised the NCERT books thoroughly. I also spent a lot of time preparing for General Knowledge and Current Affairs section." 
As per the previous years' topper and subject experts, solving sample paper and mock test will enhance the level of preparation. Along with that, the test takers will understand AIIMS MBBS exam pattern 2019 in a better way. Taking mock test and using sample papers also becomes essential to crack AIIMS MBBS 2019 in first attempt, as it will give the exam day experience. Students can undergo the pressure, which they might encounter at the time of exam. While taking the mock test, candidates must assure to set the time limit as provided by the authority.
After completing each mock test, candidates should calculate the number of incorrect responses marked by them. Thereafter, they can understand their mistakes which leads to the negative marking and try to avoid them in the further revision sessions. 
This article on how to crack AIIMS MBBS 2019 in first attempt will help candidates to make a better preparation strategy and secure a seat in AIIMS Institutes. It must be noted that AIIMS exam will be held in computer based mode and 1/3 marks will be deducted for an incorrect answer. The result of AIIMS MBBS 2019 will be announced online on June 12, in form of merit list. Click here