How to crack NEET 2020 while pursuing your hobby, shares Kusham Sarao, national level Skating champion
How to crack NEET 2020 while pursuing your hobby - Since, the only medical entrance exam of India, the National Eligibility Cum Entrance Test (NEET) is approaching, medical aspirants must be on their toes to ace the exam. Keeping this in mind, Careers360 always brings articles and interviews for aspirants to help them prepare better for the examination and to give their preparation an edge. Today, we bring you an exclusive interview of Kushamdeep Singh aka Kusham Sarao, one of the NEET qualifiers, a student of Government Medical College, Amritsar, and an owner of a start-up. Being a NEET UG rank holder, Kusham Sarao is a national level Skating champion. Here, Kusham has shared some insights into his life and how he balances his work, sport, and studies altogether.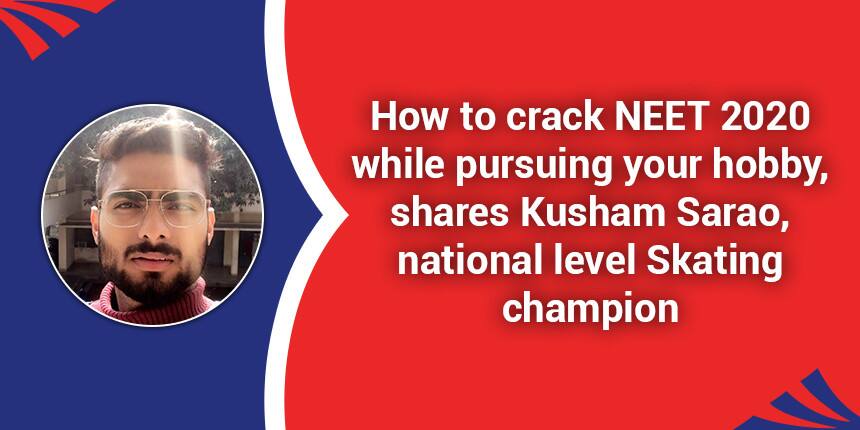 Keeping the current COVID 19 situation in mind, the tips given by Kusham will be extremely helpful for candidates appearing for NEET on September 13, 2020. Along with the tips, he has also told us, what study material he used to crack NEET 2020. Interested aspirants must go through the interview to get some tips on NEET 2020 preparations.
Careers360: Since you hold a keen interest in sports and also run a Startup. How do you manage your studies along with all that?
Kushamdeep Singh: Time management is the only thing, by which I have been managing all the things. Most of the people in their free time spend too much time on the phone. According to me, a person should do things in free time, which have some future, like for physical fitness, he might choose a professional game rather than doing unknown exercises.
Careers360: According to you, how valuable it is to have control over time management during the exam, and how did your preparations deal with it?
Kushamdeep Singh: You should be strict with yourself. focus and concentration are also important. A person working or studying for 20 hours with no concentration will give a result equal to a person working for 7 hrs or less with full concentration. My main aim is to maintain 100% focus during any task (mainly the exam preparation). Most students get tensed while preparing for the exam and this depression reduces their capacity to work. I meditated regularly for 10 minutes a day when I was preparing for neet
Careers360: What study material did you use while preparing for NEET?
Kushamdeep Singh: For Biology and Chemistry, I used NCERT for NEET. For Physics, I used notes of my tuition teacher. I had also joined the est series of various coaching institutes.
Careers360: Do you think being skilled in a specific sport is beneficial to get admission in a medical college in India?
Kushamdeep Singh: It depends upon the state. In some states, there is a sports reservation for sports candidates, while some don't have. But leaving that, sport increases a person's mental as well as physical health. Which will sharpen a student's mind and leads to prepare better for NEET. I joined skating just to lose weight, but it changed me overall.
Careers360: Besides NEET preparations and sports, why did you decide to run a startup and how did it help you in your preparations and journey?
Kushamdeep Singh: Actually I have an interest in business, running a business is a passion for me. So I decided to run a small online website to sell sports goods. By the time it grew. Yeah, running a business while studying is quite difficult because it disturbs your concentration from studies a little bit, but I learned so much about life through this startup.
Careers360: How crucial extracurricular activities are in a student's life? How do you see these activities being performed in these competition days?
Kushamdeep Singh: Extracurricular activities are too important for students, it increases a student's confidence. As you know a human can be grown to be a hero if he has great confidence. Yes, people perform these activities even during these competition days by drawing, singing, sports, etc
Careers360: Is it really important and helpful to stop pursuing your hobbies for NEET or other exam preparations?
Kushamdeep Singh: if you have good habits as hobbies you should continue, but you shouldn't if these hobbies are bad and you know it will not help to achieve your dream.
Careers360: Is there any special message to young NEET aspirants and others who wish to get admissions?
Kushamdeep Singh: Stay happy. Work hard and stay focused and be time managing. you can do anything in life if you have good confidence, you are a hard worker and good concentration.
Careers360: Do you think NEET 2020 should be postponed further than September 13?
Kushamdeep Singh: According to me, the authority must conduct the exam on the decided date now. Since the exam has already been pushed for 4 months, the stress level of the aspirants is increasing and this will hamper their performance in the exam. Of course, safety measures are necessary, however, NTA should not be postponed NEET further now.
Careers360: According to you, shouldn't the postponement be an advantage for students to prepare better for the exam?
Kushamdeep Singh: As I've mentioned that the exam has already been pushed for 4 months and it is sufficient for someone to give their preparations an edge for the last time. However, a longer period of time postponement will affect the output of aspirants.
Also read:
Questions related to NEET
Showing 101991 out of 101991 Questions