How NEET 2020 aspirants can keep themselves calm during lockdown?
The lockdown has been declared in most of the countries to stop the spread of Coronavirus (COVID-19) pandemic. Indian government announced a lockdown for 21 days till April 14, which later extended to May 3, 2020, cancelling all the board and entrance exams. National Testing Agency (NTA) was expected to conduct National Eligibility cum Entrance Test - NEET 2020 on September 13, which has been postponed. It has been advised not to panic about the postponement and NEET candidates must keep themselves calm during the lockdown for better preparations.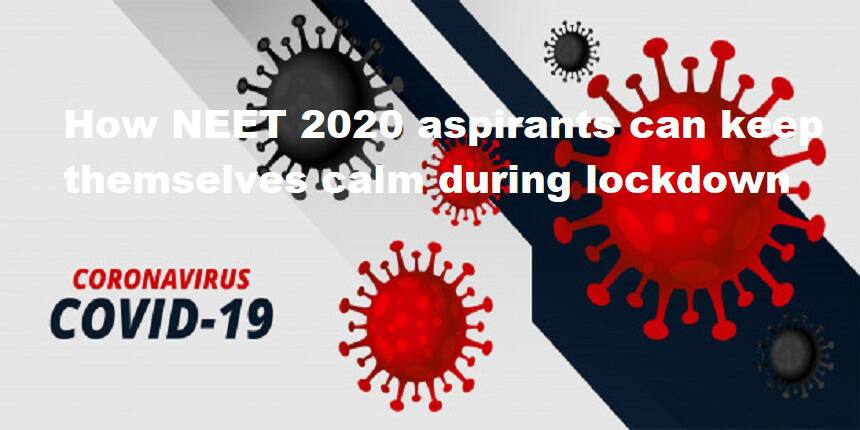 As per the British government psychiatrist, the people may suffer with mental health issues due to lockdown. Along with nation-wide closing, 15,93,452 registered NEET candidates need to stay calm during lockdown preparations. NEET exam is conducted for admission to around 1,63,150 MBBS/BDS/AYUSH/BVSc&AH seats, which makes it one of the most competitive exams of the nation. Therefore, grabbing a seat in medical/dental colleges is a tedious task for aspirants. Analysing the competition, students must be working hard for long hours. However, it is very important to know how NEET 2020 aspirants can keep themselves calm during lockdown.
As per psychologists, one of the most crucial point test takers must understand is to stay calm during NEET preparations in this lockdown period. Studying more than the capability and compatibility of a candidate is harmful. A calm mind in this lockdown situation can assist students in better NEET preparation with more clarity. Now the question is how NEET 2020 aspirants can keep themselves calm during lockdown, for which can be done by a break. In the timetable for NEET preparations during lockdown, aspirants must add sometime for health and relaxation. Read the article to know how NEET candidates can keep themselves calm during lockdown.
Stay calm during lockdown NEET preparations - Get close to your family
In this fast and furious world, all are so busy that they cannot spend time with loved ones. It is suggested that NEET aspirants must sit with their family members and talk with them, know about their lives, do discussions with them regarding topics like career, life, hobbies and passion, etc. It will help NEET aspirants to be calm during lockdown. Candidates can help their mother with daily tasks like cleaning the house, cooking, etc.
Know the techniques of indoor games
Students can also play indoor games like carrom, chess, ludo, etc. with their sisters/brothers or cousins, this will fade away the stress and bring calmness to NEET aspirants during lockdown. This in turn will make their bonds with sisters/brothers more strong and will get to know them more deeply.
NEET aspirants can keep calm by playing online games
One more option is to invite friends to play online games like PUBG or COC as per their choice, this can be enjoyed to the fullest by being connected with friends.
How can NEET candidates keep themselves calm - stay connected
And yes chatting can also be done, do have a chat online with close/far friends on various social media platforms like facebook, instagram, whatsApp, etc. This is an easy time pass with helping NEET aspirants to stay calm during lockdown and that too without being unnoticed. Exchange jokes and memes of course.

One option is to connect with special ones no matter if they are in different cities well. Video call them and build some memorable moments to share day to day moments with them.
Meditate to stay calm during NEET preparations in lockdown period
NEET aspirants can keep themselves calm during lockdown by practising meditation. It will provide relaxation and help to be fit mentally. Practicing meditation for even 30 minutes in a day can make aspirants feel better. It can be practised between studies to have some small breaks to make studies productive and feel good mentally. It has also been proved by the world that meditation brings peace to one's mind.
Stay fresh with exercise before practicing for NEET 2020
NEET aspirants can practise yoga or do exercise to have some physical activities and do not feel bored of sitting for long at one place.
Stay calm and do not study a lot during lockdown
We all know it takes blood and sweat to crack NEET 2020 and yes NEET aspirants would have definitely put every ounce of their strength to crack it. Seeing the situation it is hard to give every possible time to studies so just relax and do study in a moderate way. In the end studying for long does not matter as it can make somehow difficult for aspirants to be calm during lockdown. What matters is to study on a regular basis without leaving any day without study and be disciplined and not breaking the routine.
Novels for NEET aspirants to keep themselves calm during lockdown
And do not forget to read the novels as per your choice whichever category one will like romantic, mystery, thrilling, etc. This activity is a must as we all know books are the best friends indeed especially when there is no one around and nothing to do. Believe me this will pass the time like nothing.
These all activities can make the day so well and good, candidates cannot even imagine and yes we will never ever forget these moments we spent. This way aspirants can seek calmness during lockdown. At last stay healthy and fit and also on such a dooms-day do not lose your hope as that day is near when we will be winners over this coronavirus.
Questions related to NEET
Showing 84259 out of 84259 Questions