How to Prepare for NEET in Last Two Months- Expert Insight
NEET, a medical entrance exam conducted every year on the first sunday of May is appeared by around 6 lakh aspirants, for securing a MBBS seat among the 54000, those offered across India. What makes an aspirant acquire the prestigious MBBS seat, is preparation for the coveted medical exam. With an objective to help medical aspirants like you for NEET preparation, Careers360 brings you preparation tips from Brajesh Maheswari, Director and HOD Physics, Allen Coaching Institute, Kota.

LATEST -
NEET 2018
NEET 2018 Application Form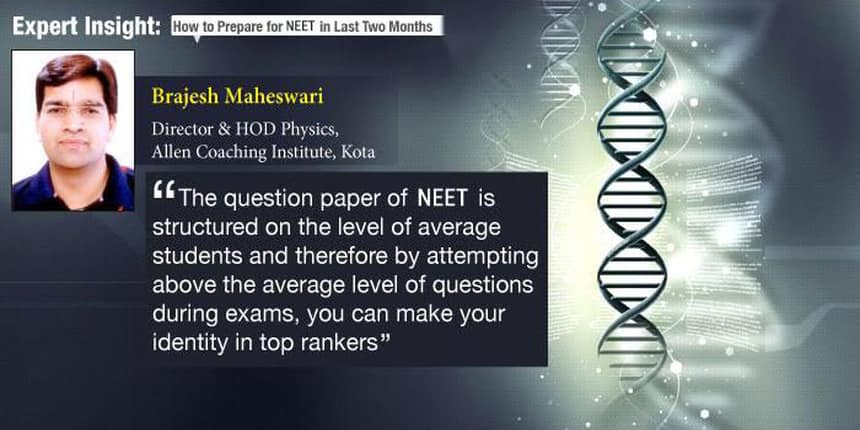 Top Medical Colleges In India

In this advisory article, the Allen Kota Director shares his insights on preparation strategy for NEET. The coaching expert says that cracking NEET purely depends on time management, prepration stratergy, self practice, and hard work. Read on to know important books for NEET preparation.
Edited excerpts of interview


Careers360: What should be the preparation strategy for NEET in the last months?
Brajesh Maheswari: The aspirants must begin countdown for the exam with just 70 to 80 days left for the exam day. I advise students to divide their planning strategy in unit wise. Further they should divide preparation time for the topics day wise and hour wise for each subject. This will help them to get concrete output at the end of each remaining days.
Careers360: Which books would you suggest for preparation?
Brajesh Maheswari: Books and preparation material have no limits but during the last prepratory days, students must go through NCERT books which consists of effective and in-depth knowledge of every and every topic.
Careers360: What could be the possible level of difficulty as compared to last year?
Brajesh Maheswari: As per the analysis of questions in last year's AIPMT /NEET UG, 75% questions are average, 20% are difficult and 5% above the difficult level. With proper and well planned time management, students can easily meet with desired goal. During the examination, it is very important to know what to do and what not to do. The question paper is structured on the level of average students and therefore by attempting above the average level of questions during exams, you can make your identity in top rankers.


Careers360: What are the Do's and Don'ts on  NEET Exam day?
Brajesh Maheswari:The level of enthusiasms and confidence must be high, constant and stable during the examination.  Never lose your temperament during the NEET Exam.
Never attempt those questions which you are not confident about as wrong answer will have imoact on your grand total. Simply leave such questions

Divide the 3 hours time duration equaly between each subject and do not cross the time management plan customized for yourself

Start with those questions which are simple and easy
Subsequently, switch to those difficult questions which may require time
Careers360: What should be the exam strategy on exam day? How should students manage the time between the different sections of the paper?
Brajesh Maheswari: Divide the 3 hours' time as per your comfort with the subject and do not cross the time management plan in each subject. In first round of attempting the paper, attempt simple and those questions on which you are confident. Then in second round, you can solve difficult questions by your alert and active mind.
Careers360: How important are mock tests? When should an aspirant start with such mock tests?
Brajesh Maheswari: Real mock tests are very important, they will definitely help you in time management and your confidence will surely improved by giving mock test.
Note: Before 2016, National Eligibility cum Entrance Test (NEET) was named as All India Pre Medical Test (AIPMT).
Read more:
Topper Talks on AIPMT 2014 Preparation Tips
AIPMT 2014 - Expert suggestions on what should be your preparation strategy
Cracking AIPMT 2014 without Coaching - Expert Speak
AIPMT 2014: Expert tips on preparation strategy
Are NCERT books sufficient for the preparation of AIPMT 2014?
Stay tuned to medicine.careers360.com for more news and feature articles on Medical exams.
Questions related to NEET
Showing 84296 out of 84296 Questions