How to prepare for NEET 2020 during lockdown 2.0?
How to prepare for NEET 2020 during lockdown 2.0 - Through a mass addressal on April 14, 2020, Indian Prime Minister extended Coronavirus (COVID-19) lockdown for 19 days till May 3. The extension has prompted all medical aspirants to ask for preparations like how to prepare for NEET UG 2020 during lockdown 2.0 or how should be NEET preparation tips for extended lockdown. Earlier on March 27, 2020, National Testing Agency (NTA), the conducting authority notified about the postponement of NEET UG exam and admit card release date till the completion of first stage of lockdown. With both COVID-19 lockdowns, medical aspirants have been provided with an opportunity to prepare for NEET 2020 exam for 40 days. Therefore, it is being advised by experts and toppers to prepare well for NEET during lockdown 2.0.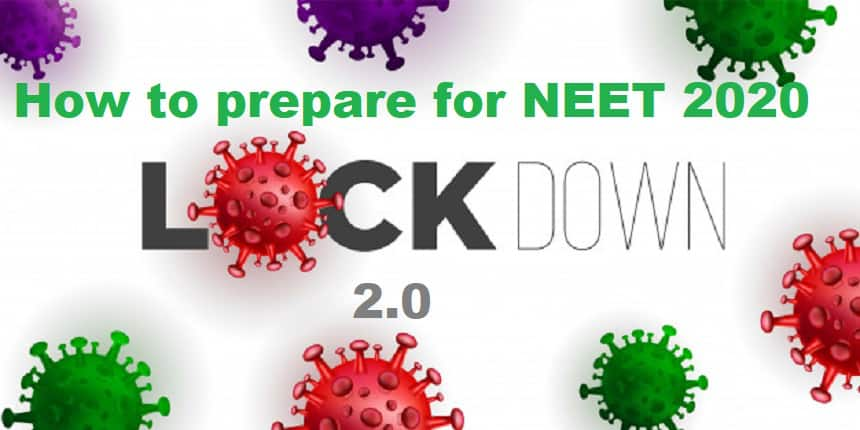 With the help of how to prepare for NEET during lockdown 2.0, candidates can know the best possible ways to increase their chances of qualifying the exam. These NEET preparation tips during 2nd lockdown will help aspirants to strategize their timetable, time management skills, prepare revision notes, expert advice, topper insights and other details. NEET 2020 was expected to be held in the last week of May, which might get postponed due to Coronavirus lockdown extension. Read the article on how to prepare for NEET 2020 during lockdown 2.0 here.
NEET preparation during lockdown 2.0 - revise the syllabus
This is the time for revision of NEET syllabus with more confidence. As per the coaching experts, most of the students have completed their syllabus and would be doing their revision work. This addition of a 40 days lockdown can result in better revision for NEET entrance test. They can revise using the notes provided by teachers or can refer to the best books of NEET 2020 for Physics, Chemistry and Biology. Applicants must revise the articles with most chapter-wise weightage in NEET.
How to prepare for NEET during 2nd lockdown - revision of notes
The revision notes for NEET 2020 should be made keeping compatibility, syllabus, topics and other details in mind. It is important for aspirants to make revision notes for NEET 2020, as it will help them to revise the highlighted sections of each topic. These revision notes will also be helpful at the time of NEET last minute preparation tips. Students can quickly go through the important points marked for revision instead of reading the entire concept. The process on how to make revision notes for NEET can be read using the link provided here.
How to prepare for NEET 2020 in lockdown2 - practice for exam
"The most crucial ingredient by far for success in music is what happens in the practice room" A quota by William Westney, American Pianist, should be the focus idea for NEET aspirants. They must consider practice as the most crucial ingredient for success to ace NEET exam with 600+ marks. As per the experts, at this time applicants should practice as many NEET mock tests as possible and come up. They can also download previous years NEET sample papers with answers to analyse their preparation. Also, using the mock tests, sample papers and question papers, one can understand the NEET exam pattern and structure of the exam.
Also, the online study materials are also available to practice for NEETduring lockdown. Candidates can take up the online classes of various coaching institutes to resolve any of their doubts or hurdles during their lockdown 2.0 NEET preparations.
NEET preparation tips during lockdown extension - relax and stay healthy
It is natural that being at home for more than 40 days will result in physical and mental health issues in the human body. British government Psychiatrist has warned the world that mental health of the people will suffer. Along with lockdown, NEET aspirants have a burden of preparations, which leads to more risk to their mental health. Therefore, it is crucial for applicants to add some relaxation time in the preparation timetable during lockdown. Parents/guardians should also take care whether a candidate is getting proper rest and living a healthy lifestyle in this hard time. For relaxation candidates can prefer doing meditation, online chats or video calls with loved ones, playing online games, conversation with family and friends, or pursuing any other hobbies at home.
How to prepare for NEET UG during lockdown 2.0 - expert & topper insights
Though the lockdown has affected the preparation strategy of NEET students in a vast manner, there is no other option left in spite of isolation and self study, as mentioned by Academic Director of Vidyamandir Classes. Also as per the Director of Career Point, Mr. Shailendra Maheshwari, revision of syllabus as well as notes and practice of papers are most crucial and should be done with full commitment for at least 12 hours per day.
Here are some of the important things which one should remember while preparing for NEET 2020 during lockdown 2.0. This phase is tough but as it says when the tough gets going, going gets tough. So, aspirants are advised to follow these above mentioned tips for preparations and work hard, there is substitute for hard work. All the best for the exam!
Questions related to NEET
Showing 84259 out of 84259 Questions