How to prepare for NEET 2020 by Saurabh Kumar, Director Academics, Vidyamandir Classes
How to prepare for NEET 2020 by Saurabh Kumar, Director Academics, Vidyamandir Classes - National Eligibility cum Entrance Test - NEET UG entrance exam will be held on July 26, 2020. With just few days to go for NEET 2020 exam, candidates would be preparing and revising for the last time. With the merging of AIIMS and JIPMER admissions through NEET medical exam, and other changes, there is a certain amount of agitation among applicants and their guardians. Therefore, to help students, Careers360 an exclusive interview on how to prepare for NEET 2020 by expert of Vidyamandir Classes, Mr. Saurabh Kumar, Director Academics. In his interview Mr. Saurabh shared his tips and tricks to crack NEET 2020, best books and important topics to consider, month-wise strategy, revision tips, guidelines and more. He also emphasizes on NEET preparations through NCERT and also advises aspirants to give their best without focusing on results.
Latest: NTA has re-opened NEET application form 2020 for corrections till May 31!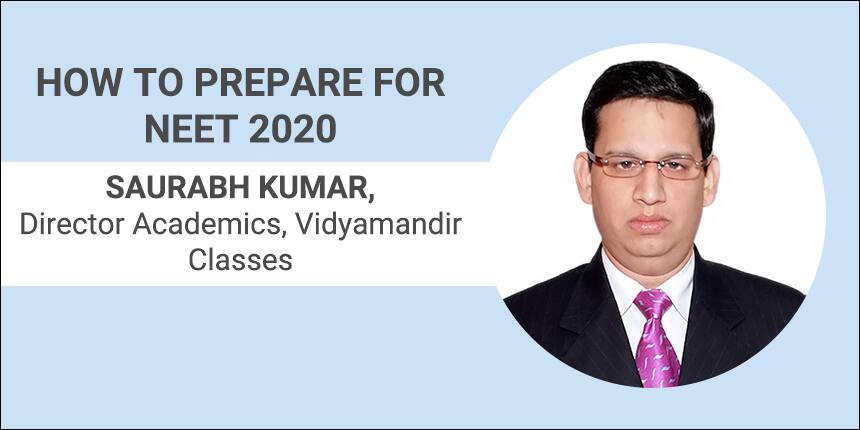 "Which book should I use for NEET 2020 preparations?" or "What are the tips to be followed in one month of NEET?" or "How can I prepare myself for NEET 2020 with Board exams?" and answers to such NEET preparations questions can be checked from this interview.
When asked about how to prepare for NEET 2020 in two months, Saurabh Kumar said to students that, "They should revise the formulas, method of calculations, test their speed according to time management in order to prepare themselves for the exams." He also reveals other preparation tips which can help NEET UG applicants in cracking the exam in the last few months.
Read the complete interview on how to prepare for NEET exam 2020 by Saurabh Kumar, Vidyamandir Classes below.
Careers360: With just a few days left for NEET, what should be the preparation strategy of candidates, while appearing for Board exam alongside.
Saurabh Kumar: This is the high time for the students who are appearing for NEET. Board exams have almost started & now your focus has to be such that it should be a win-win situation for both the exams the board & NEET.
Now NEET candidates must divide the remaining time span in two parts:
Part I - From now till end of board exams (April 4, 2020)
In this span, I would suggest focussing completely on class 12 board exam syllabus. This will help you both in scoring good percentages in boards as well as good percentile in NEET. As the NEET question paper has about 55% of questions from Class 12 syllabus. Use NCERT book specifically to complete Chemistry which includes: Inorganic Chemistry, Chemistry in Everyday Life, Environmental Chemistry and Coordination Compounds.
In Physics for the following topics: Classical Magnetism, EM Waves, Diffraction & Polarisation, Optical Instruments, Communication Systems & Semiconductor Devices should be read from NCERT books, In Zoology & Botany refer NCERT books.
Second - After board exams till NEET day
This is the core time where you really need to slog for the NEET exam as there are only few days' time from now. In this time, you are not required to read English & fifth subject. Here I would advise that one should study 9 to 10 hours per day. During these days one should regularly take a NEET mock test and after the test you need to spend at least 30 minutes in analysing it so that you can understand your strength and weakness, which can be taken care of in the next test and during the NEET exam. You can also try attempting any subject first and see which subject suits you best to start with that. Remember every student is different, if starting with Chemistry works good for friends may be starting with Biology works for you so don't copy strategy of others in your strategy.
In the remaining six or seven hours divide it into two or three slots for two or three subjects. Ideally one should give equal time to all subjects but you can give a little more time in the subject which you feel is weak. Normally Biology is the most scoring followed by Chemistry followed by Physics. In this time span you should focus on class 11 topics because right now you will be afresh with class 12 topics as board exams have just passed.
Careers360: As per student's perspective, what are the changes you are expecting in NEET 2020, after the inclusion of AIIMS and JIPMER in it?
Saurabh Kumar: As per the notification by NTA there is no change in exam pattern but AIIMS & JIPMER has been abolished which means NTA NEET 2020 will be the major medical entrance exam from this year, so obviously top rankers will choose AIIMS, hence we can also see a rise in number of aspirants for NEET 2020. So competition is going to be little more stiff.
Careers360: What preparation strategy can students follow, when 3 months, 2 months and 1 month is left for the NEET exam?
Saurabh Kumar: NEET 2020 preparations strategy month-wise is mentioned below:
NEET preparation tips in two months
During this time, students should examine and analyse their common mistakes and work upon them in order to make a stronger case for NEET exams. They should devote more time and energy to subjects or topics in which they are weak. They should also memorize the formulas, method of calculations and test their speed in order to prepare themselves for the exams.
The NEET UG 2020 is likely to be stressful. The students are expected to appear for around three hours of paper. To prepare for such a situation, students must create an exam-like atmosphere by taking mock tests by timing themselves as per the real exams. Students must go through last few years' question papers and feel confident by solving them more than once before they appear for the main exams.
Students should not try solving a whole lot of problems at this stage & altogether avoid complicated problems. Relaxing, having a good sleep, eating healthy, etc. are also very important. It is pertinent that students estimate the time taken by them to solve the questions so that they can determine the number of questions they can easily solve during the duration of the exam. This important step will help them shape a strategy for taking the test. They should look to improve upon the question selection and prioritization for the same. Again solving mocks would be the most efficient tool.
By this time, the students would have studied and revised everything and done a thorough analysis of their weakness and strengths by taking a number of mocks both topic wise as well as subject wise. This is not the time to learn anything new but to consolidate one has already learnt. Focus on revision of important formula steps, assumptions thus, should be on top of the mind of the aspirant. It becomes essential that the student, based on his/her own analysis and experience, develops a mindset and confidence of taking up which subject to start with in order to get maximum right answers. They should eat healthy & practice meditation to manage stress and maintain calmness.
Careers360: Give some suggestions on the important topics from Physics, Chemistry and Biology which can be covered first while preparing for NEET 2020.
Saurabh Kumar: Some of NEET 2020 important topics for each subject have been mentioned below.
NEET important topics
| | | |
| --- | --- | --- |
| Important topics for Physics | Topics to consider Chemistry | Topics for Biology |
| Modern Physics & Semiconductor Devices | Chemical Bonding & molecular structure | Biological Classification |
| Magnetism & Matter | S & P block elements | Plant Kingdom |
| Current Electricity | Equilibrium | Animal Kingdom |
| Newton Laws System of Particles | Chemical Kinetics | Cell |
| Rotational Motion | d & f block elements | Human Health & Disease |
| -- | -- | Ecosystem |
| -- | -- | Principle of Inheritance & Variation |
| -- | -- | Human Reproduction |
| -- | -- | -- |
Careers360: Are NCERT books enough for NEET preparations? Subject-wise best books apart from NCERT that you would advise students to study from?
Saurabh Kumar: Yes, NCERT books should be most-importantly studied for conceptual clarity as most of the questions in NEET are asked from these concepts. NCERT books are good for Chemistry - especially Inorganic, Zoology & Botany, VMC study package. If required then one can want you can consider NEET 2020 best books for Zoology on Wiley Publications, Physics on Cengage Publications and for Chemistry Objective by P Bahadur.
Careers360: Candidates take a lot of mental pressure when exams knock at the door. How do you feel that can be reduced?
Saurabh Kumar: First students should not think about the NEET result before giving the exam, as one exam cannot be the end of life. Take antioxidants to reduce stress. Tune your body clock & have a sound sleep on night prior to exam.
Careers360: What are some of the common mistakes, biggest distractions students make while preparing for NEET? And how can they deal with it?
Saurabh Kumar: One of the biggest distractions is screen time on any device so one should limit it to not more than an hour per day. While a common mistake amongst medical aspirants are not studying throughout the year, not taking mock tests so could not identify the weak areas & not equally focusing on all subjects.
Careers360: What are the do's and don'ts which applicants should follow right before and while taking the exam?
Saurabh Kumar: As per my suggestions, the points mentioned below are the NEET do's and don'ts which should be followed carefully.
Do's for NEET exam
A regular 5 to 6 hours study per day

Clear your doubts on a regular basis

Do your school homework in the extra time in school itself

Refer to NCERT especially for chemistry zoology & botany and minimum, relevant, study material

Prefer solving questions on a paper with pen

Choose a coaching institute near your place to reduce travelling stress & time

Check the NEET syllabus from website - ntaneet.nic.in and study only relevant things

Divide the entire course into parts and complete that part in a fixed span of time

Complete your entire syllabus at least six months before the board exams so that you have ample time to revise and handle boards easily

Give regular mock tests to check your speed and accuracy

Do detailed test analysis after every test

Know your strengths and weaknesses topic wise and subject wise
Don'ts for NEET exam
Never pile up your doubts

Do not refer to many books on a single subject

Do not refer irrelevant books by getting fascinated from your peer group

Do not devote too much time on a single topic

Never give test without a time limit

Do not watch too much of TV or internet
Careers360: What are the important NEET exam guidelines you can give to students on time management skills while preparing and giving the exam? How can they improve it?
Saurabh Kumar: Try to complete all mock tests in 2 hours 45 minutes. Give different mock tests starting from different subjects in tests & choose the strategy which suits you best. Try to give 45 to 50 minutes of chemistry & biology and remaining time for physics. Review the OMR after filling the keys.
Careers360: Please mention some key points students that can keep in mind to deal with the negative markings.
Saurabh Kumar: Do not attempt too many questions in which you are not sure, try to take very little calculated risk. While filling the NEET OMR sheet 2020 check properly that you have filled the correct bubble. If you fill one up or down it will damage your entire tally and you will be in a disastrous situation.
Careers360: Ideally, how many marks one should obtain to secure an MBBS/BDS seat in a good medical/dental college?
Saurabh Kumar: One should secure more than 600 to 650 marks to get an admission into a good government medical college.
Careers360: Is there anything you like to add for students preparing for NEET 2020?
Saurabh Kumar: NEET is an exam of race against time you have 180 minutes. So you have to be very cautious in the exam. So your practice should be such that you can beat this.
Careers360: The field of medicine has seen a lot of changes in the past year, what are your views on it?
Saurabh Kumar: There are regulatory changes which are good. I think we can be more strict because medicine is such that it deals with human life so any carelessness can cause a life.
Careers360: Would you like to give an insight of various upcoming career options that medical students can opt for after pursuing MBBS or BDS?
Saurabh Kumar: In addition to working with any hospital or opening your own clinic one should go for Postgraduate entrance exams & if you want to be away from normal working there are very good options in corporate medical insurance, TPA or pharmaceutical companies.
Careers360: What are your thoughts on the National Medical Commission (NMC) Bill and NEXT exam? How useful it will be for the medical education and industry?
Saurabh Kumar: This bill replaces MCI by NMC and will be a regulating body for all medical related things. There will be a uniform National Eligibility-cum-Entrance Test for admission to under-graduate, postgraduate and superspeciality medical education in all medical institutions regulated under the bill. Further, the bill introduces a common final year undergraduate examination called the National Exit Test (NEXT) for students graduating from medical institutions to obtain the license for practice. This test will also serve as the basis for admission into postgraduate courses at medical institutions under this bill. Foreign medical practitioners may be permitted temporary registration to practice in India.
However, the bill does not specify the validity period of this license to practice. In other countries such as the United Kingdom and Australia, a license to practice needs to be periodically renewed. For example, in the UK the license has to be renewed every five years, and in Australia it has to be renewed annually. Creating exams at entry & exit levels will encourage the coaching/education industry.
Questions related to NEET
Showing 83628 out of 83629 Questions