How to utilize the Internet for NEET 2020 preparation during self isolation?
How to utilize the Internet for NEET 2020 preparation during self isolation - With the increasing effect of Coronavirus (COVID-19), day by day across the world, all are requested to be self isolated to stop these spreadings. In the period of self-isolation, the biggest challenge for you all's how to prepare for NEET during self-isolation. According to a quote from MHRD secretary Amit Khare, till now they have not taken any decision on again postponing NEET 2020. The single and most competitive medical entrance exam NEET, is scheduled to be conducted on September 13, 2020. With the exam approaches, the thing that matters is how you utilize your time in the period of self isolation for NEET preparations. This period of self isolation is going to be very crucial for NEET applicants in cracking for the same. The person who manages to prepare well in this time period might obtain a good NEET 2020 score.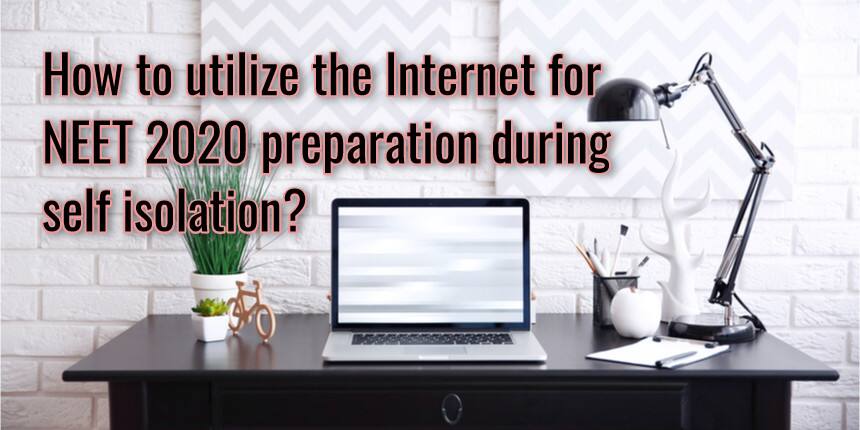 In the 21st century where the Internet is flooded with both right and wrong, good and bad stuff, the choice is yours how to utilise it for your NEET 2020 preparations. Understanding the sensibility of time here, Careers360 brings an article for you on how to utilize the internet for NEET 2020 preparation during Self Isolation. You are advised to go through the key points which need to be kept in mind while preparing for the medical entrance test by using the internet as a study tool for NEET 2020 while self isolation.
Never allow yourself to be online
The first and biggest step to utilize the Internet for NEET 2020 preparation during self isolation is never to be online. If it is required you to watch a youtube video lesson. Save it offline and watch it later. If you need to read any NEET 2020 article, save it and read it later. The compulsion of taking this step here is to avoid you slipping into the Internet world. The reason why you are being suggested to be offline is because it might happen that you are searching for else and at last landed upon anything else.
Avoid indulging more yourself in social groups
While preparing for NEET 2020 using the Internet, aspirants are advised to avoid more indulging themselves with Telegram/Whatsapp/Facebook/and other social media groups. It is understandable that making a small discussion group of NEET 2020 preparations with aspirants like you, who contribute positively in keeping motivation high for preparations might be required but discussing unnecessarily might hamper your preparation. Avoiding yourself more in these social groups helps you to avoid various unnecessary things that boosts up your NEET preparation strategies.
Follow limited NEET 2020 study materials
Aspirants are advised not to use the Internet as a gathering material for NEET 2020 preparations. The Internet is flooded with a huge amount of study material for NEET 2020 available and you cannot get through everything for your preparation. You are advised to rely on limited but worthy sources for revision of your NEET exam. As per Margaret Atwood saying "We were revisionists; what we revised was ourselves." Thus, you are advised to revise more and more to make each and every topic known to you.
Search for informative websites
In this period of self isolation, where exams are being rescheduled, and some necessary changes are being made for our betterment. You are required not only to prepare for NEET 2020 but also always stay updated with the information regarding the same. Aspirants can search for the medicine.careers360.com for any reliable official information. As we are continuously monitoring things regarding the same, you can get all the information at this website. This will surely save a lot of time and help you boost your preparation for NEET 2020 during self isolation.
If only needed, opt for passive learning
Utilizing the Internet as a NEET 2020 preparation tool for passive learning is very important during the self isolation period. NEET passive learning includes watching a video where an expert explains you about a concept. Candidates are advised to opt for this facility only if it is needed. Though, it is a one way communication, if you are unclear about a particular topic of NEET 2020, search for the topic, collect information, analyse data, come to a conclusion and then only watch that video to validate if your work is right or wrong. Simply watching the videos like movies and all can't help your NEET preparations. Even, National Testing Agency (NTA) also releases the video lectures of NEET by IIT professors and subject experts. You can use these NEET video lectures of Physics, Chemistry and Biology for boosting your preparations for the exam.
Avoid any kind of distraction and save time
While preparing for NEET 2020 using the Internet during self-isolation period, it is very necessary how you avoid yourself from any kind of distraction which can happen while using the Internet. Distraction does not mean only like cinema, songs, games among others. Nope. it means when you are searching for a particular topic and end up landing upon any other topic, that is also a distraction. With these kinds of distractions you can not prepare well for your NEET exam.
As it is discussed earlier, time is going to be one of the most crucial criteria for any NEET aspirants. Any carelessness regarding the time management skills during the self isolation period will cost your NEET preparation. Besides all, Careers360 advised you to be safe and not panic and utilise the Internet more and more for NEET 2020 preparation during self isolation.
Questions related to NEET
Showing 102090 out of 102090 Questions