Is Biotech a better bet than medicine to pursue as a career at Bennett University?
Imagine writing an essay without the ability to "edit" anything that you have written. You cannot "ctrl+C", you cannot "ctrl+V" or even "ctrl+Z". We as humans are like that text app without any "Edit" function. In our case the text is written as our genetic code. Errors in the text of our genetic code can lead to deadly cancers or make us prone to certain infections and life threatening metabolic disorders. Traditional medicine can treat those disorders but sometimes can result in devastating side effects. What if there was a tool that could not only predict the possibility of these errors in the genetic code but could also edit and rectify them before even the disease onset? Know if biotech is a better bet than medicine to pursue as a career from the perspective of Dr. Mrittika Sengupta, Associate Professor, Department of Biotechnology, Bennett University.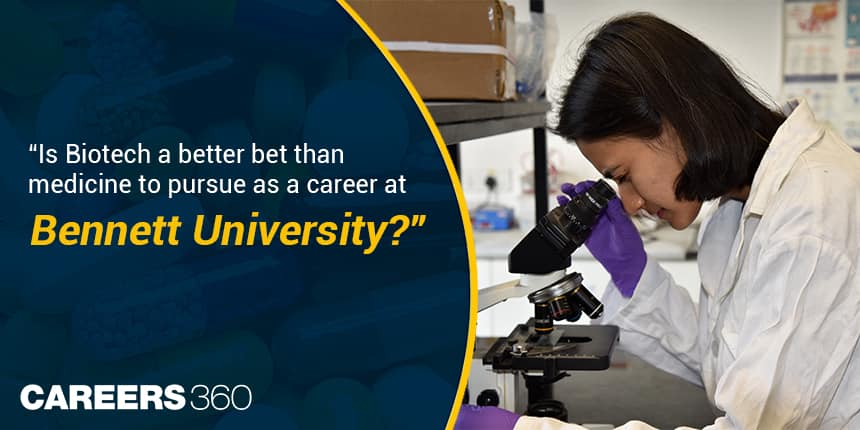 The answer to that is Biotechnology. Gene editing has come a long way into reality from the pages of a science fiction novel. He Jiankui, a Chinese scientist and his team made the first genetically tailored humans who are resistant to AIDS in November 2018. Coming closer towards home, Bengaluru's Swayam Prabha lost her aunts to breast cancer. When her mother was diagnosed with breast cancer too she got herself checked and found out that she carried the breast cancer causing mutation in BRCA1 gene. Determined not to pass on the cancer to her daughters she sought help from geneticists who helped her to screen out the cancer-causing mutation from her fetuses and helped her give birth to twins who are free from the deadly mutation.
Also Read: Bennett University courses and fees
Biotechnology as a field is now developing in leaps and bounds. It is emerging as a tool that helps to overcome the limits of conventional medical practices. Generic treatment based on symptoms is becoming a thing of the past with the global trend leaning towards personalized medicine based on an individual's genetic makeup. In India too, personalized medicine is trending towards becoming a household term. Dr. Batra has already started a genetic information-based diagnosis and treatment option called geno-homeopathy. Dr. Lal path labs is providing genetic mapping of the whole genome of a patient which will enable predicting the susceptibility of a person to any disease even before the disease onset as well as how they will respond to any drug. In fact, according to Business Wire the global precision medicine market is projected to reach $233.4 billion by 2025 at a CAGR of 9.4%. The Biotechnology students who will be graduating around this market inflation will be the leaders of the global Biotechnology healthcare revolution.
See Also: Bennett University facilities
Biotechnology as a career option seems even more lucrative when we think about the sheer disparity in the number of students appearing for NEET in 2022 versus the number of seats available. According to an article published in NDTV Education on the 27th of May, 2022, over 18 lakh students have registered for NEET this year. That translates to roughly 5.76% of the applicants actually succeeding in securing a seat. In such a scenario often the relatively unchartered territory of Biotechnology ends up as the backup plan.
Quick link: Bennett University Reviews
But why should it be the backup? We live in the time of amazing scientific breakthroughs that are redefining the way we have viewed the world so far. We don't use insulin derived from slaughtered animals anymore but rely on insulin obtained from bacteria through cloning. Genetic engineering made that possible. So why restrict our career options to the choices that were relevant in the 1990s? Why not push the boundaries and explore the newer options? After all, not many career choices will give you the opportunity to be both a doctor and an engineer.
Other related links: Bennett University Q&A
Disclaimer: This content was distributed by Bennett University and has been published as part of Careers360's marketing initiative.
Questions related to Bennett University, Greater Noida
Showing 143 out of 143 Questions