"It is a golden opportunity for students for preparation" says Devika Sankar, a NEET 2020 aspirant
"It is a golden opportunity for students for preparation" says Devika Sankar, a NEET 2020 aspirant - The cases of Coronavirus across the country is increasing with the rapid speed. The growth in the COVID-19 positive cases are being normalised by following the rule of lockdown and staying safe at home. Seeing the current scenario, the National Testing Agency (NTA) has postponed the NEET 2020 exam date. The exact dates of the NEET events for medical aspirants is yet not announced by the authorities, as it depends upon the situation of the country. NEET is the single and biggest entrance exam for aspirants seeking admission in medical/dental/AYUSH/veterinary UG courses. These actions of regular procrastination of the NEET 2020 events are creating the panic situation in the minds of aspirants. Despite this, keeping the quote of Denis Waitley in mind that "Procrastination is the fear of success. People procrastinate because they are afraid of the success that they know will result if they move ahead now. Because success is heavy, carries a responsibility with it, it is much easier to procrastinate and live on the "someday I'll" philosophy."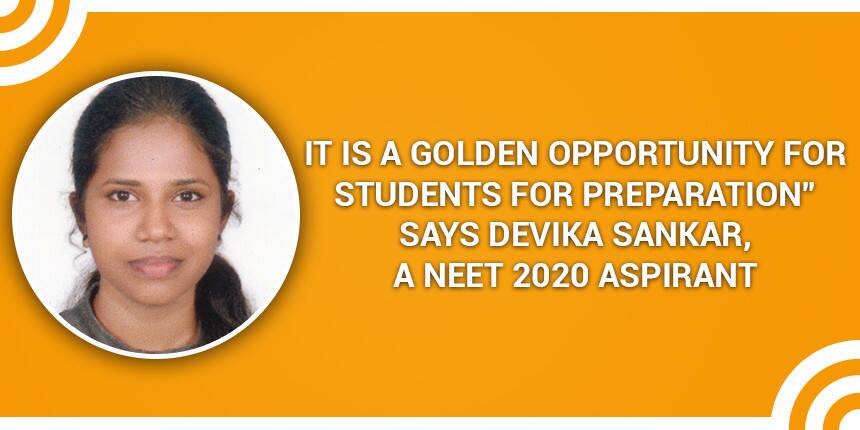 Candidates can take this situation as an advantage in their preparation for NEET 2020. To know the current situation in the mind of NEET aspirants, Careers360 interacted with many students. Devika Sankar, a NEET 2020 applicant and appearing for her 12th board this year, is also one of the affected aspirants due to regular postponements in the date of conduction of medical exam events. Candidates can go through the article below to know the details about how positively Devika has taken this and preparing for NEET 2020 during the lockdown along with the daily routine, preparation strategies and all other relevant information.
Careers360 - Tell us something about yourself, education, background, family and others.
Devika Sankar - Hi, I am Devika Sankar, appearing in class 12th now. I am a person who loves cooking, dancing, singing, and travelling. Now I am not able to travel because of Covid-19, but all other things are happening along with my studies. There are 5 members in my family including my parents, my elder brother, grandma and myself. My father Sivasankaran is a government employee, my mother Sindhu is a housewife, and my brother Deepak Sankar is a final year mechanical engineering student.
Careers360 - What is your preparation strategy for NEET especially for the lockdown?
Devika Sankar - My preparation strategy for NEET especially for this lockdown is, increasing my study duration and concentrating more on NEET chapters.
Careers360 - Can you share your daily routine of NEET preparation?
Devika Sankar - Actually I spent half a day for NEET studies only. From morning till evening, then 3 hours at night.
Careers360 - According to you, What are the advantages and disadvantages/challenges of lockdown in your NEET preparation?
Devika Sankar - According to me, it is a golden opportunity for students, that we have a lot of time to prepare for NEET exam. This is an advantage I think only the 2020 batch has. The disadvantage is that our 12th exams are still not over. So it will take a long time to know the results.
Careers360 - Are you attending any online classes for preparations?
Devika Sankar - Yes, I am attending online classes on "Careers360" for my NEET preparations.
Careers360 - What kind of stresses you are experiencing during lockdown and how are you dealing with it?
Devika Sankar - As an 18 year old student, while engaging things other than my studies, my parents remind me about my studies, but I don't like this. But it is not a matter of stress to me. The classes in "Careers360" are interesting. Also the Careers360 team supports me well.
Careers360 - How do you keep yourself motivated for your NEET preparation during this lockdown period?
Devika Sankar - I motivate myself by telling that this is a good chance for me to prepare for the NEET exam. I think such a year didn't come before, there is so much time for us for the NEET exam this year. So if I use this time properly, I'm sure I will get a good rank on NEET exam with the help of my online classes. Though the world is suffering severely due to the pandemic situation due to Covid-19, we as students, it is a golden chance.
Careers360 - What are your views on the continuous postponements of exam related events?
Devika Sankar - Now the whole world is facing a big crisis "Covid-19", according to this we know, all should stay at home. The continuous postponements of exams are parts of control measures taken by the government to fight against Covid-19. So all these sufferings are for the well being of the people of the country and for a better tomorrow.
Careers360 - As it can be seen in the current scenario that doctors are facing from certain sections of people and how they are brutally treated by the masses. How do you see it and how does it affect your determination?
Devika Sankar - These brutal treatment by the masses against the doctors shows that there is considerably a big lack of social awareness against epidemic diseases in the society. Also, it is high time to have more specialist doctors in the field of community medicines. Hence I am determined to go for a master degree in community medicine.
Questions related to NEET
Showing 83627 out of 83628 Questions