It's time to introspect, be patient-friendly, says Dr. Randeep Guleria, AIIMS Director
Careers360 interviews Dr Randeep Guleria, Director at All India Institute of Medical Sciences (AIIMS), New Delhi. The AIIMS Director speaks on challenges that have cropped up for India's most prestigious hospital and research centre. Dr. Guleria also talks on making more integrated curriculum.
Read the complete interview of Dr Guleria below.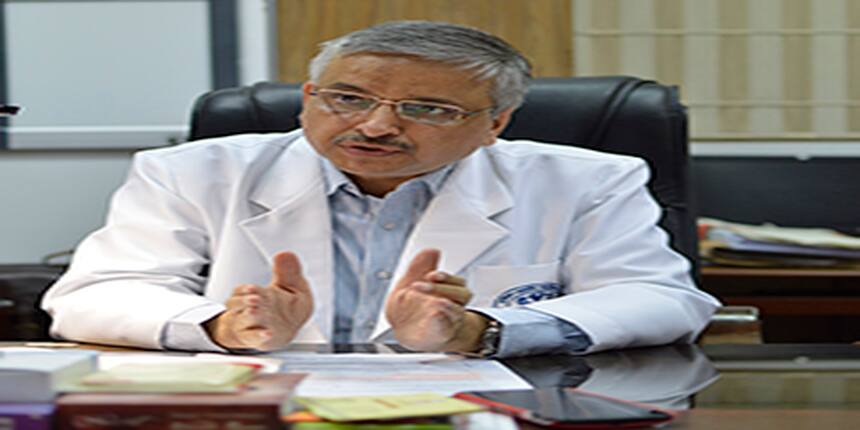 Interview-
Careers360: What is the biggest challenge that AIIMS is facing now?
Dr. Guleria: The biggest challenge is patient care. As AIIMS has become a well-recognized hospital over a period of time, not only nationally but internationally, we have to pay the price of being well-known in terms of huge load of patients coming to us, which has increased tremendously over the last two decades. So the challenge is to rediscover ourselves and make ourselves more patient-friendly and work on how we can handle this growing crowd of patients so that we are able to achieve a high level of patient-satisfaction. It can be in using computerization to segregate patients' visit timings or trying to make a consolidated area to collect blood samples, or a digital portal where patients can just get their reports rather than having to go to different labs and providing good quality care despite the huge load.
Careers360: Any other challenges?
Dr. Guleria: Another challenge is increasing our capabilities in research. AIIMS has been a top institute for more than 15-20 years in terms of research publications. It has to do research, which is of high quality, which has meaning in terms of patient care, which has meaning in terms of addressing medical or health issues that it is facing and be able to give answers to problems. Lastly, it is academics. We have undergraduate, postgraduate and a lot of other programmes. There are challenges with each programme. Newer devices, newer strategies and newer drugs are coming into the market. So the challenge is to have an education programme in tune with these newer developments. The courses and teaching methodology also have to change.
Careers360: Which are the thrust areas for research?
Dr. Guleria: When you look at research, one is transitional research, that is, research for the country on the problems that we face. Second, is to look at newer technologies which are coming. It could be the area of Nanotechnology, areas of developing newer drugs, it could be for infections, it could be looking at the emerging huge number of non-communicable diseases that we are developing. Now we are going to have a huge burden of non-communicable diseases. So India is moving from the infectious diseases like malaria, diarrhea to increasing burden of diabetes, hypertension, coronary artery disease, cancer etc. We need to start looking at research in these areas to address these issues in terms of diagnosing, managing these patients and having some sort of a database for follow-up. Unlike infections, where you treat and they become alright, these are chronic diseases. How do we manage all this and what are the avenues that we can have? Those are the things we need to look at.
Careers360: What should the curriculum of AIIMS aim at?
Dr. Guleria: We are trying to make a more integrated curriculum. Integrated teaching means when you teach a disease, you start from its bases and you take it to the end. For instance, Tuberculosis you don't have to have lecture on Anatomy or Pathophysiology separately, then the drugs and then the clinical part as separate. Normal teaching is like that where you will learn pathophysiology, then you go to pharmacology, you will learn the drugs that are available, clinical side you learn the symptoms for the disease. It is better if it is integrated because in a comprehensive integrated talk you learn in one lecture pathophysiology, the drugs and the treatment so that you are able to get the whole picture of how to have a more holistic management of various problems.
Careers360: Any thoughts on teaching methodology?
Dr. Guleria: We need to see how we can move from blackboard teaching to e-learning where there are processes where you can show good videos and other pictorials for a better understanding of what is happening. The era of traditional teaching is over, the new era is to be able to make students understand the concept and to be able to understand what exactly is the process behind all of this. For that we need to use the technology which is available. We have a whole section where people are trying to make videos. There are procedures which are trying to show anatomy in 3D form that you can show in classes and help students to understand in a comprehensive manner.
Careers360: Why do students and doctors flock to AIIMS? What attracts them?
Dr. Guleria: I think people come to AIIMS because it has developed a culture which is unique and the culture is of dedicated work and being involved in patients' care. Over and above their calling, instead of a 9-5 job most people would come early and stay late. You do not get an extra salary for staying late but this shows involvement. They will be willing to take extra classes, spend more time in research and projects. That is done because of dedication and involvement. And, I think also because of the environment created by the seniors, a tradition which has been passed on and you tend to follow and it has actually percolated down over generations of faculties to being where you are involved in three areas of patients' care, teaching and research in a very dedicated manner, which is more than what is required from the point of view of a simple job.
Careers360: What are the policy changes needed in medical education?
Dr. Guleria: Medical education needs to look at how things are today in terms of the need and changes in the whole profile of patients we are seeing. You have portable ultrasounds today which can be done in the ambulance and images can be transferred to the trauma center so that they are aware of the problem of the patient. This way time is saved and you can save lives. But we need to train our students. We need to change with changing times, the curriculum needs to change with changing times, the way we practice medicine needs to change with changing times. At the same time, there is also a need for physicians to understand that the care of the patients is a very important thing, to empathize with your patients, to understand his needs. A patient comes to hospital with a lot of fears. To reassure the patient is crucial and that is also what we need to teach our students. Things like end of life management, how do we communicate with patients for a lot of terminal illnesses were never in the curriculum. But they are becoming more and more important. We need to look at the curriculum in a holistic manner.
Careers360: Your message for aspiring doctors?
Dr. Guleria: Medicine is a great career which gives you a lot of satisfaction. You must have a passion for it, but the most important thing is, you have to empathize with your patients and feel that you must keep your patient in mind, no matter what you are doing and you must look after your patient irrespective of his status or background.
Stay tuned to medicine.careers360.com for more articles and interviews
Questions related to NEET
Showing 84419 out of 84419 Questions