JIPMER-AIIMS MBBS 2016 topper interview: How Kushagra Pandey chased his dream with focus and passion


A double delight was in store for Kushagra Pandey of Mumbai, who exceeded his own expectations to secure top All India Ranks in both AIIMS and JIPMER- two of the toughest medical entrance tests in India. While he bagged AIR 1 in JIPMER MBBS, his performance in AIIMS MBBS pushed him into the group of top 10 rank holders.

Also Read-
AIIMS MBBS 2018
AIIMS MBBS Important Dates 2018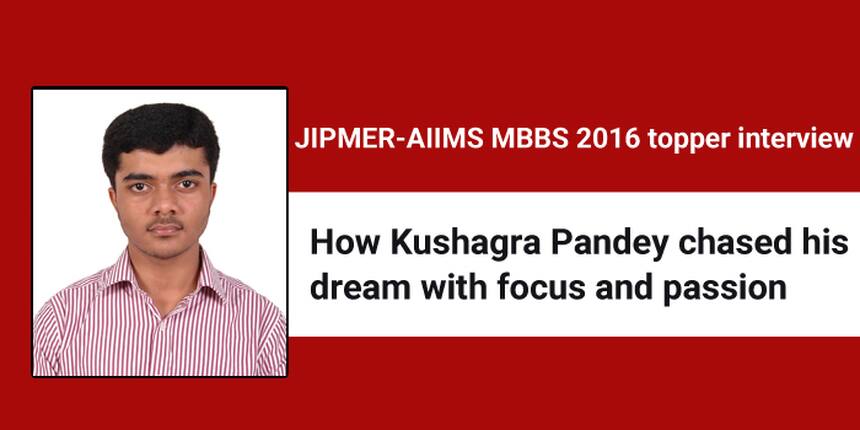 The topper, who aspires to be the first doctor in his family, attributes this feat to his systematic preparation, passion for perfection and a lot of support from his parents. When routine study became tedious, the Saina Nehwal fan would play a game of badminton to calm his stressed mind.


In this interview with Career360, Kushagra advises future medical aspirants to follow NCERT syllabus for their preparations and to smartly utilise their time by ensuring that there they are not distracted by social media or gadgetry temptations. 


Read the full interview below:


Careers360: Congratulations! You have not only topped JIPMER but also rank among the best 10 in AIIMS? How are you celebrating?
Kushagra Pandey: Thank you so much. I am very happy. Based on my preparations, I was expecting a good result but this is beyond my expectations. I am planning a family outing to Lonavala to celebrate my success.


Careers360: Single digit ranks in both the tests is an incredible feat. Where you expecting such high rankings?
Kushagra Pandey: My AIIMS paper was really good. I was expecting to get a good rank. However, a single digit rank even exceeded my expectations.  The JIPMER result was again very surprising. I was definitely not expecting to get the first rank!
Careers360: What about your family? How are they reacting to your results?
Kushagra Pandey: They are very happy. They have supported my throughout my preparations and I am glad that my results have brought smiles to their faces. This is actually my biggest achievement. My dad is a scientist and my mother a home maker. I am an only child. They put in all their efforts to help me succeed. Even when I would stay up at night to study, my parents would stay awake with me. It was a huge moral boost for me.
Careers360: Tell us how you prepared for the tests? Did you follow any special strategy?
Kushagra Pandey: I strictly followed my coaching expert's guidance and advice. I used to revise every topic being taught to be in school and the centre. I prepared thoroughly from NCERT books. I think it is important for every medical aspirant to be thorough with the NCERT syllabus as it helps in the long run. In fact, most of the questions in AIIMS and JIPMER were directly from NCERT books. Solving MCQs and past years question papers also helped me a lot. Rest was all focus and passion towards my dream.


Careers360: How did you manage you time? Did you have any fixed schedule for your studies?
Kushagra Pandey: To be honest, I used to study for 10 to 11 hours every day. I have always focused on completing the syllabus and then revising the concepts.  I never decided for how many hours I had to study, but I used to decide what topics I had to prepare and revise. For me, revision is the key to success.
Careers360: Tell us what made you choose medicine as your profession?
Kushagra Pandey: Since my childhood,I have been very keen and passionate about being a doctor. I always wanted to learn medicine and Biology is my favorite subject too. Also, it's a profession which is highly respected and noble. Besides, there is nothing else I want to be in this world!


Careers360: Now we know why you want to become a doctor, but tell us what do you enjoy beyond the world of medicine?
Kushagra Pandey: Yes, I am very much active in extracurricular activities as they support in maintaining a study discipline and also keep your mind relaxed. Even back in school, I used to play badminton. I am huge fan of Saina Nehwal!
Besides, whenever I would get bored during my preparation period, I would watch TV or read newspapers. In fact, as JIPMER and AIIMS also consisted of questions on General Knowledge, I used to convert my free time learning about current affairs.
Careers360: Did you also appear for NEET Phase 1?  Many students were left confused after the Supreme Court's order on NEET. What kind of impact did the decision have on your preparation?
Kushagra Pandey: Yes. I appeared for NEET 1. I was a little bothered as I was also preparing for the state level medical exam. My main focus, however, was AIIMS and JIPMER. Therefore, I concentrated on these two examinations without caring much about what was going on. I knew that it was the time to put on efforts which would lead me towards my goal and bothering about those would lead me nowhere.


Careers360: Will you also appear for NEET Phase 2? 
Kushagra Pandey: I will not appear in NEET 2 as I have achieved my dream of getting admission in AIIMS, New Delhi.


Careers360: Do you want share anything from your experience with future medical aspirants?
Kushagra Pandey: What made me a topper is my hard work coupled with sharp focus and passionate approach. Whatever you study put in your 100% efforts to understand the concepts. Don't' cram anything ever. Many students think that only staying at hostels will help them in their preparations as there will be no family distractions and as such. That is absolutely not true. What you should keep in mind is that the time which we keep for studies must be fruitfully utilised, ensuring that there are no distractions of social media or electronic gadgets. Remember, this is no short cut to success.


Also read:
AIIMS MBBS 2016 AIR 3 Topper Interview: Be consistent in your studies and never take test pressure, says Lajjaben Patel
AIIMS MBBS 2016 topper interview: Systematic study and clarity of concepts are imperative, says Ekansh Goyal, AIR 9
Stay tuned to www.medicine.careers360.com for more news and information on AIIMS-JIPMER toppers
Save
Questions related to NEET
Showing 84424 out of 84424 Questions