JIPMER MBBS 2018 Topper Interview: Was expecting a good rank but did not think I would be the topper, says Ankadala Anirudh Babu, AIR 1
JIPMER MBBS 2018 Topper Interview - Ankadala Anirudh Babu was busy basking in the success of emerging as a top-ten ranker in the National Eligibility cum Entrance Test (NEET) 2018 when he found out that he had emerged as the All India topper in JIPMER MBBS 2018. The unexpected declaration of the JIPMER MBBS 2018 results on June 8 turned out to be a pleasant surprise for the Andhra boy, who had been looking forward to getting a good rank but not expecting the top one.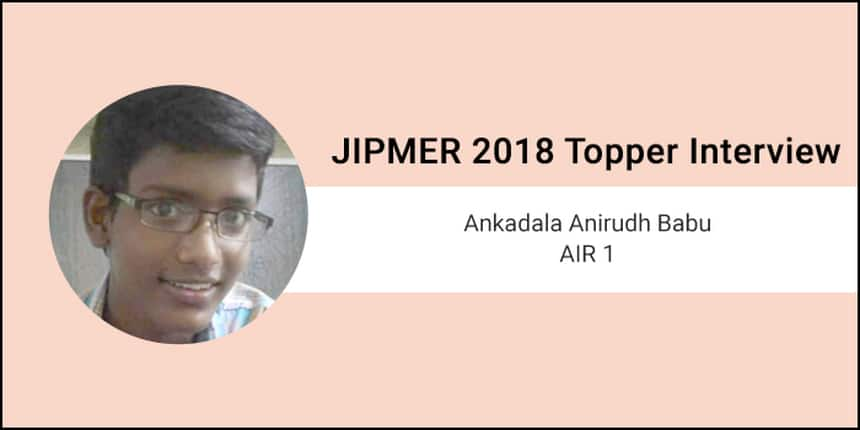 Given that he is one of only two candidates to secure top ten ranks in NEET (where he emerged as AIR 8) and JIPMER MBBS, it is surprising to know that unlike other toppers, Anirudh did not have any particularly strong desire to pursue MBBS and only decided to go for the course since there was yet to be a doctor in his family.
Now eagerly anticipating the AIIMS MBBS 2018 results, Anirudh shares here with Careers360 his preparation strategy for both NEET and JIPMER MBBS and other useful insights into what helped him ace the exams.
Careers360: Congratulations on topping JIPMER MBBS and NEET! What was your initial reaction to the result?
Anirudh: Thank you so much! In NEET I was expecting a top 10, rank but the JIPMER result, in particular, has made me very excited! With NEET being an offline exam, it was possible to calculate the score with the help of my institute's answer key and my friends so I was pretty confident I would score 675-680 marks (Anirudh scored 680). But with JIPMER being an online exam, I had no clue what to expect. I was just expecting a good rank, definitely did not think I could emerge as the topper.
Careers360: How did your family react? How did you celebrate such an incredible result in two of India's toughest medical entrances?
Anirudh: I told my family before the results came out that I will definitely obtain a top 10 or 20 rank in NEET and JIPMER. While they were pleased, they said they would prefer to wait till the results come out. I am very happy that the results came as I had expected. We did not celebrate much. I was just happy sharing the results with my friends and talking to them. I do not go out to watch movies or to shopping malls so everything has been the same and quite normal only.
Careers360: Are you expecting a similar result in AIIMS MBBS as well?
Anirudh: As I mentioned before, it is very difficult to predict for online exams. Plus the AIIMS MBBS paper was relatively difficult compared to JIPMER MBBS 2018 and NEET 2018 so I am only hoping for a rank below 100 for now.
Careers360: Tell us something about yourself and your background.
Anirudh: My father is a Government school teacher and my mother is a housewife. I have an elder sister who is pursuing her MSc in Chemistry.
I studied till Class 8 in St Ann's Convent School, an ICSE school in my native town Pathapatnam, located in Srikakulam district near the Andhra-Odisha border. I had developed a strong foundation in science subjects in Class 8 itself. Seeing this, my father's friend said it would be good if I joined Sri Chaitanya Classes in Vizag for Class 9 and 10 as it would prepare me for Class 11 and 12. His son had also studied there and eventually ended up joining AIIMS, Bhubaneswar. So thanks to the motivation given by him, I joined the classes. I performed quite well in both Class 9 and 10. In addition to that, Iwon prizes in various Olympiads. This helped me secure admissions to Sri Chaitanya Classes in Vijayawada where I completed Classes 11 and 12.
Careers360: How did you prepare for the exams? How did you balance your Boards with these? What were your Board results like?
Anirudh: I had to appear for my Boards through Sri Chaitanya itself and I had absolutely no problem with the preparations. In fact, I only started preparing for the Board subjects one month before the exams. In the case of Andhra, the final State Board performance is done over two sessions - one conducted in Class 11 and the other in Class 12. In the Class 11 session, I secured 433 marks out of 440. In Class 12, the score is given for the total of two sessions and I scored 983 out of 1000 overall.
My entire focus and preparation were centred on the medical entrances. I studied for 15-16 hours a day, from 6 AM to 10 PM with short breaks in the middle. I just believed in studying hard with full dedication.
Careers360: And what did you do to relax?
Anirudh: Being in a residential hostel, I did not have a mobile phone nor many avenues for playing games or sports. I also did not indulge in music or reading for leisure. But I never felt like I needed to do any of these activities either. I was quite content relaxing with my friends, chatting and cracking jokes. Whenever I used to get extra time, I made sure I caught up on my sleep.
Careers360: Which are your favourite and most difficult subjects? Which according to you was the toughest and easiest section in JIPMER? And for NEET?
Anirudh: My favourite subject has always been Physics. Biology is not tough but that is the subject that I needed the most time to prepare for.
In JIPMER, Physics and Chemistry were very easy while Biology was only slightly tougher.
In the case of NEET, I felt Chemistry was the easiest section for me. Physics consumed a lot of time since it was a lengthy paper while Biology was easy.
Careers360: What were your section-wise percentiles in JIPMER and scores in NEET? How were the papers on the whole?
Anirudh: In JIPMER my section-wise percentilesare 99.9780381 in Biology, 99.9719375 in Chemistry, 99.9987799 in Physics, 96.3152757 in English Language and Comprehension and 99.0251342 in Logical and Quantitative Reasoning.
What happened in the case of JIPMER was that for a few questions the data was incomplete. However I still attempted all 200 questions. My friends from the same shift later confirmed that they too found the data for those questions to be incomplete. On the whole though, the paper was very easy. While a lot of other students could not complete the paper, I still had atleast 10 minutes left after completing mine which was quite surprising. JIPMER only gives subject-wise percentiles unfortunately so I don't have any marks to share.
In NEET, I scored 345/360 in Biology, 165/180 in Physics, and 170/180 in Chemistry.
With regard to NEET, I attempted all the 180 questions. I found myself lagging behind in Physics because of the time it was taking in solving questions. Therefore, I completed the Biology section as fast as I could so I could spend more time on Physics. On the whole, the paper was easy but I just regret the fact that I made three mistakes in Physics, two of them very silly ones which cost me important marks.Apart from this, there were some ambiguous questions in Chemistry around halogens and polymers for which we thought the CBSE would award bonus marks. However, that did not happen.
Careers360: Tell us about your friends. How did they help you?
Anirudh: So my closest friends are also two NEET and JIPMER toppers who studied with me in Sri Chaitanya. V Ravi Kiran, who has secured AIR 36 in NEET and Rank 64 in JIPMER MBBS has been my best friend right from Class 9. My other friend was Harsha Vardhan Reddy, who secured AIR 14 in NEET and Rank 37 in JIPMER. All three of us were very close and prepared together for the entrances. In fact, the staff in Sri Chaitanya allotted us a separate room so we could prepare better in each other's company. We were always around to clear each other's doubts and discuss the various questions. Whenever we felt stressed, we would just talk to each other and crack jokes. I believe my friends have played a very essential role in my journey because we exactly understood each other and everything became interesting for us.
Careers360: What made you choose medicine as the profession to target? Where do you see yourselves in ten years?
Anirudh: Frankly speaking, I have not had a very strong personal ambition or goal to be a doctor. What drove me was the fact that there have been no doctors in my family, nor did I know anyone in my native place who was a doctor. So I decided this would be a worthwhile course to pursue just to change that.
I have never been someone who has planned my future in detail so I don't know what specialization I will pursue or where I will be ten years from now. My immediate goal was to crack the medical entrances successfully to be able to get a great college for MBBS and I am happy to have done that for now.
Careers360: Do you have any particular colleges in mind for admissions?
Anirudh: In order of preference, my top three colleges are AIIMS New Delhi, Maulana Azad Medical College, New Delhi and finally JIPMER, Puducherry.
Careers360: Based on your experience, do you have any tips you would like to share with future medical aspirants?
Anirudh: The most important suggestion I can give is to make sure you revise your NCERT books as thoroughly and as frequently as possible, especially for Biology. The maximum questions asked in NEET will be from there. For Physics and Chemistry, apart from studying NCERT texts, solve as many model papers and sample papers to get familiar with the concepts. The main thing to know is about the type of questions that will be asked and prepare accordingly. It will be a huge loss if you do not know the pattern of questions hence I would say it is best to go through the question papers of the last 5-6 years at least.
For AIIMS MBBS, which is an online exam, note that most candidates find the Reason Assertion questions to be particularly difficult. There were some questions which are not part of the syllabus so are left unattended. Therefore, I would suggest to practice for Reason Assertion as much as you can. Many questions are calculation-intensive and require accurate answers so be sure to focus on accuracy rather than the approximation.
JIPMER is quite easy and your preparations for NEET and AIIMS should suffice in helping you clear the same.
Questions related to NEET
Showing 83466 out of 83467 Questions