JIPMER MBBS 2018 Topper Interview: "Brace yourself, and give it all you can", says Prerak Tripathi, AIR 3
JIPMER MBBS 2018 Topper Interview - Prerak Tripathi, quite a disciplined and focused candidate, in his first attempt to all the three major medical entrance examination proved that assiduity is the lead to any triumph. He managed to capture the All India Rank of 3 in JIPMER MEDICAL, AIR 33 in NEET (Score 670) and AIR 79 in AIIMS MBBS. Unlike most of the toppers, Prerak's dream is to pursue MBBS in AIIMS (All India Institute of Medical Sciences), Bhopal.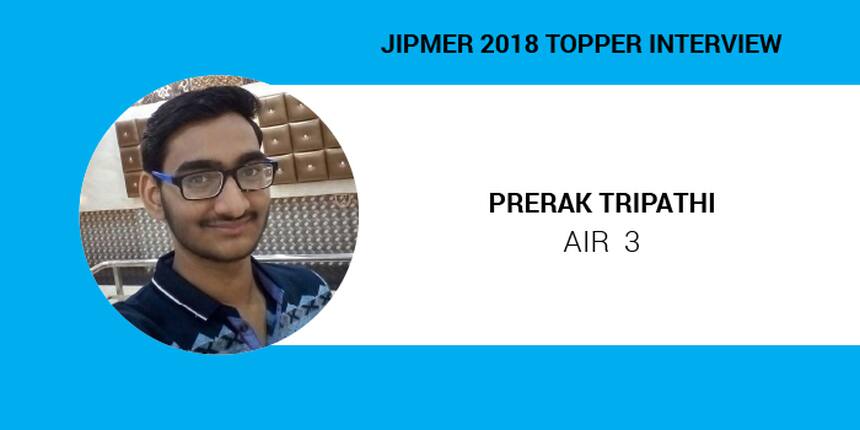 Hailing from Fatehpur, Prerak moved to a lot of places due to his father's nature of work until Class 7. Prerak had decided his future after getting introduced to Physiology. He found immense pleasure in the subject and decided to pursue Medicine over Engineering. Careers360 brings forth the interview of Prerak Tripathi, where he shares his exam experience as well as preparation strategy that helped him ace the highly competitive examinations.
Read the full JIPMER MBBS2018 topper interview of AIR 3 Prerak Tripathi here.
Excerpts from the interview:
Careers360: Heartiest Congratulations on making it to the top 10 list in JIPMER! How are you feeling and celebrating your achievement?
Prerak: Thank you so much. I was pleasantly surprised to see my rank in JIPMER as I was not confident about my English paper. Now I know, it is important to hold on your strengths than to cry on your weaknesses. My strength and weakness were Physics and English respectively. Just feeling great!
Careers360: Tell us something about yourself and your background.
Prerak: My father completed his M.Sc in Agriculture (Animal Husbandry) and currently works as a State Coordinator in semi-government projects and my mother is a home-maker. We are four siblings.
Due to frequent relocation, until class 6, I studied in various schools. From Class 7 till Class 9, I was in St Joseph's Convent, located in Ratlam where I was introduced to serious learning. Thereafter, my father got transferred to Kanpur and I completed my Board exams from Guru Nanak Public School in Kanpur itself. After the completion of the Higher Secondary examination from CBSE Board, I appeared for JEE MAIN where I qualified with 215 scores. Took an academic gap, prepared for the medical entrance examinations and cracked them all!
Careers360: What is your overall and subject wise score of JIPMER 2018?
Prerak: My overall percentile in JIPMER 2018 is 99.99 and the subject percentiles are Biology- 99.998, Chemistry- 99.924, Physics- 99.959, English Language and Comprehension- 70.817, Logical and Quantitative Reasoning – 99.025.
Careers360: What was your exam day strategy for JIPMER 2018?
Prerak: I started my exam with Biology, followed by English, Chemistry and Physics.
Careers360: How NEET is different from JIPMER and AIIMS in terms of exam pattern and level of difficulty?
Prerak: While the NEET 2018 questions were mostly based on the NCERT books, to solve the JIPMER and AIIMS MBBS 2018 questions one needed to gather holistic knowledge of all the related subjects. The Physics paper was quite lengthy in AIIMS and I did not get an opportunity to revise my paper. On the contrary, I had completed JIPMER paper in two hours; could meticulously revise the paper.
Careers360: How did you prepare for JIPMER 2018? Did you undertake any coaching or external assistance? If yes, how beneficial did it prove?
Prerak: I cleared the JIPMER exam based on my AIIMS preparation. Obtaining a rank and standing amidst the top 5 test takers in JIPMER was never thought of as I was utterly weak in English. NCERT books were my Bible and I kept revising the lessons till the last day before the exam.
Yes, I did take coaching classes for three years; solved numerous topic-wise tests within 36 months and around 20 mock tests in the last six months.
Careers360: What motivated you to pursue medicine as a career?
Prerak: When introduced to Physiology, I fell in love with the subject. An in-depth understanding of the living organism and bodily part functions helped me take the decision of choosing medicine as my career. Moreover, my uncle, who is a doctor by profession,  motivated me to choose my field of study as well.
Careers360: How did your family support you in this journey?
Prerak: I would dedicate my success to my mother without whom, I would not have been able to make it to top 500, leave alone AIR 3! In spite of hectic work schedule, my father provided me constant support too. Last, but not least, my siblings inspired me every moment during my preparation tenure.
Careers360: How much time did you devote in self-study vs. coaching?
Prerak: I maintained a strict routine throughout my preparation period. With no additional pressure for Board examination, I had ample time to concentrate on NEET, AIIMS and JIPMER exams. I devoted around four and half hours for self-study at night (10 PM- 2:30 AM) every day and regularly attended the coaching sessions that started at 10:40 AM and continued until 3:00 PM.
Careers360: Any college, you have in mind for admissions?
Prerak: It has been my dream to see myself pursuing MBBS at AIIMS, Bhopal. With my AIIMS rank (AIR 79) and percentile (99.98), I am sure to secure a seat in my dream institute.
Careers360: What are your hobbies? Could you engage in them during the preparations?
Prerak: My favourite hobby is to listen to music. I love to sing and play outdoor games as well. Additionally, I religiously read the newspaper every morning and make it a point to read all the news articles; it sometimes takes me an hour to finish reading but I do not let it go. During preparation, I never compromised on my hobbies.
Careers360: Which factors would you attribute this success to?
Prerak: Without any second thoughts, I would attribute this success to Akash Institute that has guided me for three long years, providing me with a scholarship for the entire training period. Would also like to thank my Friend, Philosopher, and Guide Ankit Sir, who initially taught me Physics but extended his guidance to Chemistry, Biology, and General Knowledge as well. Most importantly, he taught me the life-skills which would help me be a better person in future.
Careers360: Where do you see yourself in the next 10 years?
Prerak: Post ten years, I would like to see myself as a successful Cardiac Surgeon. After completing my specialisation, would like to opt for super-specialisation in the US. Though I would pursue higher studies in the US, will practice in Kanpur or anywhere in India. Our country needs young and good doctors.
Careers360: What is your message for the future JIPMER aspirants?
Prerak: Try to stay academically connected; in whatever you do. Get your concepts right, practice hard, manage time so that you can get some time to revise the entire paper. Success comes naturally if you have set your goals right.
Best wishes for all the future aspirants!
Questions related to NEET
Showing 83466 out of 83467 Questions