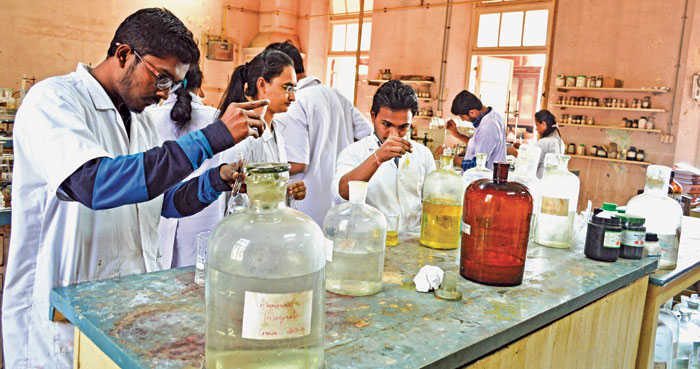 In the ever-evolving field of medicine, new discoveries and advancements in treatment mechanisms offer career opportunities that are both exciting and challenging. So, if Biology makes you curious to know more and new research on health issues excites you, an MBBS programme might be a good career option for you. As Arushi, who topped two of the most competitive entrance exams - JIPMER MBBS and AIIMS MBBS - in 2016, says, "Since my childhood, I have been fascinated with medical profession. Moreover, Biology always made me curious about the workings of the body. Medicine, thus, was a natural choice for me."
Bachelor of Medicine and Bachelor of Surgery or MBBS is one of the most sought after professional degrees in India. It is a four-and-a-half-year degree followed by a mandatory rotational residential internship of one year. In order to pursue MBBS, a student should have compulsorily studied Biology in class 12 along with two other science subjects - Physics and Chemistry.   
Changes in MBBS admission procedure
Admission procedure for around 52,000 undergraduate medical seats across all government and private medical as well as dental colleges has been overhauled with the Supreme Court's landmark judgement on implementation of National Eligibility cum Entrance Test (NEET) from 2016. In May this year, the apex court had cleared the Medical Council of India (MCI) proposal for a common entrance examination – NEET with the prospect of scrapping all state and private-level examination, fair admission process, eradicating corruption and capitation fee. "Implementation of NEET exam is a great move. Now, as all the colleges are under one umbrella, the chances of getting admission in MBBS for deserving candidates are extremely high," says Brajesh Maheswari, Director, Allen Career Institute.  
Apart from NEET, two institutes of national importance - All India Institute of Medical Sciences, New Delhi and Jawaharlal Institute of Postgraduate Medical Education & Research (JIPMER), Puducherry are allowed to conduct their separate entrance tests for admissions to 700 and 150 MBBS seats respectively. 
Top undergraduate exams
There will be only three national level entrance test in 2017 - NEET UG, AIIMS MBBS and JIPMER MBBS -- for undergraduate medical programmes (MBBS and BDS). Among the three, NEET UG facilitates admission to MBBS/BDS seats across all government and private medical as well as dental colleges except AIIMS and JIPMER.
NEET UG Entrance Exam: NEET had replaced almost 90 state and private medical entrance exams for admission to approximately 52,000 MBBS and BDS seats in around 500 government as well as private medical and dental colleges across India. Central Board of Secondary Education (CBSE) is expected to conduct next NEET in May 2017.
NEET UG score will be applicable for admission to following seats:
q 15% All India Quota Seats: Admission to 15% All India Quota Seats will be conducted by Medical Counselling Committee (MCC) through centralized online counselling. 
q State Government Quota Seats: The states accepting NEET will conduct counselling for allotment of MBBS and BDS seats in respective medical and dental colleges based on NEET score. These states will prepare state merit list based on the NEET score for candidates belonging to them.
q Private/Deemed University MBBS Seats: Private medical institutions will accept NEET score for admission to seats under their control. They will announce their admission procedure/criteria after the declaration of NEET result. 
AIIMS MBBS Entrance Exam: This is national-level computer-based test conducted by All India Institute of Medical Sciences, New Delhi (AIIMS) for admission to 700 MBBS seats in seven AIIMS institutions located at New Delhi, Bhopal, Patna, Jodhpur, Rishikesh, Raipur and Bhubaneswar. Each AIIMS has 100 MBBS seats (earlier there were only 672 seats, but from 2017 it will be increased to 700).
JIPMER MBBS Entrance Exam: Jawaharlal Institute of Postgraduate Medical Education & Research (JIPMER), Puducherry conducts JIPMER MBBS online entrance test for admission to 150 MBBS seats of the institute. It has two campuses - Puducherry and Kariakal, with 100 and 50 seats respectively.
Medical entrance exam application procedure
The application form of NEET UG, AIIMS and JIPMER will be filled through online mode. The application procedure details are mentioned below.
Who can take these exams?
Eligibility criteria to pursue MBBS programmes comprise elements like academic qualifications, age limit, domicile requirement etc. In general, the aspirants must have passed class 12 with Physics, Chemistry and Biology as compulsory subjects to apply for these entrance tests. The details are given below:
How to prepare for medical entrance examinations?
In India, over 8 to 10 lakh candidates annually appear for different medical entrance exams. But the fact remains that less than 5 per cent of the total aspirants get MBBS seats in medical colleges across India. The exam preparation plan must incorporate the following points.
Candidates must have conceptual clarity of topics in Physics, Chemistry, Zoology and Botany to score good marks.
Selecting right preparation materials:  Selecting right preparation material is the most crucial part for cracking an exam. Toppers and experts suggest that candidates must read NCERT books along with other preparation materials to clear concepts in all the three subjects-Physics, Chemistry and Biology. The NCERT books are really helpful while preparing for NEET, says Het Shah who bagged AIR 1 in NEET 2015. "I started with strengthening my basic concepts with the help of NCERT core books. I would like to emphasise to prepare Biology from NCERT which really helped in solving questions during the exam," he says.

Consistency and Routine Study: Consistency is one of the most pivotal elements of success. Many toppers say that the main factor behind their success is their consistent and routine study plan.

Gauge your preparation with mock tests: Mock tests are simulated papers based on exam pattern. They help you to revise the syllabus well before the real examinations. With these tests, you can evaluate your weakness and strengths.
However, your journey into the medical profession does not just end with entry into a medical college. It starts with five-and-a-half-years of Bachelor of MBBS followed by two years of specialised postgraduate programmes in Master of Surgery (MS) and Doctor of Medicine (MD). One can also pursue super specialisations after that.
Becoming a doctor is tough as it requires nearly 7-8 years of rigorous study followed by internship and strenuous hospital work. Even after becoming a doctor you still need to work hard and undergo the stress of dealing with human suffering, and takes years to become a specialist in a particular field. It's a long, strenuous journey, but worth the effort.
Top medical colleges in India
Stay tuned to www.medicine.careers360.com for more information on NEET
Questions related to NEET