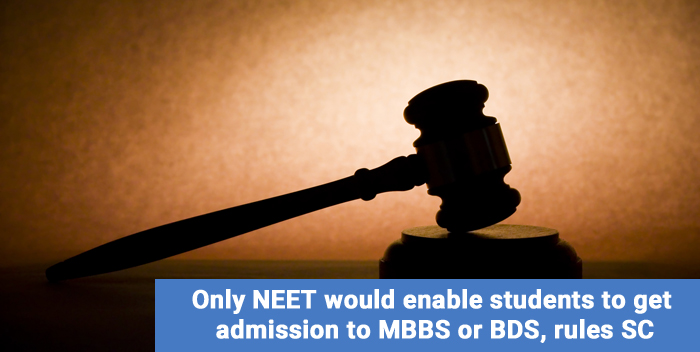 In its final order on common medical entrance exam for all medical colleges in India, the Supreme Court on May 9 ruled that only NEET would enable students to get admission to MBBS or BDS. The decision on implementation of NEET 2016 from current academic session was taken by a three-judge SC bench headed by Justice AR Dave after hearing pleas from all affected parties on May 9, 2016.


The apex court also refused to modify its previous April 28 judgement which restrained private medical colleges and state governments to conduct their separate medical entrance tests. "Only NEET would enable students to get admission to MBBS or BDS studies," the SC bench said. Read the full story here.


With this judgement of the apex court making NEET mandatory for MBBS and BDS admissions, all private and government medical entrance exams in India like MH CET, KEAM, BCECE, JKCET, EAMCET (TS & AP), COMEDK, BVP CET, Manipal Medical stand cancelled now.


[Click here to Enroll Complete NEET Preparation Package to Crack NEET Exam or call at 011-40360360 to talk expert counsellors]
May 9, 2016: NEET judgement by Supreme Court - Highlights
NEET 2 open for all
In the judgement, the SC bench said that NEET 2016 can be taken up by all candidates irrespective of their appearance in NEET 2016 Phase1/AIPMT 2016 which was held on May 1, 2016. However, it put a rider that candidates who will take NEET 2016 Phase 2 will have to give up their candidature for NEET 2016 Phase 1/AIPMT 2016. This means examinees who reappear NEET 2, will lose their score of NEET phase 1.
Considering the perceived hardship to the students who have either applied for NEET-I but could not appear or who appeared but could not prepare fully thinking that the preparation was to be only for 15% All India seats and there will be further opportunity to appear in other examinations, SC allowed all candidates to appear for NEET 2.   "To allay any such apprehension, we   direct that all such eligible candidates who could not appear in NEET-I and those who had appeared but have apprehension that they had not prepared well, be permitted to appear in NEET-II, subject to seeking an option from the said candidates to give up their candidature for NEET-I," the court said.
Given that arrangement of logistics may take a little more time for conducting NEET for all candidates again, the SC bench left it on CBSE to decide a fresh date for NEET 2, if it wished so.
SC bars state-level medical entrance exams
The Supreme Court rejected the state government pleas for holding undergraduate medical exams for admission to MBBS and BDS seats under their respective state quota. The court ordered  states that admission to their state quota seats will be done on the basis of NEET 2016 score only.
The apex court also overruled the request on difficulties cited by many states in adopting NEET for their MBBS/BDS admissions. Earlier, many states had pleaded that their candidates will be affected from the NEET because the exam is in accordance with the CBSE syllabus and students from the state boards will be at disadvantage. Also, they had argued that NEET is conducted either in English or Hindi, which puts students who studied in the vernacular medium at disadvantage.
The SC however ruled that "there is no infirmity in the NEET regulation on the ground that it affects the rights of the States or the private institutions. Special provisions for reservation of any category are not subject matter of the NEET nor are rights of minority in any manner affected by NEET."
The apex court also ordered CBSE to conduct the NEET Phase 2 in vernacular languages so that candidates from different regions do not face any problem in understanding questions.
Private Medical Exams stands cancelled
While private medical colleges like CMC Vellore made their last ditch efforts to save their own medical tests, the Supreme Court refused to buzz which resulted in scrapping of entrance tests for all private colleges and deemed universities. The apex court in its order said that "no examination shall be permitted to be held for admission to MBBS or BDS studies by any private college or association or any private/deemed university".
"The stand of the private medical colleges (including minorities) that conducting of entrance test by the State violated right of autonomy of the said colleges, has been rejected," the SC order read.
"Special provisions for reservation of any category are not subject matter of the NEET nor are rights of minority in any manner affected by NEET.      NEET only provides for conducting entrance test for eligibility for admission to the MBBS/BDS course," it further added.
This means that all the medical entrance exams conducted by private colleges and deemed universities thus far stand cancelled with effect of the SC order on NEET 2016 implementation from current academic session. Following the SC order, private medical entrance exam like COMEDK, Manipal Medical, SAAT, Amrita MBBS, BVP CET, CMC Vellore, CMC Ludhiana, DY Patil, etc. can't be conducted. Read the full story here.
Many private medical and dental colleges have issued notification regarding cancellation of their entrance exams. The private medical colleges will now consider NEET 2016 score for admitting candidates to their MBBS and BDS programmes.
The SC also appointed anOversight Committee to ensure total credibility of the examination to be held by the CBSE.
Read More on NEET 2016:
About NEET 2016
Supreme Court order on NEET 2016 is given below:
Stay tuned to medicine.careers360.com for more news and feature related to NEET 2016
MBBS Companion 2019
Predict chances in 3000+ colleges, Know All India Counselling & Admission process etc.
Know More
Questions related to NEET