NEET 2016 Result: Top rankers
After NEET 2016 results announced on August 16, 2016 by Central Board of Secondary Education (CBSE), Careers360 brings you details of NEET 2016 toppers. Amongst the top rankers of NEET 2016, as many as five candidates are already pursuing their classes in AIIMS after securing top ranks in AIIMS entrance examination 2016.

Also Read -
NEET 2019
NEET Eligibility Criteria 2019
NEET Application Form 2019
NEET Admit Card 2019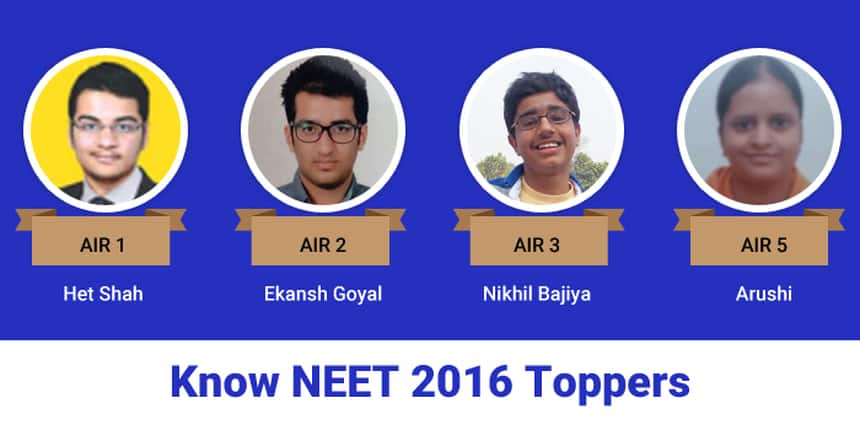 The list of NEET 2016 toppers includes three female candidates - Arushi, Dyuti Shah and Japnoor Kaur with AIR of 5, 6 and 7 respectively. According to CBSE officials, a total of 8,02,594 candidates had registered for the national level entrance test, out of which, 7,31,223 had appeared in NEET 1 and II. This means that out of the total registered candidates, 71,371 didn't take the entrance exam. Among the total 7, 31,223 examinees, as many as 3,37,572 were male, 3, 93,642 were female and 9 were transgenders.
Interestingly, all the top three rankers in NEET did not appear for phase 2 exam.
Careers360 brings you the list of top 10 rankers of NEET 2016.
Het Shah from Nadiad (Gujarat), who was AIIMS 2016 AIR 4, has topped the NEET 2016 exam. Ekansh Goyal from Odisha who had secured AIR 9 in AIIMS 2016 has bagged the second position in NEET 2016. The table below shows top 10 rankers.

NEET 2016 Toppers
| | |
| --- | --- |
| S.NO. | Candidate's name |
| 1 | Het Shah |
| 2 | Ekansh Goyal |
| 3 | Nikhil Bajiya |
| 4 | Ashank Khaitan |
| 5 | Arushi |
| 6 | Dyuti Shah |
| 7 | Japnoorkaur |
| 8 | Dhritiman Chatterjee |
| 9 | Amit Kumar |
| 10 | Utkarsh Anand |
Check below for NEET 2016 topper's profiling:


All India Rank: 1
Het Shah
Marks secured out of 720: 685
Percentile score:99.999863
Town/State: Nadiad Gujarat
AIIMS 2016 Rank: AIR 4

Careers360 interviewed Het Shah when  he secured AIR 4 in AIIMS 2016. Click here to read his full interview
---
All India Rank: 2
Ekansh Goyal
Marks secured out of 720: 682
Percentile score:99.999726
Town/State: Sundergarh, Odisha
AIIMS 2016 Rank: AIR 9

Careers360 interviewed Ekansh Goyal when he bagged 9th position in AIIMS 2016. Click here to read his success mantra



---
All India Rank: 3
Nikhil Bajiya
Marks secured out of 720: 678
Percentile score:99.999590
Town/State: Jhunjhunu, Rajasthan
AIIMS 2016 Rank: AIR 2

Careers360 interviewed Nikhil Bajiya when he secured AIR 2 in AIIMS 2016. Click here to read his full interview



---
All India Rank: 4
Ashank Khaitan
Marks secured out of 720: 677
Percentile score:99.999543
---
All India Rank: 5
Arushi
Marks secured out of 720: 676
Percentile score:99.999316
Town/State: Chandigarh
AIIMS 2016 Rank: AIR 10

Careers360 interviewed Arushi when she secured AIR 10 in AIIMS 2016. Click here to read her full interview



---
All India Rank: 6
Dyuti Shah
Marks secured out of 720: 675
Percentile score:99.999179
Town/State: Karnal, Haryana
AIIMS 2016 Rank: AIR 6
---
All India Rank: 7
Japnoor Kaur
Marks secured out of 720: 672
Percentile score:99.999043
---
All India Rank: 8
Dhritiman Chatterjee
Marks secured out of 720: 671
Percentile score:99.998906
---
All India Rank: 9
Amit Kumar
Marks secured out of 720: 669
Percentile score:99.998769
---
All India Rank: 10
Utkarsh Anand
Marks secured out of 720: 668
Percentile score:99.998632
Stay tuned to www.medicine.careers360.com for more news and information on NEET 2016
Save
Save
Questions related to NEET
Showing 83503 out of 83504 Questions