NEET 2016 Topper Interview: Practice by taking as many mock tests as you can, says AIR 8 Dhritiman Chatterjee


Dhritiman Chatterjee from Kolkata, West Bengal, who has secured AIR 8 in NEET 2016, was always known for performing exceptionally well at his school. The topper has already taken admission at Jawaharlal Institute of Postgraduate Medical Education and Research (JIPMER). A student of Calcutta Boys' School, Dhritiman drew inspiration from his parents' encouraging words. Though the movie buff could not get time to go to theatre for watching movies, still he managed to watch movies on his mobile phone. After hectic study hours, he often used to play gully cricket with friends to relax his mind.

Related Post -
NEET 2019
NEET Eligibility Criteria 2019
NEET Application Form 2019
NEET Admit Card 2019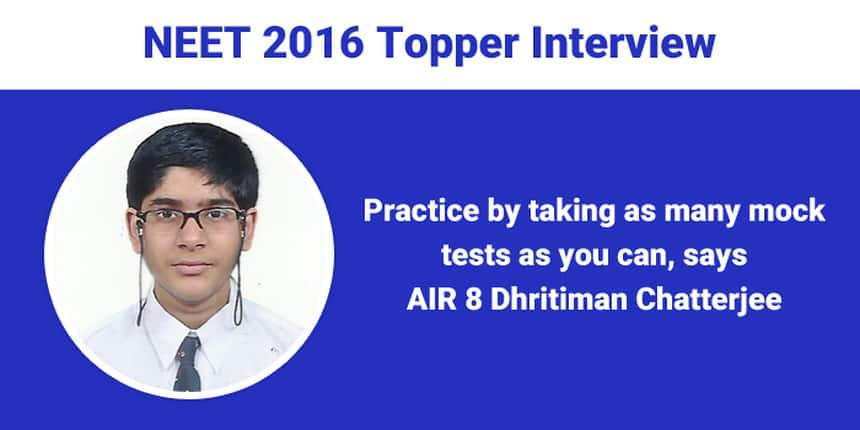 In this exclusive interview with Careers360, the aspiring surgeon shares his preparation strategy and tips to crack the coveted entrance test, for medical aspirants who will be appearing in NEET 2017.


Read the full interview below.
Click here to know everything about admission through NEET 2016.
Careers360: Congratulations on your outstanding performance in NEET 2016! Are you surprised?
Dhritiman: Thanks a lot. I was completely stunned. Actually, I was expecting to come under top 20 rankers, but I was speechless when I got to know that I am among the top 10. 


Careers360:What are the key factors behind your spectacular success in NEET?
Dhritiman: Sincere efforts and continuous practice were the key efforts behind this victory. I used to solve mock/practice tests as many as possible. I made sure that I give my 100% when I sit down to study.
Careers360:What made you choose medicine as a career? From when did you start preparing for it?
Dhritiman: I chose medicine as my career as this is among the noble professions. I started preparing for it when I was in Class XI.
Careers360: Which field of medicine would you like to pursue your career in after MBBS?
Dhritiman: I have not decided it yet, but I have interest in pursuing Surgery as my career.
Careers360:Did you have any preparation strategy for NEET? Would you like to share some of the names of books you have studied from?
Dhritiman: I didn't have any preparation strategy as such. I sat down to study whenever I felt like. I joined coaching classes and followed every instruction of my teachers. For Chemistry and Biology, I studied from textbooks and notes that were given in my coaching class. I studied from DC Pandey for Physics preparation.
Careers360:Did you appear for NEET 1 or NEET 2, or both? According to you, how was the overall difficulty level of the exam? Which were the easiest and toughest subjects?
Dhritiman: I appeared in NEET phase 1, which was, overall, of moderate difficulty level. I found Physics the lengthiest section. Biology was the easiest part according to me, while questions asked in Chemistry were of average difficulty level.   
Careers360:Do you think coaching is necessary to crack entrance exams like NEET?
Dhritiman: Yes, I think a student can perform exceptionally well if he/she has joined coaching classes. This way, they get expert guidance from teachers. This is not possible when you are doing self-studies. Also, you get a sense of competition as all your companions have the same goal of cracking the entrance exam with a good score. This positive pressure helps you in giving your best.


Careers360:Would you like to share a little about your family? How supportive were your family members in your preparation phase?
Dhritiman: I am only child of my parents. My father works in an IT company whereas my mother is a homemaker. They have always been very supportive. There was not any kind of pressure from them. They encouraged me a lot during my preparation phase and to give my best in the exam.
Careers360:This year, there has been lot of confusion surrounding AIPMT and NEET. Did the ongoing NEET row affect your preparation?
Dhritiman: To be honest, I was not that much affected by all that confusion and controversy. I had complete confidence in me and my preparation. I knew that I will be able to perform well in NEET.
Careers360: From next year onwards, only NEET will be held for UG medical admissions. What's your take on that?
Dhritiman: This has advantage as well as disadvantage. The benefit is that students will be saved from the hassle of appearing in multiple entrance exams, while on the other hand, the drawback is that they will be given only once chance to prove their mettle. If a student is not able to perform well in NEET, then he/she will not be getting any other opportunity.    
Careers360:What did you do to get stress-free after long hours of studies? Do you like movies? Which movies you like the most?
Dhritiman: To relieve my stress, I used to play cricket with friends or watch television. I enjoyed watching 'House', which is an American television series. I love Bengali movies, especially Satyajit Ray directed 'Goopy Gyne Bagha Byne'. I did not get time to watch movies at theatres, so I used my mobile phone for that purpose. The last movie I watched was 'Tamasha', a Bollywood movie.
Careers360: Would you like to share any message for medical aspirants who will be appearing for the entrance exam next year?
Dhritiman: You should focus on solving maximum number of practice papers and mock tests. But before that, understand that time management is the most important ingredient of success. Proper planning and systematic study play a key role in cracking competitive examinations. Also, remember to keep calm during the test and give your best shot.


Also Read:

Stay tuned to www.medicine.careers360.com for more news and featured articles on NEET 2016.
Questions related to NEET
Showing 83325 out of 83326 Questions