NEET 2017 Topper Interview: Focus and determination is what kept me going, says Archit Gupta, AIR 2
17 year old NEET 2017 topper, Archit Gupta, is elated beyond words for the unexpected AIR 2 in NEET 2017. Archit is someone who does not believe in the number of hours one puts into studies but the quality of efforts put in those hours. Archit, who is also a big fan of mobile games, had previously appeared for AIIMS MBBS 2017 and JIPMER 2017 where he scored AIR 2 and AIR 35 respectively. He plans to pursue his dream of becoming a doctor from AIIMS Delhi.

Related Post -
NEET 2019
NEET Eligibility Criteria 2019
NEET Application Form 2019
NEET Admit Card 2019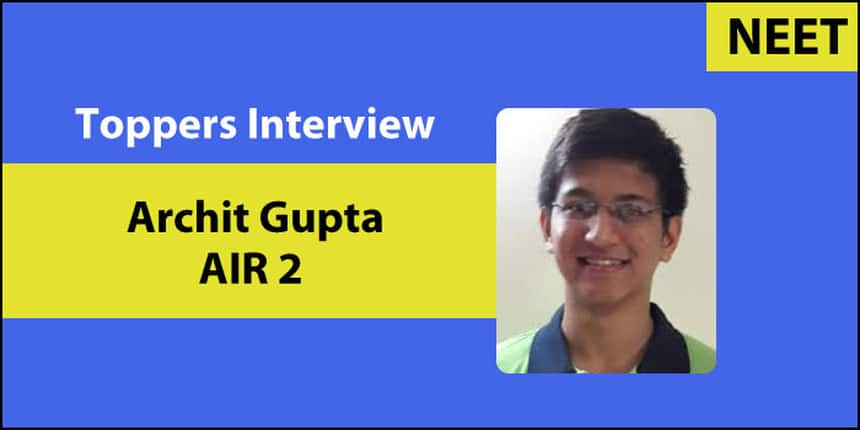 Archit recommends aspirants make a preparation strategy which suits them best, rather than following the preparation strategy of other toppers. As per him, to be most effective, a candidate's strategy should be customised and created based on one's own strengths and weaknesses. He also mentioned that aspirants should specially focus on what they are taught by mentors at coaching institutes.
Read the complete interview below to know the preparation strategy of this AIIMS and NEET second ranker:
Careers360: Congratulations of grabbing the AIR 2 in NEET 2017. What was your first reaction to the outstanding result?
Archit Gupta: Honestly, I was not expecting such a high rank. I was expecting a good rank, but securing AIR 2 is beyond words. I am still trying to let this and the news of being AIR 2 in AIIMS sink in.
Careers360: Tell us about your family. How did they support you during the preparation days?
Archit Gupta: I feel blessed to have such parents who have been with me through thick and thin. They never pressurised me to take up any subject or pursue anything else that I didn't feel passionate about. They just let me be. My father, who is a business man by profession, never asked me to join and be a part of his business. He always insisted I follow my passion. My mother is a teacher. Both of them were very supportive during the preparation period. Probably this is one of the reasons for how I performed this year.
Careers360: Neither of your parents are doctors. What motivated you to pursue medicine as your career?
Archit Gupta: Yes, my parents do not belong to that field. It was my passion to pursue medicine as I was inclined towards helping people and serving the nation.
Careers360: What's your success mantra behind cracking NEET exam?
Archit Gupta: I did not have any success mantra. I just followed what I was taught in my coaching institute and did lots of revision. I made sure I wouldrevise whatever I was taught in the class at home as well.
Careers360: Tell us about your study schedule during preparation?
Archit Gupta: Surprisingly, I did not follow any schedule. I studied whenever I felt like but those were good hours that I put in. Whenever I sat down to study, I would give my best and not think about anything else.
Careers360: Among the three subjects, which was the easiest and toughest subject for you?
Archit Gupta: I treated all three subjects equally. I do not consider any of them easy or tough as I find all three of them at par.
Careers360: How was your NEET experience?
Archit Gupta: I was slightly nervous and tense when I was taking the exam. But then somehow when I started the paper, I started feeling more confident and relaxed.
Careers360: Did you appear for any other medical entrance tests? What are your ranks in those exams?
Archit Gupta: I appeared for AIIMS MBBS 2017 and JIPMER MBBS 2017, where I secured AIR 2 and AIR 35 respectively. I have secured 100 percentile in AIIMS MBBS.
Careers360: How did you balance between preparation for your state board exam and NEET?
Archit Gupta: It was not that difficult as the preparation for my state board was always there. Like I said I always followed up at home whatever had been taught in class throughout the day.  I took coaching guidance from Allen Kota for my medical entrance exam preparation. While preparing for medical entrance tests, I heavily relied on my coaching institute's guidance and I feel I have been able to secure such a rank beacuse of that.
Careers360: Your schedule would have been quite hectic during preparations. What did you do to keep yourself refreshed?
Archit Gupta: I am not someone who will only be studying and not take off time for myself. I like playing mobile phone games and love watching Hollywood movies. I have always been a big fan of Christian Bale.
Careers360: Do you think coaching is necessary for cracking exams like NEET?
Archit Gupta: According to me, coaching is necessary only if you are aiming for top ranks. But those who wish to avail it should go ahead as the guidance provided by them is useful and effective for everyone. They have helped me understand my strong areas and work on weaker areas.
Careers360: Where do you see yourself 10 years down the line?
Archit Gupta: I see myself as a successful doctor.
Careers360: What suggestions would you like to share with the MBBS aspirants?
Archit Gupta: Nothing is impossible if you work really hard. I would suggest aspirants to not follow methods that toppers are adopting, instead I would suggest that they create their own plan and follow the same. I would suggest them to focus and be determined with their preparation strategy and success will follow.
Also Check -
Stay tuned to medicine.careers360.com for more information on NEET 2017 toppers
Get real-time alerts on exam & colleges at your fingertips with Careers360 App!
Click Here to Install or Give a missed call on 08080944727 to get app link.
Questions related to NEET
Showing 101991 out of 101991 Questions