NEET 2017 Topper Interview: Conceptual clarity and regular revision led me to success, says AIR 6 Deric Joseph
We all want to have a successful career which will help us lead a lifestyle of our choice. But how many of us try to choose a career which will help not just us but others as well? For Deric Joseph, AIR 6 in NEET 2017, that is the idea which motivated him to pursue medicine. With this integrity and dedication Deric immersed himself in rigorous preparation for two years. He followed strict timetable and balanced subject wise preparation which resulted in success for not just NEET but AIIMS MBBS and JIPMER exams as well.

Related Post -
NEET 2019
NEET Eligibility Criteria 2019
NEET Application Form 2019
NEET Admit Card 2019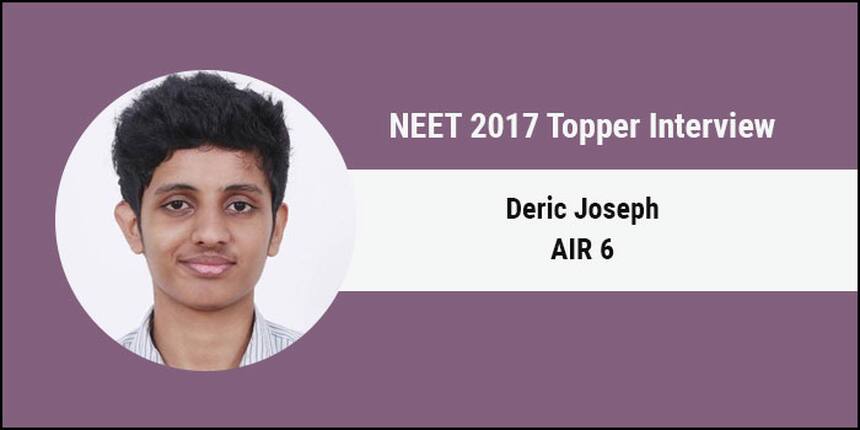 Kerala boy Deric has scored 691 out of 720 and secured 99.999358 percentile. He is also a national level topper of KVPY exam. According to Deric, his success mantra was to get conceptual clarity in subjects like Physics and Chemistry and regular revision in Biology, which carries 50 per cent weightage in NEET. In this exclusive interview with Careers360, Deric shares his preparation strategy, life beyond preparation and advice for future medical aspirants.
Read the full interview below.
Careers360: Congratulations on bagging AIR 6 in NEET 2017! Were you expecting to be among the top 10?
Deric: Thank you! No I was not at all expecting it. I was sure that I would be among top 100 but being in top 10 is definitely a dream come true moment for me. It's beyond my expectations and the feeling is yet to synch in. However, right now I am not indulging in celebration and focussing on AIIMS Delhi counselling which is on July 13.
Careers360: Did you appear in other medical entrances like JIPMER and AIIMS MBBS? What are your ranks in them? Which medical college are you targetting for admission?
Deric: Yes I have appeared in both these exams along with NEET. My ranks in AIIMS and JIPMER are AIR 16 and 17 respectively. I am targetting to take admission in AIIMS Delhi for MBBS.
Careers360: Tell us something about yourself and your family members.
Deric: My family consists of my parents and two elder brothers. My father works as the Assistant Director, Department of Co-operation, Government of Kerala. My mother works for Payam Service Cooperative Bank, Kerala. My eldest brother is a final year medical student at Calicut Medical College and elder brother is an Engineering student. I have done my schooling from Densil English School till Class 10 and did my 10+2 from St. Antony's Public School, Kottayam.
Careers360: When did you decide to pursue a career in medicine and what motivated you to do so?
Deric: When I was in Class 10, I decided to go for a career in medicine and started preparing accordingly. In my mind, I had this clarity that whatever my profession be, it should not be beneficial just for me but should benefit others and the society as a whole. And what better way to serve people than being a doctor!
Careers360: When did you start preparing for NEET and what was your strategy?
Deric: I focussed on NEET preparation after Class 10th board exam. I joined Brilliant Study Centre. Basically the strategy was to focus on all subjects and clear the concepts. Since 50 per cent weightage is given on Biology, I focussed more on this subject. After that, I moved towards Physics. Since Chemistry is my favourite subject, I did not need to put much efforts behind it. During school days, I started to study from morning 6 AM. On regular days I used to study for four to five hours and during study leave and holidays, I studied for more than 10 hours. I followed NCERT and school text books along with the study materials provided by my coaching institutes. I also took mock tests and solved previous years' question papers regularly.
Careers360: What were your strengths and weaknesses? How did you tackle your strong and weak subjects?
Deric: As I have already mentioned, Chemistry was my favourite subject so I had to put least effort behind it. Initially I found Physics tough but I concentrated on the basics. I realised that once you gain conceptual clarity, no question is unsolvable. As far as Biology is concerned, revision was the key. I revised the basics and solved questions every day. Even in the last few days before the exam, I allotted maximum time for revising Biology.
Careers360: How did you balance your board exam preparation with that of the Medical entrance tests?
Deric: I did not treat board exams and entrances differently. The syllabus was same and if you have the concepts clear, it does not matter which exam you are preparing for. After my board exams I concentrated on taking mock tests and solving previous years' AIPMT (erstwhile NEET) question papers to practice and get used to the exam pattern and develop test taking strategy. Last few months and days before NEET were a balanced mix between revision and practice.
Careers360: Share your NEET 2017 exam day experience with us. What was your exam taking strategy?
Deric: I was really tensed at the beginning. Eventually I managed to calm down. I went through the question paper and decided which questions to attempt based on my confidence and estimated accuracy. I started with Biology and completed 90 questions in more than an hour. The next section was Physics. This section was very much time consuming and took me one hour to complete it. Chemistry was the last and final section I attempted and did not take much time to complete it. I had sufficient time left for revision.
Careers360: According to you, how important is coaching and mock test for cracking NEET?
Deric: The guidance I received from my coaching institute was major contributor in my success. The mentors have not only helped me in providing me with right materials and suggesting me ways to improve my weaknesses, they also kept me aware about my performance vis a vis other students through mock tests. There were weekly and monthly tests which were constantly analysed and suggestions were given based on that. Mock tests also helped me in deciding time management strategy for the exam day.
Careers360: Amidst the hectic study schedule, how did you manage to keep yourself refreshed? What are your hobbies?
Deric: Since I used to stay in hostel, I did not get much time to practice my hobbies. But I did manage to Play volley ball. Apart from my interest in sports, I enjoy reading novels. Unfortunately I could not read much during last two years.
Careers360: What is your advice for the NEET aspirants of next year?
Deric: There is no alternative but hard work. Fix a time table and study accordingly to maintain a systematic approach. Determine your strong and weak areas and work on improvement of the latter without compromising on the former. If you aim to succeed in NEET, you must pay special attention to Biology. As far as books are concerned, do follow NCERT books and solve previous years'question papers.
Read Also
Stay tuned to www.medicine.careers360.com for more topper interviews
Get real-time alerts on exam & colleges at your fingertips with Careers360 App!
Click Here to Install or Give a missed call on 08080944727 to get app link.
Questions related to NEET
Showing 102088 out of 102088 Questions