NEET 2017 Topper Interview: Consistent efforts and guidance are crucial to cracking NEET, says Kanishh Tayal, AIR 7
Kanishh Tayal has bagged AIR 7 in NEET 2017. Hailing from a small district of Mewat, Haryana, Kanishh now wishes to study medicine at Maulana Azad Medical College, New Delhi and become a cardiologist. Talking to Careers360, he narrates how his consistent preparation efforts translated into his success.

Related Post -
NEET 2019
NEET Eligibility Criteria 2019
NEET Application Form 2019
NEET Admit Card 2019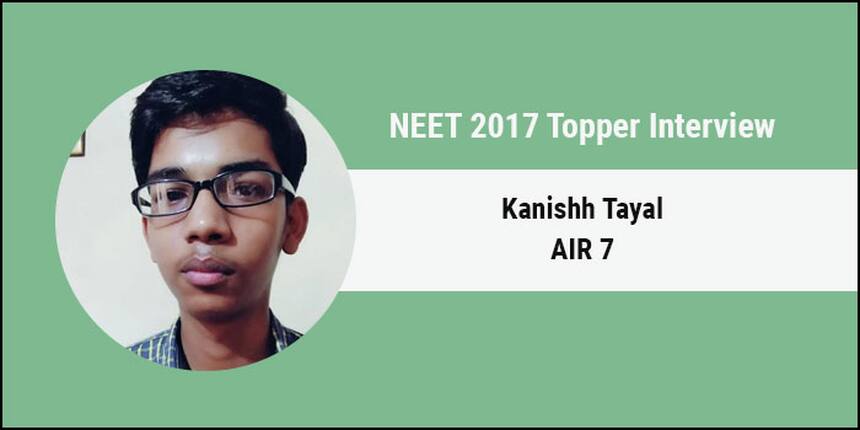 Read below the complete interview of NEET 2017 Topper Kanishh Tayal -
Careers360 – Congratulations! You have got AIR 7 in NEET 2017. What was your reaction when you got to know about your achievement?
Kanishh - Thank you! I am really happy and excited about achieving AIR 7 in NEET 2017. It is beyond my expectations and when I got to know the NEET 2017 result, I could not believe it. I actually was not aware that NEET result 2017 has been announced as there are network issues where I stay. I came to know about the results from my teacher and friends only.
Careers360 – Were you expecting this score or rank in NEET 2017?
Kanishh – No, actually I was not expecting more than 680 as per my exam analysis. Also, my teachers at Allen Kota had told me that my NEET score 2017 could be between 640 – 650 only. So, this is a bit surprising but at the same time very exciting for me.
Careers360 – What is the reaction of your family and relatives?
Kanishh – They are super excited as I am the first one to pursue medicine from my family. My relatives, family friends and acquaintances have been calling ever since the results were been announced this morning. My family is celebrating and distributing sweets to the entire locality.
Careers360 – Tell us about your family background.
Kanishh – My father, Mr Vinod Tayal, owns a shop of seeds and fertilisers in our locality. Actually, this is the only business my family has been involved in and is running for a long time. My entire family, be it my elder brothers, grandparents, my father, my aunts and uncles, all have been very supportive of my choice to go for NEET preparation at Allen Institute Kota.
Careers360 – What motivated you to pursue medicine as a career?
Kanishh – I wanted to do something different from my family business. I felt that I could do it by pursuing a career in medicine. So, I rigorously studied to achieve this. I used to take mock tests in Class 10 and 11 and would obtain around 440-450 scores. This made me confident that I would be able to crack NEET.
Careers360 – Please share with us your academic background. What was your class 12 score?
Kanishh – I have completed my Class 10 and Class 12 under CBSE board education pattern. My scores - Class 10: CGPA 10; Class 12: 95.8% marks.
Careers360 – How is your sectional score in NEET 2017?
Kanishh – My sectional scores in NEET 2017 are – Physics: 180, Biology: 336 and Chemistry: 175.
Careers360 – What kept you going through NEET preparation stage?
Kanishh – When I started preparing in Class 10, the only thing I would think about is how I would make my family proud. Even though a few acquaintances would demotivate my family members by telling stories about student suicides and other things in Kota, my family trusted and supported me. The faith and support from my family helped me to keep focussed on preparation only.
Careers360 – How was the environment at Allen Institute, Kota? Do you think Coaching Institutes are essential for cracking exams like NEET, AIIMS MBBS?
Kanishh - I felt that Allen Institute Kota could be preferred more for its competitive environment than studies. Students can crack exams with self-studies too but the competition which Allen Kota provided was very much helpful for me. There is a constant urge to be in the list of toppers.
The institute makes a separate group for Special Rankers Group, of which I was a part too. These SRG students are coached separately for their extraordinary class performances. I never needed to go beyond the preparation module that my teachers provided for NEET preparation.
Careers360 – During your NEET preparation, what sports or activities kept you rejuvenated?
Kanishh – Actually during the preparations, I hardly got time to participate in sports activities. I really like to play cricket but in Class 10, I gave up playing the game as I needed to put more time in preparation. Also, I could not afford to spend hours watching television or movies as it strains my eyes. However, I enjoy short TV serials with family. My only break from preparation included family time on the phone or spending time with friends at mess and hostel.
Careers360 – Besides NEET 2017, which other medical entrance exam did you appear in? How was your experience and scores of those exams?
Kanishh – I appeared in AIIMS MBBS 2017 in which I got AIR 132 and AIR 216 in JIPMER MBBS 2017. I was not that focused on any other entrance exam than NEET 2017 as I wanted to get admission at medical colleges in Delhi only.
Careers360 – Why do you want to join Maulana Azad Medical College? Which specialisation do you want to pursue in medicine?
Kanishh – Maulana Azad Medical College is the best choice for me because I want to pursue MBBS from Delhi only as it near to my hometown. I want to specialise in cardiology.
Careers360 – What books did you refer to for you NEET 2017 preparation?
Kanishh – The primary books preferred for NEET preparation were NCERT books. Also, I would refer to Author Pradeep's books besides study material provided by the coaching institute.
Careers360 – Do you think aspirants preparing for self-studies could crack NEET? Please share your suggestions on NEET preparation for medical aspirants.
Kanishh - Yes. I think with well-planned strategies, any student can crack NEET exam. They need to be patient and believe in themselves. The only thing students can do is to put their best efforts for the exam. Trust and support from parents is also very important during NEET preparation. Students must not take pressure and keep a flexible schedule for their preparation.
Also Read:
Stay tuned to medicine.careers360.com for more information on NEET 2017 toppers
Get real-time alerts on exam & colleges at your fingertips with Careers360 App!
Click Hereto Install or Give a missed call on 08080944727 to get app link.  
Questions related to NEET
Showing 83498 out of 83499 Questions